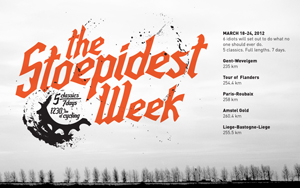 It was only a month ago that we saw Ben Berden (along with Tim Johnson, Jamey Driscoll and several other top names in cyclocross) make their way to Japan for Tokyo Cross. There, Berden took the win in one of the last races of the season, narrowly defeating Tim Johnson. He also gained notoriety over the course of the season with the great videos posted about him. Now, the Belgian racer takes on a new challenge: the Stoepidest Week.
Berden, along with five other "bike freaks," has committed to a sizable challenge: five cycling classics in seven days. Between March 18th and 24th, Berden and his group of five cyclists will begin their journey with the Trail of Ghent – Wevelgem, Tour of Flanders, Paris – Roubaix, Amstel Gold Race and lastly, the Liege – Bastogne – Liege Affietsen trek. The distance? A staggering 1263.3 km (or about 784 miles) in the saddle.
On the website www.stoepid.com, even the people who planned the week describe the event as: "Six idiots start something nobody should ever do. Five classics. Full distance. Seven days."
We have an in-depth interview with Berden coming up on cxmagazine.com, so check back soon for that, and we'll try to catch up with him after the Classics to see how his legs are feeling.