Note: This was one of three April Fools stories, posted on April 1, 2008. Alan and Guerciotti make fine 'cross bikes and have not recalled any of them.
Following last month's recall of cyclocross cranksets by Ritchey Design, cycloross racers have more reason to be careful of what they ride. Alan bicycles and Guerciotti have recalled their "glued and screwed" cyclocross framesets. The recall however only applies to frames made prior to 1992, and is not expected to impact many serious cyclocross racers. The recall is due to the older frame's tendency to inadvertently upshift several cogs during any hard effort. Guerciotti president Paolo Guerciotti says the blame really is with Alan. "They built the bonded aluminum frames for us for years," he explains. "They promised us they'd last for at least two seasons of racing before getting really soft. I knew they'd get soft after a little use, but not soft like a wet noodle. Upshifting by simply standing out of the saddle is unacceptable. We've cut ties with Alan long ago and have improved our bikes a lot since then." Jonathan Page likely agrees, having ridden their recent frames to many victories in 2003.
One rider who is impacted by the recall is 'cross legend Don Myrah. Seen riding the pictured rig in the fall of '07, he was often witnessed cursing while mashing up hills massively over-geared. Now we know why.
Myrah claims the bike slowed his still-amazing comeback to the sport. Often seen battling and beating many of the Elite A racers twenty years his junior, he thinks he might have done even better had he not been so often over-geared at inopportune times.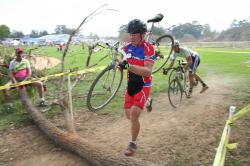 "It sorta sucked to stand up and sprint, and then suddenly be two gears harder and have a rider pass me," he recalled. "Then I'd have to somehow slide my right hand down from the hoods to the handlebar end to find the barcon shifter, downshift a few gears to get back up to speed, finally pass the guy back, only to ghost shift again. That's pretty darn frustrating. I used to be great at managing all that, but it's been a while so I'm a little rusty. Before, we'd all have to deal with barcons and suffer from these ghost shifts on these soft frames, so it was an even playing field, but seems like things have changed in my 12 years off."
Technology has indeed changed, and Myrah was amazed at the new technology's capabilities. Noting the once-impossible behavior by the younger riders as he passed them, "It's amazing what these kids can do on the new bikes…shift before a corner, while in a corner, while sprinting, and never unintentionally shift…I might have to try that stuff someday. If Guerciotti does replace my frame with a new one, perhaps I'll try index shifting and 9-speed."
If he does, Bay Area racers better watch out. Myrah will be faster than ever.