Crossresults.com is arguably one of the most invaluable (or time-sucking) resources on the internet, providing racers and fans results from nearly all cyclocross races from across the globe. One of the features of the site, in addition to flaming couches and nemeses, is a scoring system that allows racers to compare themselves against each other. Even if you are not familiar with the site (maybe you should be!), you have likely experienced its predictive power since many local scenes use its rankings for call-us.
The site, now owned by the same parent company as BikeReg.com, was started by and is still run by Colin Reuter, who one could argue is the Nate Silver of cyclocross. To help prepare fans for Sunday's live streamed races, we signed Reuter to crunch the numbers, study the trends and generate previews for each of the day's contests.
Up today are the two big ones: Sunday's Elite Women and Elite Men.

---
by Colin Reuter
This week we have looked at the Women's and Men's under card races on Sunday, and now it is time for the big one, the Elite Women and Men. Both races have favorites, but both defending champions have appeared vulnerable at times. Let's see who the potential challengers to Katie Compton and Stephen Hyde's respective thrones are.
Elite Women
Katie Compton has won every U.S. National Championship since 2004, a streak of 13 consecutive victories that almost defies belief in a sport where so much can go wrong and so much talent comes and goes every year.
In 2018, Katie Compton is racing as fast as she ever has, knocking off the best racers in the world on a regular basis in Euro. She currently leads the IJsboerke Trofee series in Belgium and won the Pan-American Championships here in the States back in November.
And yet, Katie Compton is racing age 40.  Katie Compton has 2 DNFs and a 42nd place this season.  Kaitlin Keough is ranked number two in the world.  Is this the year, finally, where Compton's reign ends?
Let's find out.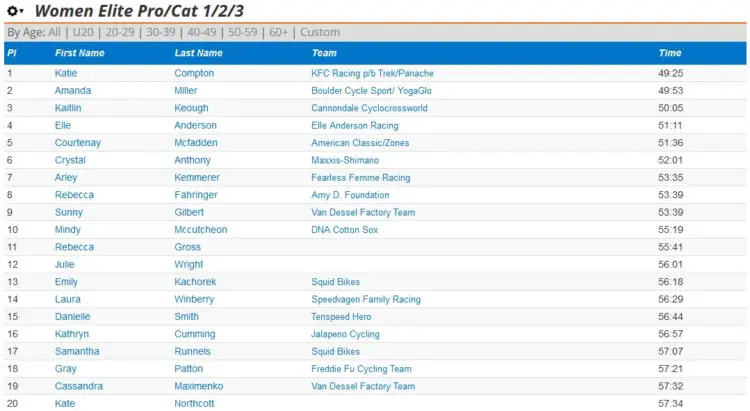 Last year, Compton got a tough challenge from Elle Anderson early on, but then rode solo to her 13th-straight Nationals win. Amanda Miller, who did not race this year, will not be racing in Reno, eliminating one of the serious threats to Compton's supremacy.
Compton flew back from Belgium just to race at Derby City and Pan-Ams. She got away from Keough early on in both races and won both races.
The Players
Katherine Compton – KFC Racing p/b Trek/Knight Composites – Colorado Springs, CO
Crossresults points: 217.73
Last year:  1st
Pros:
Since October, Katie's been defeated by an American in a race she finished exactly once — Ellen Noble beat her by five seconds at Flandriencross.  In her last ten European finishes, the worst she's done is fourth.  She's won Nationals thirteen times in a row.  She's ranked 4th in the world.
Cons:
Katie's relocation to Europe for the 2017-18 season has left her matching up with the other top Americans much less than in years past, and when she does, it's on her home turf.  Her one trip back to the US, for Pan-Am Champs, saw her beat Kaitlin Keough twice by 15-20 seconds — decisive, but not dominating.  She's also picked up 2 DNFs, a 42nd, and a 19th this year — when Katie has a bad day, it's VERY bad.
Kaitlin Keough– Cannondale p/b CyclocrossWorld – Colorado Springs, CO
Crossresults points: 225.26
Last year: 3rd
Pros:
Katlin Keough beat Compton three times in September, and is ranked  number two in the world.  She's 10-2 against Ellen Noble, 8-1 against Cortenay McFadden, 10-1 against Crystal Anthon, and 14-0 against Rebecca Fahringer in the last 12 months.
Cons:
0-6 against Compton since October, and enough European racing in November and December going for the World Cup that she's facing basically the same travel and adaptation issues getting to Reno that Compton is.
Ellen Noble – Aspire Racing – Kennebunkport, ME
Crossresults points: 254.31
Last Year:  1st in U23
Pros:
Noble has shown the ability to beat anyone in country, if not the world, when she has a good day, having claimed a 3rd at a World Cup in September and a 2nd at DVV Flandriencross in November.  She's the last American to beat Katie Compton and is ranked 15th in the World
Cons:
A 2-10 record against Kaitlin Keough and less-than-dominating records against Crystal Anthony (7-5), Courtenay McFadden (6-3), and Rebecca Fahringer (7-5) means Noble's closest competition may be behind her, not ahead of her.
Crystal Anthony – Maxxis-Shimano Pro Cyclocross – Newbury Park, CA
Crossresults points: 254.49
Last year: 6th
Pros:
Anthony carries almost identical crossresults points to Noble, without the high results, which means she's also not carrying as many low results as Noble.  She split victories with Courtney McFadden at their last two UCI weekends of the season (Ruts and Guts, and Resolution Cross Cup) and holds a 9-3 record against Rebecca Fahringer in the last 12 months.
Cons:
She's met Kaitlin Keough 15 times this year and beaten her just once.  Her 9-3 record against Fahringer was a 9-1 record, until Fahringer bested her soundly in the last two World Cups.
Crossresults points: 253.52
Last year: 5th
Pros:
Very similar to Crystal Anthony in results all season, split the most recent UCI weekends they met, and beat her in the last two World Cups.  Coming back from hip surgery, so you could argue that her weaker early season results are due to that.
Cons:
Got totally smoked by both Ka(i)ties all season and is 3-6 against Ellen Noble this season makes it tough to pick her for the last step of the podium.
Rebecca Fahringer – Stan's NoTunes p/b Maxxis/gofahr – Concord, NH
Crossresults points: 275.78
Last year:  8th
Pros:
Finished 12th and 17th in two World Cups this year, ahead of McFadden (twice), Anthony (twice), and Noble (once).  Clearly capable of big rides on a big stage.
Cons:
With a losing record against every other racer in this preview, Becca's average ride has been a marked step down from her "big rides" this year.  And an "average ride" from her won't put her on the podium.
The Darkhorses
Sunny Gilbert – Van Dessel Factory Team – Ellisville, MO – 275.23
Arley Kemmerer – Fearless Femme Racing – Palmerton, PA – 289.37
Cassandra Maximenko -Van Dessel Factory Team – Watertown, CT – 286.27
Lily Williams – Pony Shop CX – Asheville, NC – 298.65
Predictions
The year will come when Katie Compton fails to defend her national title, but it's probably not this one.  While Compton has faltered a few times this year, she's also faltered *many* times in years past and still managed to bring her A-game to Nationals.  There's no reason to believe this year will be any different.
Kaitlin Keough's impressive consistency throughout the year makes her an obvious pick for second, and Ellen Noble's highly-variable-but-intermittently-amazing season makes her the hardest to pick.  We're going with bronze for her.
The Podium
Katie Compton
Kaitlin Keough
Ellen Noble
Contenders
Crystal Anthony, Courtenay McFadden, Rebecca Fahringer
Elite Men
Last year, Stephen Hyde was so much better than the rest of the field that he was able to overcome two big crashes, the second of which ripped off his derailleur hanger and still win — just barely — reminding us that while "anything" can happen in any given cyclocross race, it actually takes more than a bobble or two to really shake things up.
This year, though, Tobin Ortenblad legitimately took it to Hyde in September and October and was less than impressed at the idea that Hyde's second national title is a foregone conclusion. Last year in Bieles, Ellen Noble showed what can happen when hungry young riders are less than impressed with race predictions…
Let's see if the data are as sold on Hyde as everyone else appears to be.
We all know the story. Hyde won after smashing his derailleur hanger a few hundred meters from the finish. Jamey Driscoll rode a strong ride for second and Kerry Werner had a standout ride in third.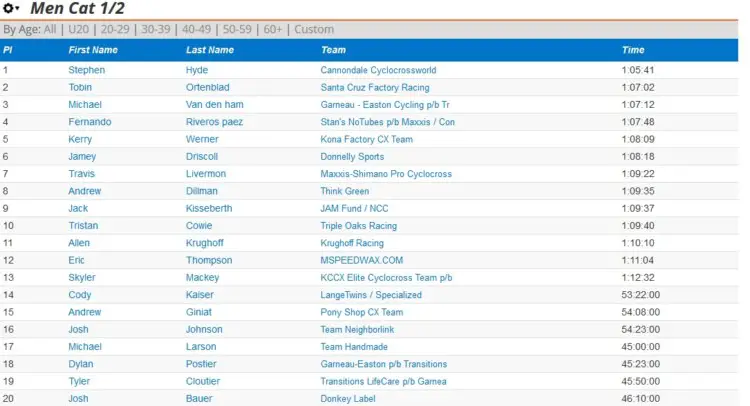 Hyde was pretty dominant in Louisville, leading the Pan-Ams race by almost two minutes at one point. Ortenblad rode a strong second after a tough battle with Micahel van den Ham, who despite being a nice guy, will not be in Reno because he is Canadian and whatnot.
The Players
Stephen Hyde – Cannondale p/b CyclocrossWorld – Easthampton, MA
Crossresults points: 131.9
Last year: 1st
Pros:
Was the best American in the U.S. from the middle of October onward, winning five out of six races in the States — he lost a sprint to Curtis White at Northampton Day 2 — and then putting down a SOLID European campaign in December, including an 11th and a 13th in two World Cups.
Cons:
Hasn't met a single one of the other top American men in Europe, so there's actually not a lot of data proving that he's going faster than them. Was legitimately worse than Tobin at the start of the US Cup-CX, going 1-3 against him in the first two weekends.  Generally blows the competition away when the race is hard (i.e. "European") and occasionally gets upset when it's fast group racing (i.e. "American"). Reno is *checks map* in America, and the race-day forecast looks a lot more American than European …
Kerry Werner – Kona Factory CX – Advance, NC
Crossresults points: 157.46
Last year:  3rd
Pros:
Beat Hyde twice this year, in some big races — Jingle Cross World Cup and Rochester Cyclocross — 8-7 against Ortenblad, 7-4 against Curtis White, 6-2 against Jack Kisseberth, 11-3 against Jamey Driscoll
Cons:
Fourteen losses to Stephen Hyde in the last 12 months! I know they're friends, but that's just mean!
Tobin Ortenblad – Santa Cruz Factory Racing – Santa Cruz, CA
Crossresults points: 156.33
Last year: 5th
Pros:
Since the reign of Hyde began circa September 2016, Mr. McTubbbin is the only guy to threaten that dominance, beating Hyde three times in eigth days at the beginning of October.  Has won 16 races this year and hasn't wasted any energy going to Europe.  Has won A LOT of group finish sprints this year, aka "American style cyclocross."  Went undefeated (4-0) at the late season southern UCI races Ruts & Guts and Resolution Cross Cup. Has motivation (see intro).
Cons:
Soundly defeated by Hyde that last times few times they matched up at Cincinnati, Derby City and Pan-Ams.  Roughly 50-50 against Kerry Werner this season.
Curtis White – Cannondale p/b CyclocrossWorld – Delanson, NY
Crossresults points: 159.27
Last year: 6th in U23
Pros:
The last American man to beat Stephen Hyde and finished the season with six UCI podiums in six races.  Hasn't raced since December 3rd, making him the freshest rider in this preview.
Cons:
4-7 against Werner and 2-10 against Ortenblad doesn't look good.  A rough final weekend of racing at NBX and six weeks off before Nationals, gives him the least-impressive December resume out there.
Jack Kisseberth – JAM Fund / NCC – Westhampton, MA
Crossresults points: 174.1
Last year:  4th
Pros:
Barely lost to Oretenblad on both days a few weeks ago at the Resolution Cross Cup.  Beat Stephen Hyde in a sprint at KMC back in September. Came out of nowhere to pull off a fourth place last year.
Cons:
Mixed a lot of good-but-not-great finishes in with his highlights this year.  Has taken 13 straight losses to Ortenblad since beating him by a place in Hartford last year.
Jeremy Powers – Aspire Racing – Southampton, MA
Crossresults points: 198.29
Last year:  24th
Pros:
The four-time National Champ has shown flashes of brilliance this year. He featured in a sprint with Ortenblad and Hyde at Charm City, pushed Ortenblad both days at Gloucester, finished third at Cross Vegas and knocked off Curtis White at NBX in December to pick up his first win of the season. #dadwatts, duh.
Cons:
Struggling with some health issues, Jeremy's bad days this year have been frequent, with 5 DNFs and four more finishes outside the top 10.  While he's shown he can perform at a high level this year, he's also shown that it's more the aberration than the norm.
Also look out for…
Jamey Driscoll – Donnelly Sports – Park City, UT
Last year's runner-up has been just on the edge of the top five all year, picked up UCI win over Mike van den Ham, and has a history of big results at big races.
Justin Lindine – Apex/NBX/Hyperthreads – North Ogden, UT
A perennial top-15 finisher at Nationals, Justin just picked up his first UCI win of the year in December, over Curtis White and Jeremy Powers.
Anthony Clark – Squid Squad – Feeding Hills, MA
Anthony was the top American in the last three races he entered (granted, they were in Japan).
Tristan Cowie – Triple Oaks Racing – Mills River, NC
The 8th placed American at Pan Am Champs this year.
Predictions
Stephen Hyde is the best guy there.  By a fair margin.  If the course is fast, and the draft is real, and he goes into the last lap without having shook Tobin… he's in trouble.  But the odds of it coming to that aren't very high.  Look for Hyde to pick up the second national title of his career — although he'll probably need to keep his derailleur attached this time.
The race for second is a lot harder to call, but Ortenblad's 16 wins in 2017 and lethal finishing kick mean that if it's close between him and Kerry Werner at the end, we're picking Tobin.
The Podium
Stephen Hyde
Tobin Ortenblad
Kerry Werner
Contenders
Curtis White, Jack Kisseberth, Jeremy Powers
Darkhorse
Jamey Driscoll
Tune in to Cyclocross Magazine's live stream of Sunday's races starting at 1:15 p.m. Pacific.
Want to do some predictions of your own? Enter our Nationals Fantasy contest sponsored by Vittoria. 
For more from Reno, see our continuing coverage of the 2018 Reno Cyclocross Nationals on our dedicated Nationals page.