The 2017 Soudal Scheldecross race, part of the 2017 DVV Verzekeringen Trofee and IJsboerke Ladies Trophy cyclocross series, delivered yet another exciting women's race.
The return of the greatest female cyclist of a generation, Marianne Vos (Fortitude Pro Cycling), certainly added intrigue. Seconds after the start, Vos made it clear she wasn't at the Scheldecross just to tag along for a ride. Vos rocketed off the line, and slotted in just behind a fast-starting Sanne Cant (Beobank-EKO).
Suddenly, the two had a bit of daylight, with Katerina Nash (Clif Bar) leading the chase, and the rest of the field wondered if they traveled back in an Antwerp time machine to the 2017 World Championships in Bieles.
The Cant-Vos train up front would run out of steam, as one-by-one, current and former World Championship medalists joined the front of the race. Nash, Katie Compton (KFC Racing – Trek – Panache) and Helen Wyman (Kona) all made contact, with Nikki Brammeier (Boels Dolmans) and Ellen van Loy (Telenet Fidea Lions) hopping on.
On a course that featured sand, mud, steep climbs and many dismounts and remounts, any bobble had the potential to kill the momentum of following riders. Brammeier wasn't content to follow wheels and take this chance, and moved to the front, just as Vos started to fade out of the leading five.
Four laps in, Compton took control, dragging Nash and Cant along and putting Brammeier under pressure. Wyman passed her compatriot to join the leading trio, and once again, the front group was a select group of Worlds medalists.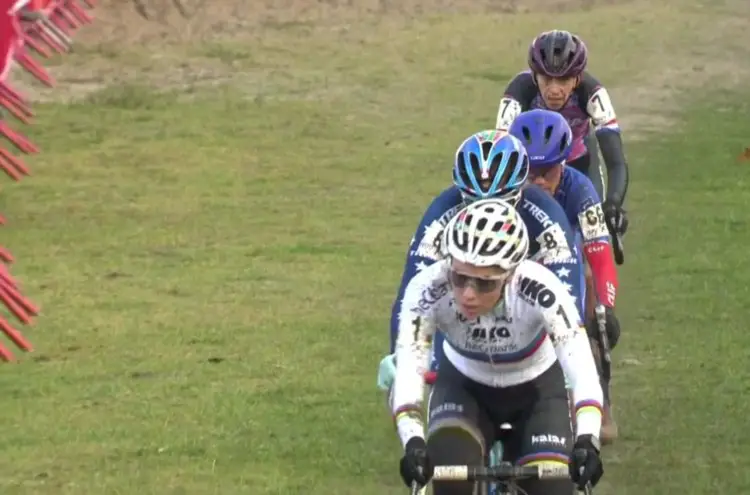 While fans in Antwerp and at home were ready for a final two-lap battle among the four, those hopes were left hanging alongside the course.
Nash got tangled with the rope lining the course, and crashed, holding up Wyman, creating a critical gap for Compton and Cant and leaving the two to enter a final drag race to the finish.
On the final lap, Compton and Nash traded turns at the front. Would it come down to a sprint?
Cant had other plans. With just a few turns left, Cant surged, leaving Compton looking down at her bike and legs. Compton couldn't find a response, and the 2017 World Champion celebrated yet another win in her rainbow jersey.
"There was no way I could match it," Compton said after the finish. "I was a little disappointed at the end after having a strong race, but Sanne is just strong."
American Corey Coogan Cisek (The Fix Studio) finished 29th. Read her recent European race diary entry here.
Full results below. See the equally-exciting Scheldecross men's race report and results here.
Stay tuned for full coverage from tomorrow's World Cup in Namur.
Last chance: Enter to win Ritchey Design WCS handelbars, tires and pedals.
2017 Soudal Scheldecross Results - Elite Women
| Pl | Bib | Last Name | First Name | Country | Team | Age | Result |   |
| --- | --- | --- | --- | --- | --- | --- | --- | --- |
| 1 | 1 | CANT | Sanne | BEL | BEOBANK-CORENDON | 27 | 0:48:46 | |
| 2 | 8 | COMPTON | Katherine | USA | | 39 | 0:48:50 | |
| 3 | 7 | WYMAN | Helen | GBR | | 36 | 0:48:56 | |
| 4 | 66 | NASH | Katerina | CZE | | 40 | 0:49:15 | |
| 5 | 6 | BRAMMEIER | Nikki | GBR | | 31 | 0:49:20 | |
| 6 | 5 | KAPTHEIJNS | Maud | NED | CRELAN - CHARLES | 23 | 0:49:44 | |
| 7 | 15 | VAN DE STEENE | Kim | BEL | TARTELETTO - ISOREX | 31 | 0:50:07 | |
| 8 | 4 | VOS | Marianne | NED | | 30 | 0:50:56 | |
| 9 | 2 | VAN LOY | Ellen | BEL | TELENET FIDEA LIONS | 37 | 0:51:14 | |
| 10 | 19 | BETSEMA | Denise | NED | | 24 | 0:51:26 | |
| 11 | 12 | VERHESTRAETEN | Karen | BEL | | 26 | 0:51:49 | |
| 12 | 18 | HOEKE | Geerte | NED | | 27 | 0:52:07 | |
| 13 | 21 | VAN ANROOIJ | Lindy | NED | | 21 | 0:52:57 | |
| 14 | 11 | VERSCHUEREN | Jolien | BEL | PAUWELS SAUZEN - VASTGOEDSERVICE | 27 | 0:53:29 | |
| 15 | 26 | DE HEIJ | Maaike | NED | | 19 | 0:53:39 | |
| 16 | 22 | BELLAERT | Axelle | BEL | | 20 | 0:53:41 | |
| 17 | 33 | WITLOX | Lizzy | NED | | 22 | 0:54:12 | |
| 18 | 28 | TRUYEN | Marthe | BEL | | 18 | 0:54:18 | |
| 19 | 45 | PEETERS | Jinse | BEL | PAUWELS SAUZEN - VASTGOEDSERVICE | 18 | 0:54:20 | |
| 20 | 27 | GOOSSENS | Veerle | NED | | 24 | 0:54:37 | |
| 21 | 38 | VAN ALPHEN | Aniek | NED | | 18 | 0:54:40 | |
| 22 | 36 | MEISTROK | Susanne | NED | | 18 | 0:54:40 | |
| 23 | 14 | JAMES | Ffion | GBR | | 20 | 0:54:54 | |
| 24 | 25 | MAES | Shana | BEL | | 22 | -1 LAP | |
| 25 | 34 | DE BRUYNE | Meg | BEL | | 21 | -1 LAP | |
| 26 | 20 | REDMOND | Natalie | AUS | | 26 | -1 LAP | |
| 27 | 39 | VAN WUNSEL | Lise | BEL | | 17 | -2 LAPS | |
| 28 | 29 | COOGAN CISEK | Corey | USA | | 40 | -2 LAPS | |
| 29 | 30 | VERMEIR | Aurelie | BEL | | 25 | -2 LAPS | |
| 30 | 35 | VAN DE PUTTE | Kim | BEL | | 33 | -2 LAPS | |
| 31 | 56 | NELEN | Kristien | BEL | | 39 | -2 LAPS | |
| 32 | 24 | WADSWORTH | Emily | GBR | | 18 | -2 LAPS | |
| 33 | 70 | MICHIELETTO | Giovanna | ITA | | 22 | -3 LAPS | |
| 34 | 37 | MICHELS | Laure | BEL | | 17 | -3 LAPS | |
| 35 | 50 | COMMISSARIS | Caren | BEL | | 23 | -3 LAPS | |
| 36 | 46 | MEISTROK | Maaike | NED | | 18 | -3 LAPS | |
| 37 | 49 | DOBBELAERE | Jana | BEL | | 21 | -3 LAPS | |
| 38 | 44 | KUIJPERS | Evy | NED | | 22 | -3 LAPS | |
| 39 | 52 | VAN LOY | Tess | BEL | | 16 | -3 LAPS | |
| 40 | 60 | VERNEROVÁ | Klára | CZE | | 16 | -3 LAPS | |
| 41 | 54 | CRABBÉ | Kiona | BEL | | 16 | -3 LAPS | |
| 42 | 41 | ALLART | Océane | FRA | | 17 | -4 LAPS | |
| 43 | 68 | LARTITEGI ORMAZABAL | Amaia | ESP | | 16 | -4 LAPS | |
| 44 | 23 | VAN DER BURG | Esther | NED | | 19 | -4 LAPS | |
| 45 | 51 | BEECKMANS | Sara | BEL | | 18 | -4 LAPS | |
| 46 | 42 | DE VOS | Nele | BEL | | 19 | -4 LAPS | |
| 47 | 43 | BLANCHAERT | Jo | BEL | | 47 | -4 LAPS | |
| 48 | 48 | SCHOON | Lisette | NED | | 17 | -4 LAPS | |
| 49 | 69 | KUZMINA | Olga | RUS | | 17 | -5 LAPS | |
| | 47 | ROMBOUTS | Tine | BEL | | 17 | DNF | |
| | 55 | VAN ROMPAY | Anke | BEL | | 18 | DNF | |
| | 67 | BASTERRA ASPE | Andere | ESP | | 17 | DNF | |