The 2017 Soudal Scheldecross race, part of the 2017 DVV Verzekeringen Trofee, delivered a loud response to recent complaints about unexciting men's cyclocross races in Europe.
Wout van Aert (Crelan-Charles), fresh off his Spanish training vacation, was back at it in Belgium, ready to show off his tan and fresh legs. Would his time away be the key to challenging a dominant Mathieu van der Poel (Beobank – Corendon)?
Lars van der Haar (Telenet Fidea Lions) was eager to prove he was up to the task himself. The Dutch star resumed his holeshot quest, with Van der Poel filing in right behind.
Soon, fans were checking their eyes. Within a few turns, Van der Poel was nowhere to be seen, and this time he wasn't out of sight off the front. A rear wheel slip in a muddy turn had him sideways and quickly swarmed.
Could fans be sure of what they were seeing? At the front, instead of Van de Poel, battling for the lead was the ever-steady Kevin Pauwels (Marlux – Napoleon Games), with Tom Meeusen (Beobank – Corendon) hanging on while looking around for his team captain.
After the first lap parade, Laurens Sweeck (Era Circus) would seize his chance at the front, but by the start of the third lap, the anticipated showdown between Van Aert and Van der Poel was emerging. The two had daylight between themselves and the chasers, and suddenly it was 2016 all over again. The beautiful duel was back.
Or maybe not.
Van Aert, like Nash before him, had a run-in with the rope and stakes lining the course, and Van der Poel took advantage, opening up a seven-second advantage before any of the fireworks could ignite.
Seven seconds. Six seconds. Seven seconds. Van Aert didn't give up and kept his gap to the leader consistent.
Van der Poel opted for a fresh bike, and Van Aert followed him into the pits. The gap remained the same.
With less than two laps to go, Van der Poel swapped bikes again, and Van Aert saw his chance. He bypassed the pits, and connected with the clean bike-riding European Champ. The duel was reignited on and the fireworks flew.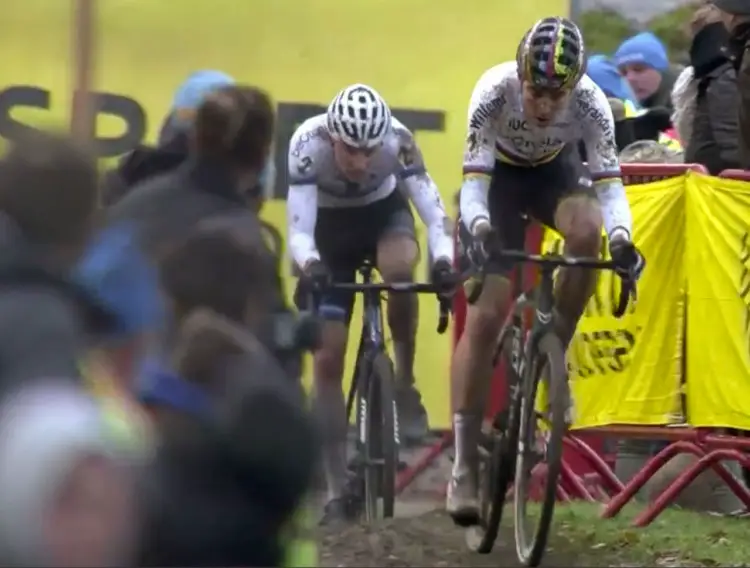 The two took turns with surges, but Van der Poel had one last weapon—the freshly-penned winning instruction manual from teammate Sanne Cant.
Instead of waiting for a final sprint, Van der Poel followed the instructions, put in one final surge, and just as Cant did an hour earlier to Compton, left Van Aert looking down.
The Dutch phenom hit the pavement, checked one last time behind him, and finished the 2017 Scheldecross with the identical result and nearly the same winning margin as Cant.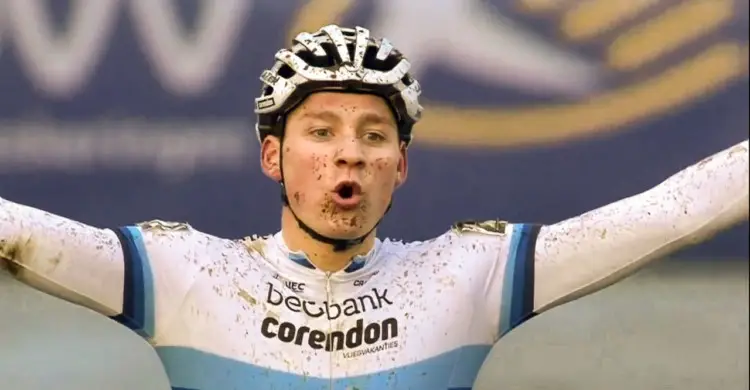 Behind the two-man show, Sweeck finished third to claim the final podium spot, while Lars van der Haar surged past his tangled teammates Corne van Kessel and Toon Aerts, and then outkicked Pauwels to take fourth.
Full results below. Stay tuned for full coverage from tomorrow's World Cup in Namur.
Last chance: Enter to win Ritchey Design WCS handelbars, tires and pedals.
2017 Soudal Scheldecross Results - Elite Men
| Rank | BIB | Last Name | First Name | Country | Team | Age | Result |   |
| --- | --- | --- | --- | --- | --- | --- | --- | --- |
| 1 | 2 | VAN DER POEL | Mathieu | NED | BEOBANK-CORENDON | 22 | 0:57:24 | |
| 2 | 1 | VAN AERT | Wout | BEL | CRELAN - CHARLES | 23 | 0:57:27 | |
| 3 | 6 | SWEECK | Laurens | BEL | ERA-CIRCUS | 24 | 0:58:30 | |
| 4 | 5 | VAN DER HAAR | Lars | NED | TELENET FIDEA LIONS | 26 | 0:58:34 | |
| 5 | 3 | PAUWELS | Kevin | BEL | MARLUX - NAPOLEON GAMES | 33 | 0:58:39 | |
| 6 | 7 | AERTS | Toon | BEL | TELENET FIDEA LIONS | 24 | 0:58:46 | |
| 7 | 4 | VAN KESSEL | Corne | NED | TELENET FIDEA LIONS | 26 | 0:58:55 | |
| 8 | 9 | MERLIER | Tim | BEL | CRELAN - CHARLES | 25 | 0:59:12 | |
| 9 | 16 | ADAMS | Jens | BEL | PAUWELS SAUZEN - VASTGOEDSERVICE | 25 | 0:59:32 | |
| 10 | 14 | SOETE | Daan | BEL | TELENET FIDEA LIONS | 23 | 0:59:41 | |
| 11 | 13 | VERMEERSCH | Gianni | BEL | STEYLAERTS - BETFIRST | 25 | 1:00:00 | |
| 12 | 12 | BOROŠ | Michael | CZE | PAUWELS SAUZEN - VASTGOEDSERVICE | 25 | 1:00:01 | |
| 13 | 19 | VANTHOURENHOUT | Dieter | BEL | MARLUX - NAPOLEON GAMES | 32 | 1:00:42 | |
| 14 | 10 | MEEUSEN | Tom | BEL | BEOBANK-CORENDON | 29 | 1:00:46 | |
| 15 | 15 | BAESTAENS | Vincent | BEL | | 28 | 1:01:25 | |
| 16 | 24 | ADAMS | Joeri | BEL | | 28 | 1:01:25 | |
| 17 | 20 | PEETERS | Rob | BEL | PAUWELS SAUZEN - VASTGOEDSERVICE | 32 | 1:01:35 | |
| 18 | 21 | MERLIER | Braam | BEL | STEYLAERTS - BETFIRST | 23 | 1:02:07 | |
| 19 | 22 | VAN AMERONGEN | Thijs | NED | | 31 | LAP | |
| 20 | 25 | HUYS | Stijn | BEL | | 31 | LAP | |
| 21 | 26 | VAN COMPERNOLLE | Kenneth | BEL | TARTELETTO - ISOREX | 29 | LAP | |
| 22 | 31 | DE WIT | Edwin | BEL | | 34 | LAP | |
| 23 | 29 | RIECKMANN | Tim | GER | | 27 | LAP | |
| 24 | 27 | PAUWELS | Dries | BEL | | 29 | LAP | |
| | 8 | VANTHOURENHOUT | Michael | BEL | MARLUX - NAPOLEON GAMES | 24 | DNF | |
| | 17 | AERNOUTS | Jim | BEL | TELENET FIDEA LIONS | 28 | DNF | |
| | 23 | HOEYBERGHS | Daan | BEL | STEYLAERTS - BETFIRST | 23 | DNF | |
| | 30 | DE BOCK | Jelle | BEL | | 24 | DNF | |