Once in a decade or even a generation, select people have the opportunity to shape and define a sport. Two years ago, cyclocross was brought to China on a course slightly north of Beijing. Although the course had a few interesting features, it carried more of its notoriety from being host to the first UCI race in China.
In 2015, the country created a second venue that will host the next station of the C1 race, located in the island of Hainan, far in the south of China. To say that this course achieves something special is an understatement. This is the kind of venue that cyclocross riders will come to define the sport of cyclocross in Asia.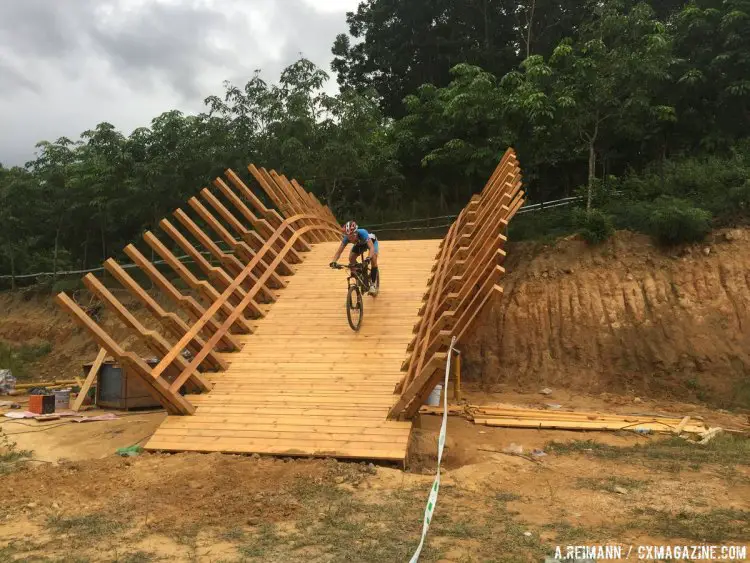 Lovingly called "Dinosaur Bridge" by the UCI officials, the down ramp serves as one of the two major features of the course. © Andrew Reimann / Cyclocross Magazine
For riders who like nice technical riding, the course is a dream come true, with a third of the course composed of hand carved single-track, and another third composed of machine dug double track. For riders who care about power, there are massive climbs everywhere in the course, making it difficult to hide behind another rider's wheel. For riders who look for features as their favorite selling point, there are sections that flow between apartments, and two constructions designed specifically for today: A massive arced bridge that connects the top of the course to the pit area in a dramatic descent, and a straight, elongated bridge that leads up to a stair climb.
The course is not for everyone. Those who love running during a cyclocross race won't be too happy to see a single running section in the stairs after the bridge. Those who love the deep mud, deep sand and traditional features might not be attracted to the course either. It is also a rider-oriented course over a spectator-oriented course, with the trails taking the race on an adventure on cliff edges and through the woods.
However, this truly is a course that redefines cyclocross from a blank slate. After both C1 races, it is clear that the course designers in China don't care about the need to incorporate traditional barriers. The course in Hainan packs a punch, creating a type of atmosphere that makes it hard not to smile during a easy pre-ride and grimace during a simulated race.
As an editor, I try to avoid superlatives to describe courses and products, so for me to put it simply, this is not a course to pass by if the opportunity ever presents itself. The designers and promoters have discovered something magical here.
You can find some of the images of the course using the slider below.