Even though the bike industry seems to be moving toward segmenting cycling disciplines with specialized products (think gravel-specific bikes), we are in a brief period in time where tubeless wheels are cross cutting many disciplines, with the ideal wheelset handling both low and high pressures. In Issue 29, we put together a side-by-side look and many of the wheels that fit this "all road" category, including models from Easton, FSA, Martindale, Alchemist, Bontrager, Mavic, Reynolds and Zipp.
The last of those companies has put together one of the latest models with the Zipp 30 Course Disc Brake Tubeless Wheels we profiled back in April, and today we offer a close in review look of the latest aluminum wheelset from the Midwest company, with a full review in the works for Issue 30.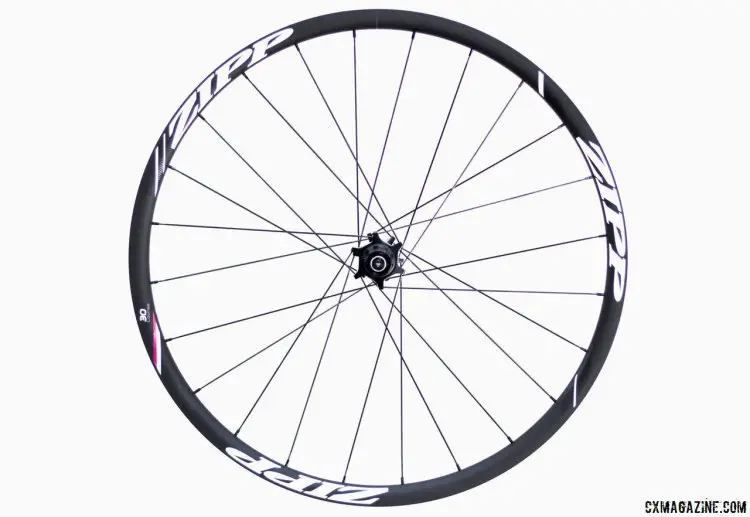 Zipp 30 Course tubeless disc wheels. © Cyclocross Magazine
Zipp's 30 Course Disc-brake wheelset was designed with high-performance conditions in mind, despite being an aluminum rim for a company whose heritage is soaked in carbon fiber. The rim is the first for the company to arrive tubeless ready, and sports an external 25mm rim width and 21mm internal width designed for lower gravel pressures as well as those for higher pressure road tires.
That's good news for those out there who spend their offseason on skinny tires, and the design of the 30 Course Disc-brake wheelset takes cues from the profile of the the Zipp 202 Firecrest Carbon Clincher, and while the rims are not necessarily what you could define as deep section rims (at 26mm depth), they were still built around having low aerodynamic drag.
The full wheelset is built with 77/177D hubs, which are the same that one can find on Zipp 202 and 303 Firecrest Disc-brake wheelsets. Zipp's thru-axle end caps allow for conversions between quick release and thru axles. As for the bearings, they come without the need for any pre-load adjustment.
Before our initial ride, we mounted WTB tires (both Cross Boss and Cross Wolf models), and both tubeless tires mounted to the wheels easily with a reliable fit. With our pinch test, we found that there was no burping, and the tires stayed sealed when deflated. The wide profile of the rim gives tires a straighter side wall, with less of the "light bulb" shape. The actual width of the rims are only nominally wider and doesn't affect tread profile in any significant way.
After a few rides, the wheels have been not only reliable as tubeless, but the wheels seem to be well-built. They came true and round and have stayed so with pounding over our usual test course elements that include rocks and roots that have dented or cracked some test rims in the past.
Stay tuned for Issue 30 for our in-depth review. More info: zipp.com