Paul Curley (GearWorks/Spinarts) of Taunton, Mass. returned to the National Championships after a few years hiatus, and returned to the same position he's used to – at the front. Curley held off defend champion Gary Thacker (Chipotle/Titus) of Boulder, CO to take the Masters 55+ title. The title is Paul Curley's 24th, give or take a few, as the winner has racked up so many he's lost count.
Check out Curley's race recap video below: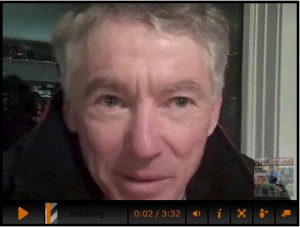 In the 60+ race, another multi-time National Champion made his return to the races, with Redline's Dan Norton taking what he thinks might be his 13th title, but he doesn't care to count. Norton led wire-to-wire, executing on his plan to get the holeshot and hammer for half a lap before surveying the damage. When he looked back, he had a gap over defending champion Phil Bannister and decided to keep it going, stretching it out to 1:19 at the finish. In the process, he beat two former National Champions in Bannister and Webcor's John Elgart.
"I went hard to get the holeshot," Notron told Cyclocross Magazine. "Then I rode a half-lap really hard to assess the damage. I had a gap, so I just gassed it. At the halfway point of the race, when I found out that I had a good gap, I started riding the corners conservatively and then gassing the straightaways. The corners are really tricky – it's a technical course."
"Everyone was running the little, icy off-camber. One of the kids from my team rode it and gave me the scouting report to hug the tape to the left all the way, then a straight shot all the way up," revealed Norton. "I just flew through it."
The 65+ Masters race, James Wagner (Cycle Therapy) opened a big gap early, making his way into the 60+ field and came home solo to take the title.
In the 70+ race, Joe Sailing (Team Somerset) used a fast start to gap two past National Champions including defending champ Ron Riley (Santa Cruz) and 2007 winner Walt Axthelm (DCCX). Sailing stretched out his lead to 25 seconds over Erik Nordenson, who took second. Herbert Bates (Nault's Cyclery) took third in the 70+ division.
Axthelm, now graduated to the 75+ division, took home the gold medal in front of Ron Riley (Team Santa Cruz).
Full Results:
place
bib
Last
First
Team
Time
Master 55-59
1
346
CURLEY
Paul
Gearworks/spinarts
48:45:00
2
325
THACKER
Gary
Chipotle/titus
49:02:00
3
333
KNIGHT
Terrell
50:03:00
4
327
LONGMIRE
Michael
Northern Rockies
50:04:00
5
358
SILVA
Randy
Nob Hill Velo
50:06:00
6
360
BROWN
John
Family Cycling Center
50:44:00
7
329
MILLER
Jon
Rock N Road
51:01:00
8
344
TOWNSEND
Charles
Bianchi/grand Performance
51:24:00
9
328
GORRY
Wayne
Four Unity
51:49:00
10
341
MULLER
Steve
Flathead Cycling
52:22:00
11
357
JONES
Glen
Brazen Dropouts/cronometro
52:53:00
12
326
SMITHERMAN
Torre
Gtc
53:07:00
13
345
LACEY
Steven
Showers Pass
53:15:00
14
350
BEALS
Dave
Cbrc / Nycross.com / Vo Max
53:21:00
15
349
AMMON
Andrew
Carolina Master Cycling
53:27:00
16
342
PAUTSCH
Gregory
Planet Bike
53:32:00
17
335
WALKER
Bob
Bountiful Mazda
54:20:00
18
363
WATSON
Pete
54:30:00
19
377
MILLER
Steven
55:03:00
20
366
BIRCH
Brian
55:03:00
21
343
GOODWIN
David
Northampton Cycling Club
55:06:00
22
338
SHIELDS
Kerry
Carolina Masters
55:12:00
23
332
PAULSON
Gordon
Planet Bike
55:14:00
24
374
SULLIVAN
Thomas
Rock Lobster
55:43:00
25
352
RYAN
Kevin
Socalcross
55:43:00
26
354
BROOKS
Erik
Blue Rooster/sports Medicine C
55:54:00
27
362
SADOFF
Paul
Hrs/rock Lobster
55:59:00
28
334
SACHS
Richard
Richard Sachs – Rgm Watches –
56:33:00
29
336
PARKER
Harold
36racing
1LAP
30
348
RANTALA
Jim
Webcyclery.com
1LAP
31
361
SPAK
Michael
Schwab Cycles Racing
1LAP
32
368
KOERNER
Hank
2/2 Fuel
1LAP
33
359
PARKS
David
Mirage
2LAP
34
364
VOLKERT
Brian
2LAP
35
369
PERRYMAN
Eric
Colorado Velo
2LAP
36
372
RAPP
Steve
2LAP
37
379
LUOMA
Robert
2LAP
38
370
CARVEY
Brad
3LAP
39
371
GOECKEL
Roland
Double Check
3LAP
40
376
SAMPSON
Scott
Da Hui Race
3LAP
41
356
MORROW
David
Slo Nexus
4LAP
42
373
GALLICHOTTE
Derek
4LAP
43
365
CANFIELD
Chris
Blue Sky Velo
5LAP
DNF
330
COWLEY
Dirk
Ffkr Architects/sportsbaseonli
DNF
339
HAMEL
Edward
Joe's Garage
DNF
353
SWANSON
Rick
Acme Racing Team
DNS
331
ROOT
Randall
Evolution Cycling Team
DNS
337
ZIMBELMAN
David
Zteam Racing
DNS
340
HAGEN
Bruce
DNS
347
RYCEWICZ
Chris
DNS
351
BOGLIOLI
Bernard
Byrne Invent
DNS
355
DOUBLEDAY
Barry
Mbrc
DNS
367
SAGE
Gregory
Team Oakland
DNS
375
GUGLEILMELLI
Bob
DNS
378
HOLMES
Tom
Masters 60-64
1
459
NORTON
Dan
42:58:00
2
450
BANNISTER
Phil
44:17:00
3
451
ELGART
John
Webcor/alto Velo
44:19:00
4
463
RATH
David
Corner Cycle Cycling Club
44:56:00
5
464
COTTLE
Douglas
Porcupine/specialized
45:03:00
6
452
RUBCIC
John
Uc Cyclery/jw Flooring
45:12:00
7
462
MEYER
Dan
Bikery
45:15:00
8
457
WALDMAN
Lee
Green Mountain Sports Velo
45:17:00
9
453
CUARESMA
Frank
Cal Giant Farms
45:38:00
10
466
STRASSER
Ron
Team S&m
45:50:00
11
456
LEET
Don
Sunnyside Sports
46:39:00
12
470
OGREN
Robert
Kenwood Racing
46:57:00
13
458
SPEIRN
Russ
Portland Velo
49:12:00
14
468
BAGIENSKI
Richard
3d Racing
50:35:00
15
472
WOODRUFF
Hal
51:03:00
DNS
454
ROLLINS
Lewis
Contender Bicycle
DNS
455
ABBOTT
Rick
Excelsports.com
DNS
460
MARVIN
Allan
DNS
461
KELLEN
Ric
Mako/mellow Motors
DNS
465
LANTON
Edward
DNS
467
MINI
Hank
Mad Cat
DNS
469
MYERS
Joseph
Two Wheeler/specialized
DNS
471
WALL
Richard
Kauai Bicycle Club
Masters 65-60
1
531
WAGNER
James
Cycle Therapy 4 Corners
47:15:00
2
532
LLAMAS
Robert
Montrose Bike Shop
48:22:00
3
525
LEA
Rob
T.e.a.m. Fuji
48:38:00
4
534
MARANTZ
Richard
49:58:00
5
528
HETTINGER
Loren
50:33:00
6
530
DEVOSS
Gary
San Diego Cyclo-vets
50:51:00
7
529
MACDONALD
Mike
Jaeger Wheelmen
53:35:00
8
533
GUSTAFSON
David
54:12:00
9
527
THOMPSON
Philip
Mvbc/dick Sonne's Racing
1LAP
10
526
WILLMORE
R.
Celo Pacific
2LAP
Masters 70-74
1
778
SALING
Joe
Team Somerset Van Dessel
43:27:00
2
779
NORDENSON
Erik
43:52:00
3
777
BATES
Herbert
Nault's Cyclery/naults.com
49:50:00
Masters 75-99
1
775
AXTHELM
Walt
Dccx
44:35:00
2
776
RILEY
Ron
Team Santa Cruz (scccc)
47:01:00