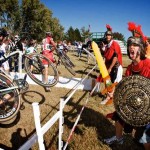 Registration Opens August 14th for the 2009 US Gran Prix of Cyclocross!
Registration opens for all four weekends of USGP racing on August 14th on BikeReg.com.
This season is sure to feature much great racing from the top pros, fun and excitement – we've got clinics for kids and grown ups, cool event merchandise from Stanley and Schlamm, tons of amateur racing and…. gladiators!
The 2009 USGP event schedule:
2009 Planet Bike Cup – UCI C1/C2
September 26th and 27th, 2009
Sun Prairie, WI
2009 Derby City Cup – UCI C1/C2
October 24th and 25th, 2009
Lousiville, KY
2009 Mercer Cup presented by Knapp's Cyclery – UCI C1/C2
November 14th and 15th, 2009
Mercer County, NJ
2009 Stanley Portland Cup – UCI C1/C2
December 6th and 7th, 2008
Portland, OR
Visit The USGP of Cyclocross website for more information about race schedules, ancillary events, hotel and lodging information.