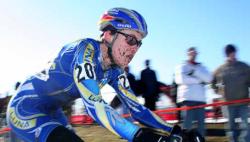 Georgia Gould (Luna) and teammate Katerina Nash returned to the USGP and continued their dominance. In muddy, slippery conditions, just one lap into the race, the two had dropped the rest of the field and it looked like the two might time trial together to the finish. But the two had very different riding styles, with Nash choosing to run much of the sand and slop, while Gould rode the sections. Neither seemed to be significantly faster, but two laps in, Nash had opened a sizable gap on her teammate and looked like she'd win going away.
Entering the last lap however, Nash took a hard spill, and while she quickly remounted, Gould saw her chance. Powering through the deep muck, Gould closed in on Nash, and a few hundred meters before the finish, Gould attacked the uphill on her bike, while Nash tried to keep up on foot. The damage was done, and Gould took the victory and leader's jersey.
Behind her, Mo Bruno Roy (MM Racing / Seven) made her way through the field to take a strong third place.
Stay tuned for a full report and photos.
Results:
Georgia GOULD (LUNA)
Katerina NASH (Luna Women's MTB Team)
Maureen BRUNO ROY (MM Racing p/b Seven Cycles)
Rachel LLOYD (California Giant Berry Farms/Specialized)
Wendy SIMMS (Kona)
Deidre WINFIELD (Velo Bella – Kona)
Natasha ELLIOT (EMD Serono/ Stevens)
Amy DOMBROSKI (Velo Bella – Kona)
Sue BUTLER (MonavieCannondale.com)
Meredith MILLER (California Giant Strawberries/ Specialized)
Full Results: