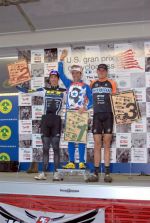 Where the Women had a tough time on the course at the Mercer Cup on Saturday, the men were even more worse off. First, the men had to deal with sticky, relentless mud for a full 20 minutes more and second, they had one more race before them to tear up their lines. Needless to say, those North American mudders who showed up were licking their chops as they rolled up to the start line.
The race got off to a flying start, as Matt White (Bikereg.com/Joe's Garage), known for his fast first laps, took the holeshot. That would be the last anyone would see of the front of the race, as Tim Johnson (Cannondale/Cyclocrossworld.com), a man known for thriving in less than perfect conditions, decided that he didn't want any competition for the win. With less than half a lap in the books, Johnson, along with USGP leader, and Cyclocross Magazine Columnist, Jesse Anthony (Jamis) had already established a sizable gap over third place. Third place, in this case, was GT Bicycles' Todd Wells, who was chasing along with Kona's Ryan Trebon.
The front of the race was more or less evenly split amongst riders and runners in the course's muddiest sections. The likes of Johnson decided that running was the way to go, and others would soon follow suit. By the end of the race, only a handful of riders, including Todd Wells, were electing to ride the muddy uphill sections. Johnson's tactics were working perfectly, as he quickly disposed of Jesse Anthony and forged ahead. Anthony faded back to the duo of Trebon and Todd Wells who were chasing about 30 seconds adrift from Johnson. Anthony would put in a few more digs to stay up with the top three, but would pay for his efforts and eventually fall all the way back to seventh. He would manage to get back a couple spots by the end of the race, finishing fifth.
Johnson continued his surge at the front, riding and running the course to perfection. Behind him, Todd Wells and Trebon were trading positions in their chasing duo. Trebon put in an attempt to get rid of Wells, and for a short time, he was successful. All of a sudden, however, Trebon's 4 second lead, turned into a 20 second gap to Wells. A spill had cost Trebon a shot at taking home second place on the day and had allowed Wells to move safely into second. Despite Trebon's best efforts, he could not close the gap back to Wells and had to settle for third, with Wells taking home second place on the day.
Jeremy Powers (Cannondale/Cyclocrossworld.com) continued his hot streak this season, which he has taken all the way to the top of the US cyclocross standings, and toiled away in the mud for a fourth place finish. Behind him was probably the most intriguing battle of the day, with the faded, then resurgent Anthony trading places with Nicholas Weighall (Rad Racing) and Troy Wells (Clif Bar). With Anthony paying for his early efforts, Weighall and Wells had managed to sneak past the Jamis rider for a short time. Seeing his lead in the USGP slip away, Anthony realized he needed to get as many points as possible. With an incredible last lap effort, Anthony got back up to Wells and Weighall and managed to get back into fifth place. Wells managed to hold off Weighall for sixth. The top ten was rounded out by Cannondale/Cyclocrossworld.com's Jamey Driscoll in eighth, Mark Lalonde of Planet Bike in ninth and Kona's Barry Wicks in tenth.
After the dust settled, it was revealed that Tim Johnson had torn a bursae in his left knee and would have to sit out the Sunday's race. Despite his injury, which is certainly one he was battling throughout Saturday's race, Johnson proved that when the mud gets thick, he really has no equal.
Photo Gallery:
Results
1 Tim Johnson (Cyclocrossworld/Cannondale)
2 Todd Wells (Team GT)
3 Ryan Trebon (Kona)
4 Jeremy Powers (Cyclocrossworld/Cannondale)
5 Jesse Anthony (Team Jamis Bikes)
6 Troy Wells (Team Clif Bar)
7 Nicholas Weighall (Rad Racing/Hagens Berman)
8 Jamey Driscoll (Cyclocrossworld/Cannondale)
9 Mark Lalonde (Planet Bike)
10 Barry Wicks (Kona)
11 Davide Frattini (Colavita Sutter Home P/B Cooking Light)
12 Matt Shriver (Jittery Joe's Pro Cycling Team)
13 Matt White (Fiordifrutta Elite Cycling Team)
14 Derrick St. John (Stevens Cross)
15 Christopher Jones
16 Bjorn Selander (Ridley Factory Team)
17 Justin Spinelli
18 Daniel Summerhill (Team Clif Bar)
19 Dan Timmerman (Reynolds)
20 Mitchell Peterson (Monaviecannondale.Com)
21 Matthew O'Keefe (CCB/Volkswagen)
22 Brian Matter (Gear Grinder)
23 Chance Noble (California Giant Berry Farms/Specialized)
24 William Dugan (RGM Watches – Richard Sachs – Boathouse Inc)
25 aaron Schooler (Team H & R Block)
26 Weston Schempf (C3-Sollay.Com!)
27 Ryan Iddings (Lapierre Usa)
28 Colin Cares (Clif Bar Development Cyclo-Cross Team)
29 Josh Dillon (Fiordifrutta / Cannondale)
30 Nicholas Keough (Sonic/ Louis Garneau)
31 Justin Robinson (California Giant Berry Farms/Specialized)
32 Braden Kappius (Clif Bar Development Cross Team)
33 Alex Howes (Clif Bar Development Cyclo-Cross Team)
34 Adam Myerson (Cycle-Smart)
35 Mitch Hoke (Clif Bar Development Cyclo-Cross Team)
36 Adam Mcgrath (Van Dessel)
37 Giancarlo Dalle Angelini (Team Redline)
38 Peter Bradshaw (Embrocation/Igleheart/Cambridge/Mad Alchemy)
39 Greg Wittwer (Alan North America Cycling Team)
40 Joey Thompson (Rocky Mtn Chocolate Factory Cycling)
41 Travis Livermon (Cannondale / Ccn)
42 Andrew Wulfkuhle (C3-Sollay.Com)
43 Steve Fisher (Rad Racing / Hagens Berman)
44 Matt Kraus (RGM Watches – Richard Sachs – Boathouse Inc)
45 Christian Favata (Favata's Tablerock Tours And Bikes)
46 Bill Elliston (Fuji)
47 Rickey Visinski (Exodus Road Racing)
48 Peter Rubijono (Embrocation/Cambridge/Igleheart/Madalchemy)
49 Patrick Bradley (Rutgers University Cycling Team)
50 Jeremy Ferguson (Cal Giant/Specialized)
51 Charles Pendry (Inland Construction)
52 Andrew Llewellyn (Calistoga Racing Team)
53 John Burns (Bikeman.Com)
54 Guillaume Nelessen (Van Dessel Factory Team)
55 Benjamin Popper (HRS / Rock Lobster)
56 Conor Mullervy (Clif Bar Development Cyclo-Cross Team)
57 Michael Gallagher (C3-Sollay.Com)
58 Bill Marshall (KCCX/Verge)
59 Adam Szczepanski (Wissahickon)
60 Nathanael Wyatt (Carolina Fatz Pb Santa Cruz Bicycles)
61 Kevin Mullervy (Clif Bar Development Cyclo-Cross Team)
62 Matthew Rotroff (Inland Construction)
63 Gavriel Epstein (Century Road Club)
64 Lucas Livermon (Inland Construction)
65 Philip Riggio (Proasshit.Dk)