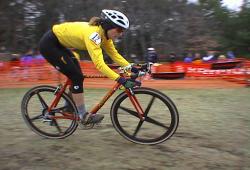 We've been seeing some recent chatter on our forums about whether the once popular, and world championship-winning Spinergy Rev-X wheels are legal in 'cross races. While there aren't any specific new rules passed by USA Cycling or the UCI regarding wheels, our assistant editor Josh Patterson spoke with USA Cycling's Technical Director Shawn Farrell to clarify this matter.
According to Farrell, cyclocross has been governed under UCI rules as a mass-start event. And under these rules, "bladed" wheels such as the Rev-X that have under 12 spokes have been banned for several years now.
But the UCI regulations don't stop there. Based on our research, according to the UCI's article 1.3.018, any non-standard wheel needs prior approval from the UCI. Under their criteria, any aero-profile rim with a height of more than 2.5 cm or more, or a spoke thicker than 2.4 mm is not allowed unless approved by the UCI. So, that leaves out not only the Spinergy Rev-X wheels, but as of the latest UCI list, some very popular but unapproved carbon hoops from U.S. companies like Edge Composites and Rol Wheels as well. Want to see if your wheels are currently allowed? Check out the UCI's list here.
But don't panic yet. If you're not a junior, espoir, or Elite racer at a UCI race or worlds selection race, you should be okay. But it will affect you if you're planning on showing up at nats with your retro wheels, even in a masters race. Regardless of category, as of January 2008, UCI rules will apply to all categories at nationals. That also means no disc-brakes for any title category at nationals as well. Okay, so what if you want to race the singlespeed or B race at nats? Sorry, we didn't ask and aren't sure.
But perhaps applying the UCI rules for all national title races is why we've seen an increase in the number of auctions for Spinergy Rev-X wheels on eBay, and an increase in prices for Bontrager, Mavic, and Zipp stickers (to mask unapproved wheels).
So if at the next UCI race you see a Spinergy Rev-X or non-standard wheel equipped racer lap you in the B race, don't blame him or her for sandbagging, blame the UCI. Or buy the 'bagger a new set of approved wheels.