Finding a cyclocross bike that fits can be challenging for a small adult or junior. Pint-sized Kerry Litka has struggled to find the right fit for herself, and offers advice for the racer or parent facing the same challenge. This article was originally published in our premier issue of Cyclocross Magazine.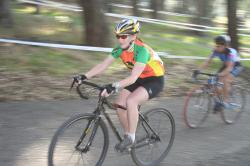 If you are a small person, finding a 'cross bike that fits you may be even more challenging than racing 'cross itself. Most manufacturers ignore the needs of small people. This has been especially true for 'cross racers because cyclocross bikes were a fringe market. However, with the sport's increase in popularity, there are now options for small people, reducing the barriers for height-challenged women, men, and youth to try out the wonderful sport of 'cross.
Part of the problem with finding a small enough 'cross bike is that most 'cross bikes are "bigger" due to a higher bottom bracket and taller tires, increasing stand-over height. If you read the current literature on sizing a 'cross bike, the common recommendation is to choose a bike that is one size smaller than your road bike to accommodate the higher bottom bracket. Hmmm…let's see, if you ride a 44 or 43 cm road bike, well…getting a smaller 'cross frame is not going to happen unless you visit a custom frame builder. Also, extremely sloping top tubes aren't the ideal solution because you need to have enough space within the frame's main triangle to shoulder the bike. (However, with the recent trend towards one set of barriers in a race, dismounting and carrying the bike is becoming a smaller and smaller part of the sport.)
So, what are you to do if you are under 5' tall and you want a 'cross bike? There are thankfully a few more options now than there were when I began racing 'cross.
My number one choice, if you can afford it, is the Independent Fabrication Planet Cross. This model is light, has a taller head tube for more shouldering room, and boasts impeccable workmanship. Available in both steel and titanium versions, the IF Planet Cross is available in a 44cm frame with 700c wheels. Custom versions are also available with 26" mountain bike wheels.
If you want to try racing 'cross and don't want to drop 3 Gs on a custom frame, a more affordable option is Surly's 44 cm Cross Check. The effective top tube is a tad long (52 cm), and it has a rather extreme slope to the frame which makes shouldering the bike a little more difficult, but Surly frames are sturdy and inexpensive and well worth considering. Along similar lines are the 42 and 46 cm Double Cross frames from Soma Fabrications. These have 52.3 and 52.6 cm effective top tubes respectively.
A hidden gem you may want to consider is the sometimes-available REI Novara Pulse. This bike, although marketed for kids, is a great entry-level 'cross bike for the under-five-foot set. It comes with 26" wheels and 2200 STI components. At $499 MSRP, it's a great way to try a 'cross bike without much investment.
There's also the Luath 26″ single chainring, canti-equipped bike from the excellent youth-oriented British brand Isla Bikes, which now has a distributor in Portland, Oregon.
Also, for the really short adult or young junior, Redline offers their Conquest 24 model, a full-fledged 'cross bike with 24" wheels.
And finally, if you are indeed willing to drop some extra dough, you can always go for a custom-built frame. Any custom builder can design a frame to fit you. Regardless of where you live, there are usually at least two or three reputable frame builders in your area. Two builders here on the East Coast that have a lot of experience in this area are Ted Wojcik and Tom Stevens. I have seen both of these artisans' small bikes, and they do an outstanding job.
What about the wheels?
After years of racing a 700c road bike, I switched to a 650c road bike and discovered that for me, smaller wheels allow for a better fitting frame and less toe overlap with the front wheel. 26" wheels are 'cross's answer to the 650c and offer the same benefits.
The one downside to running 26" wheels for 'cross is there are very limited choices for tire selection. Schwalbe offers a 26" version of their cyclocross tire, and if you aspire to race UCI sanctioned races, they're the only option I've found in a UCI legal width. I haven't found a 26" tubular either – clinchers seem to be the only option. Hutchinson used to make a nice narrow 26" 'cross tire, and Continental has a '1.5" Cross Country model that many people use. But don't despair – having a 'cross bike that properly fits you will be a better option than having a bike that's too big but with a plethora of tires to choose from.
OK, so there is my list of options for short people….pretty short (uh oh, a short joke), sad but true. Got your own opinions? Chime in on our forums on this topic.
Kerry Litka has been racing 'cross since 2000 and competes in the Elite Women category. She's often labeled as one of the smallest adults racing 'cross. Despite the UCI barriers being nearly 1/3 of her height, she transitions on and off the bike with the grace and fluidity of Baryshnikov. She is currently attending graduate school and planning a 'cross comeback.