Columnist Ben Popper took his quest for one UCI point north of the border. This is his report from the Toronto International Cyclocross race, Day 2.
I woke up in the suburbs of Toronto Sunday morning, tiptoed through the minefield of Molson Canadian bottles left by my traveling companions, peered out the hotel room curtain, and thought to myself, "Thank God it isn't raining." Day 1 hadn't gone well for me, and so I spent the morning on day 2 taking care of myself. You know, the little things- like sleeping and eating Tim Horton's donuts and not freezing my hands off. Yesterday's result made me focus less on getting to 15th and more on just riding today, taking the pressure off and making things fun.
Yeah, that's right, I said fun. Many are the tales that have been told about Sunday's course, the colossal giant, slippery like a fish, steep like the Ontario deposit on beer bottles, tiring like the endless hockey coverage on Canadian TV. It was probably about 100,000 feet tall.
The first climb was straight up. That wasn't the end of the climbing though. A few switch backs bringing us about half way back down forced us to climb back up to the top. Sir Edmund Hilary would be proud, or at least a little bit curious.
After reaching the top, there were a couple long straights traversing the hill before we dropped down into the downhill switchbacks. This was almost more difficult than going up. The corners were greased to perfection, navigating through them without sliding out was pretty much a crap shoot. The mud and grass tended to peel off the ground and coat the tire like fuzz on a tennis ball, making for even less traction.
The line up on the second day was dictated first by UCI standing and then by the Ontario Cycling Association standing. Which meant I was even more screwed than registration order. Again, one guy behind me and it wasn't even a full row. But today, I wasn't watching butterflies and bluebirds before the start and had my eye on bigger things. The gun fired and I dug through the start group as best I could before the first turn, picking through the field. Kept the aggressive knob turned up to 11 and worked around riders though out the first lap. I got up that hill before it even realized what I was up to, then kept the dirt-caked rubber down on the downhill.
Julie gave me a count and put me at 20th or so passing the pit. I felt good and was riding with a group of five or six guys, but I was really peeling myself off the front of the group at the barriers. They were the ideal height and spaced so that I could take one perfect stride in between. I'd ride into them hot, take three steps and be back on the bike. I was opening a five to ten second gap each lap through he barriers.
And as the laps came down, I kept the pressure on. The slick corners made it so if you raced smart and conserved knowing too fast meant washing out, you had the energy to lay it down when it mattered. With two to go, I put in a hot lap, or whatever was left to make up a hot lap to try to separate myself from the couple of guys trailing me. I was just racing for myself and a strong finish.
I finished on the lead lap with about 20 seconds both in front and behind of me to the next riders. I crossed the line with a smile. It always feels good to finish and not be completely defeated. It took a while for results to post, but you can't imagine the grin on my face when I found out I was 18th! So much better than I thought I did but still a hard pill to swallow. Three places out of the UCI points, so close to my goal on a day I wasn't even thinking about it. I'm getting closer, but it's getting harder the closer I get. I'm in the portion of the Indiana Jones quest where I find out where the secret super-important treasure is hidden, but I'm not through the entry chamber full of extra-pointy knives yet.
The points are not why I am doing this though. It was a great weekend and 18th is a really good place to finish in such a strong field. And surprisingly there were just as many people cheering for me up there as there were at the other races I have been at. Thank you all for making me smile and go a little faster. If you're reading this, and you see Julie or me at a race, come over and say hi, eh? Through all these weekends where traveling has become a hard effort, meeting folks who really love this sport makes it all worth it, regardless of results. I love cyclocross!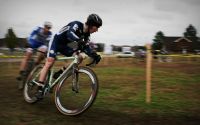 CXM Columnist Ben Popper is on a mission to achieve one goal – earning just one UCI point. Follow Ben on this journey this season through his regular journal. You can find his other columns here.