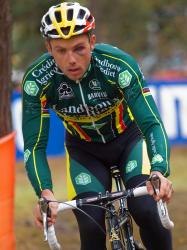 by Christine Vardaros, Photo by Krist Vanmelle
Under normal circumstances, the winner of Cyclo-Cross World Cup opener in Kalmthout, Belgium would not have been a surprise. But an unfortunate incident the day previous at Kleicross race in Lebbeke, Belgium could have forced a different outcome. Last Saturday, Kalmthout pre-race favorite Sven Nys tripped on a set of barriers, causing his bike to bounce off the ground and smack him in the face so hard he had to abandon the race. It left him with a bruised, swollen eye and a deep cut above it along the eyebrow. But even with the use of only 1 ½ eyes, Nys pulled off the World Cup win.
How it played out
Due to the lack of rain the past days, the riders were treated to a very fast, dry course. From the gun, World Champion Lars Boom (Rabobank) took the lead. Shortly after, he was helped by Bart Wellens (Fidea.) This was an exceptional start for Wellens since he has been known for his slow starts followed by heroic efforts to the front. Some time between the tradeoff of pulls, there was a crash midway back that saw Jonathan Page halted in his tracks. On a fast course like this, it is nearly impossible to bridge back to the leaders. But against the odds, Page made it. The effort to bridge must have taken all he had since shortly afterwards, he slowly slid backwards until he was out of the race. Usually Page is capable of these efforts, but he was clearly suffering from a cold.
As the race progressed, Page was not the only rider to slide backwards. About three laps in, Nys unleashed an attack that blew the race apart. Rider positions were quickly shaken up. Even though Nys' mini gap was short lived due to a tire problem which required a bike change in the pit, the race started to take a new form.
Niels Albert squeezed his way past the big names like Wellens and Boom (who both slid back to barely finish in the top ten) and shot directly off the front solo, immediately getting a tiny gap on the field. Soon after, Nys saw his opportunity and bridged to Albert, leaving the group a few seconds behind to stare at each other.
Of all the chasers, the only one seemingly not content to stare (possibly because he had the best legs of all the chasers) was Kevin Pauwels (Fidea). His surprisingly superhuman effort to catch Nys and Albert was amazing to witness. But as much as the fans willed him to the front, he fell just short, settling for 3rd place in a tight finish with Radomir Simunek (Palmans Cras) and Bart Aernouts (Rabobank) who placed 4th and 5th respectively. World Champ Lars Boom (Rabobank) was battling for 5th but suffered a flat on the last lap and finished in 10th.
At the front of the race, it was mainly Albert with Nys consistently on his wheel. In the pits, the mechanics were saying that if Nys was any other rider, Albert would never let him sit on his wheel. Surely Albert questioned his decision to pull Nys along after he passed him just before the finish line, winning by a few centimeters.
Americans Adam Meyerson (Time Pro Cycling) and Jonathan Page (Planet Bike) competed, but Page pulled out after coning down sick on Friday and Meyerson finished off the lead lap. Jonathan Page suffered early with the early crash and throughout due to sickness. Page racalls, "I was fine in the start until about a minute in when I became the meat in a frenchie sandwich. They crashed. I had to get off but made it out otherwise unscathed."
Meyerson was hoping to finish in the top 52. His placing of 51st therefore qualifies as a success.
Women's Race:
The Cyclo-Cross World Cup opener was held in Kalmthout, Belgium on a very dry, dusty, fast course. Daphny Van den Brand (ZZPR.NL) repeated her performance of last year by taking home the win ahead of current World Champion Hanka Kupfernagel and Czech Republic's Pavla Havlikova.
How it played out:
Immediately after the gun sounded, most of the pre-race favorites were present at the front including top favorites – three current/former World Champions -Daphny Van den Brand (ZZPR.NL), Hanka Kupfernagel, Maryline Salvetat – and Britain's Helen Wyman. The big name missing was USA's Katie Compton (Spike Shooter) who finished 2nd to Van den Brand last year at this event. She was forced to pull out on the first lap due to the same leg injury that cost her the possible World Title early this year in Treviso.
Kupfernagel , Van den Brand and Wyman were the first to make a move, getting a gap on the field early in the race. It didn't stick but it did create a compact group of strong riders at the front. The three were joined by Nadia Triquet-Claude (Team Pro Feminin Les Carroz), Pavla Havlikova of Czech Republic and Saskia Elemans of Holland who was the surprise of the day. (Last year, she finished 22nd in this event.)
Soon after, Kupfernagel and Van den Brand traded attacks that changed a couple of faces at the front. Wyman fell back while Christel Ferrier-Bruneau (Team Lot-Et-Garonne) took her place. (You may remember Ferrier-Bruneau from the Treviso World Championships as the only gal who kept up with Kupfernagel as she powered her way to the rainbow jersey.) During the action at the front, a steady group of riders chased from behind to include Canadian Wendy Simms (Kona) and Belgium's strongest rider Veerle Ingels (USpa.be) who has worked extra hard over the summer to be in top shape for the season.
On the last lap, it was all about positioning. Going into the woods, Ferrier-Bruneau played her odds by taking the lead. Van den Brand found just the right moment to pass Ferrier-Bruneau and immediately attacked, knowing that Kupfernagel would be most likely trapped behind Ferrier-Bruneau. Van den Brand took the win in solo style with a five-second lead, while Kupfernagel charged on for 2nd ahead of Pavla Havlikova. Ferrier-Bruneau came in 4th, losing one spot to her last year's performance of 3rd.
As for the Americans, Sue Butler (MonavieCannondale.com) rode a solid race to finish 14th, Wendy Simms finished an impressive 8th and Cyclocross Magazine's columnist Christine Vardaros suffered from a mechanical caused by a crash and rolled in for 30th. View our full photo gallery. Video highlights are here.
Results – World Cup Cyclocross- Kalmthout- Belgium
Elite Men:
1. Sven Nys (Bel) Landbouwkrediet-Tonissteiner 1:04:23
2. Niels Albert (Bel) Palmans Cras- same time
3. Kevin Pauwels (Bel) Fidea Cycling Team- 0:08
4. Radomir Simunek (Cze) Palmans Cras- 0:08
5. Bart Aernouts (Bel) Rabobank- 0:10
6. Zdenek Stybar (Cze) Fidea Cycling Team- 0:23
7. Thijs Al (Ned) – 0:23
8. Klaas Vantornout (Bel) Sunweb Pro Job- 0:24
9. Bart Wellens (Bel) Fidea Cycling Team- 0:37
10. Lars Boom (Ned) Rabobank- 1:11
11. Francis Mourey (Fra) Française Des Jeux- 1:11
12. Erwin Vervecken (Bel) Fidea Cycling Team- 1:12
13. Simon Zahner (Swi) – 1:12
14. Petr Dlask (Cze) Fidea Cycling Team- 1:12
15. Gerben De Knegt (Ned) Rabobank- 1:14
16. Dieter Vanthourenhout (Bel) Palmans Cras- 1:16
17. Martin Bina (Cze) – 1:29
18. Martin Zlamalik (Cze) – 1:52
19. Richard Groenendaal (Ned) – 2:08
20. Rob Peeters (Bel) Landbouwkrediet-Tonissteiner- 2:13
21. Mariusz Gil (Pol) – 2:13
22. Nicolas Bazin (Fra) Differdange Apiflo Vacances- 2:18
23. Geoffrey Clochez (Fra) – 2:23
24. Johannes Sickmueller (Ger) – 2:25
25. Jonhan Lopez (Fra) – 2:27
26. Aurelien Duval (Fra) Française Des Jeux- 2:29
27. Wilant Van Gils (Ned) – 2:31
28. Milan Barenyi (Svk) – 2:35
29. Marcel Wildhaber (Swi) – 2:38
30. Christian Heule (Swi) – 2:41
31. Jaroslav Kulhavy (Cze) – 2:56
32. Eddy Van Ijzendoorn (Ned) – 2:58
33. Rafael Visinelli (Ita) – 3:00
34. Gusty Bausch (Lux) – 3:02
35. Pirmin Lang (Swi) – 3:03
36. Lukas Kloucek (Cze) Sunweb Pro Job- 3:07
37. Ian Field (GBr) – 3:07
38. Florian Le Corre (Fra) – 3:07
39. Oscar Vazquez Crespo (Spa) – 3:11
40. Thijs Van Amerongen (Ned) Van Vliet Ebh Elshof- 3:16
41. Vaclav Metlicka (Svk) – 3:24
42. Fabio Ursi (Ita) – 3:28
43. David Derepas (Fra) Groupe Gobert.com.ct- 3:31
44. Roy Van Heeswijk (Ned) – 3:41
45. Robert Glajza (Svk) – 4:42
46. René Birkenfeld (Ger) – 4:51
47. Prick Van Leeuwen (Ned) – 5:01
48. Joachim Parbo (Den) – 5:50
49. Stefano Boggia (Ita) – 6:21
50. Julien Laidoun (Fra) – 2 laps
51. Adam Myerson (USA) Time Pro Cycling- -4 laps
Not Classified:
Jempy Drucker (Lux) Fidea Cycling Team
Jonathhan Page (USA)
Vladimir Kyziv (Cze)
Michael Müller (Swi) Atlas-Romer's Hausbäckerei
Marco Bianco (Ita)
Elite Women Results:
1 Daphny Van Den Brand (Ned) – 39.48
2 Hanka Kupfernagel (Ger) – 0.05
3 Pavla Havlikova (Cze) – 0.06
4 Christel Ferrier-Bruneau (Fra) Team Lot-Et-Garonne –
5 Nadia Triquet-Claude (Fra) Team Pro Feminin Les Carroz – 0.13
6 Saskia Elemans (Ned) Team Flexpoint – 0.14
7 Maryline Salvetat (Fra) – 0.32
8 Wendy Simms (Can) Kona – 0.34
9 Veerle Ingels (Bel) – 0.35
10 Sanne Van Paassen (Ned) Team DSB Bank – 0.37
11 Caroline Mani (Fra) Vienne Futuroscope – 0.38
12 Helen Wyman (GBr) Swift Racing – 0.59
13 Arenda Grimberg (Ned) – 1.54
14 Susan Butler (USA) MonavieCannodale.com-
15 Sanne Cant (Bel) – 1.55
16 Linda Van Rijen (Ned) Team DSB Bank –
17 Veronica Alessio (Ita) S.C. Michela Fanini Record Rox –
18 Gabriella Day (GBr) Swift Racing – 1.56
19 Abke Francissen (Ned) – 2.30
20 Birgit Hollmann (Ger) – 2.32
21 Jana Kyptova (Cze) – 3.05
22 Elke Riedl (Aut) – 3.13
23 Mika Ogishima (Jpn) – 3.17
24 Nancy Bober (Bel) – 3.45
25 Gertie Willems (Bel) – 3.46
26 Tessa Van Nieuwpoort (Ned) – 3.54
27 Lise Müller (Swi) – 4.43
28 Francis Keizer (Ned) – 4.55
29 Jana Suess (Ger) – 5.03
30 Christine Vardaros (USA) –
31 Suzie Godart (Lux) Fenixs –
32 Jennifer Sagesser (Swi) – 6.30
33 Katrien Vermeiren (Bel) – 7.01
34 Dorien Raeymaekers (Bel) – 7.19
35 Kim Van Renterghem (Bel) – 7.56
36 Zuzana Vojtasova (Svk) – 8.17
Not Classified:
DNF Katherine Compton (USA) –
DNS Nicole De Bie – Leyten (Bel) –