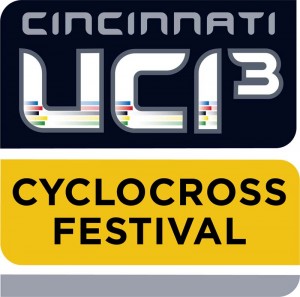 The UCI3 festival is less than a week away, and event promoters have passed along the following info about the star-studded lineup via press release.
With on-line registration for Cincinnati's UCI3 Cyclocross Festival closing at midnight on Tuesday, festival organizers are gearing up for the biggest day of registration for the year. As of lunch time Monday, over 1,100 entries from across the United States and beyond have already been received and the list of Elite racers vying for the $27,000 of prize money and international points is growing.
Notable among the racers attending this week's three-day weekend around Cincinnati are Jeremy Powers (Massachusetts), Joachim Parbo (Denmark) and Laura van Gilder (Pennsylvania), who all won UCI international races this past weekend, plus Ryan Knapp (Indiana) and Nikki Dallaire (Kentucky) who won the men's and women's Elite races at yesterday's Tour de Lousiville.
On the men's side, the depth of talent is astounding. In addition to Powers, Parbo and Knapp, the field also includes four other riders with international wins to their credit: Geoff Kabush (Canada), Tristan Schouten (Wisconsin) and the twin towers from Oregon, Barry Wicks and Ryan Trebon. They are joined by Ryan Knapp, who has been at the front of every international race he has entered this year. Also competing are two riders with notable season-long championships to their credit: Mitch Kersting, defending champion of the Midwest's Zipp OVCX Tour presented by Papa John's and Weston Schempf, the three-time winner of the season-long Champion System MAC Series in the East.
On the women's side, the focus will be on the greatest cyclocross talent in US history, Katie Compton. Compton will be trying to win her 45th UCI international race this weekend. A talented assemblage of women are going to try to keep that from happening and get more than their fair share of the largest weekend women's purse in the world. Eastern Pennsylvania's Laura van Gilder, a legendary road racer who has made her mark off-road during the past three seasons won the UCI international in Gloucester, Mass., this past weekend and she's bringing strong teammates in former US National Team member Dee Dee Winfield (Virginia) and pro road and cyclocross racer Arley Kemmerer (Washington DC). Another former US National Team member, Mo Bruno-Roy (Massachusetts), is also an international race winner and Champion System MAC season champion. Yet another National Team member is California's Barbara Howe. Pennsylvania's Kristin Gavin and defending Zipp OVCX Tour presented by Papa John's season champion Nichole Borem will also figure into the mix.
Two other women riders will also bear watching. Less than a year after being run over by an automobile and nearly dying, Annajean "Nikki" Dallaire is back to winning races with a dominant performance in Louisville this past weekend. She followed up her win in the women's race by rolling immediately back to the start line and finishing 24th in the Elite Men's race. And finally, educated cyclocross fans will be paying close attention to Katie Antonneau; the teenage prodigy finished second at a UCI international race in Toronto last year. A year older, and with a season of international road racing and a new pro contract under her belt, Antonneau is the rider that even Katie and Mark Compton are calling the future of the sport. Could Cincinnati be the place where she scores that first victory and puts herself on the world stage?
For more information on the UCI3 Festival, see www.CXFestival.com.