With cyclocross season in the rearview mirror, we are revving up our regular Rumors & Rumblings column to keep track of what cyclocross stars are up to during the offseason. Many racers, especially here in the U.S., are enjoying a break before road and mountain seasons begin in earnest.
For today's first R&R of the offseason, we re-boot the CXM Society Pages and look at some exciting racing to come, among others.
Our round-up finishes with Wout van Aert's Classics debut at Omloop Het Nieuwsblad, but on Saturday, he turned quite a few heads at Strade Bianche. On a day that left the course looking very cyclocross-like, Van Aert made a three-man break and ended up finishing third. Dealing with cramps at the end, he still managed to find a way to push on to the finish, no matter what it took.
Bad timing for a cramp in both legs… Go hard or go home 🤘🏼 https://t.co/rgwEm1iJje

— Wout van Aert (@WoutvanAert) March 3, 2018
When Cyclocross skills come in handy
📸 Kingston Wheelers pic.twitter.com/3GrCgDcdk3

— CyclingHub (@CyclingHubTV) March 3, 2018
Propose Like Hyde
The CXM Society Pages return to congratulate Stephen Hyde on his recent engagement to his now-fiancée Hayley Singleton.
Hyde popped the big question during his well deserved post-Worlds vacation in Spain. After hearing friend and training partner Kerry Werner's story about the nerves of proposing, we will have to get the full story from Hyde on how it compared to say, finishing 15th at Worlds and winning a second-straight U.S. national championship.
Kaitie Keough to Tackle DK200
Tackling the Dirty Kanza 200 is not for the faint of heart. Two-hundred miles of gravel grinding through the hills and plains of Kansas is a challenge even for the best endurance riders.
Fresh off her impressive 2017/18 cyclocross campaign, Hyde's teammate Kaitie Keough is eyeing the Dirty Kanza 200 as her next challenge.
Excited to finally have a bit of a break from training & racing after a great CX season with @CdaleCXWorld. But I'm already looking forward to some excitement this summer. One big challenge on my radar is @DirtyKanza200. Can't wait for the adventure on my @RideCannondale. pic.twitter.com/1QbvunqPOB

— Kaitie Keough (@kaitiekeough) February 8, 2018
Riding 200 miles is tough. Racing it is even tougher. Keough will be looking to give fellow 'cross star and 2017 runner-up Amanda Nauman and defending champion Alison Tetrick a run for their collective money.
This past weekend, Keough got an early start on her endurance training at the American Birkebeiner cross country ski race in the Northwoods of her native Wisconsin.
Kerry Werner Returns to Kona
Fresh off a third-place finish at U.S. Nationals, Kerry Werner is back with the Kona Endurance and Adventure Team for the coming season. The coming season will be Werner's third with the team. It remains to be seen what the team kit will look like this year and how effectively he will be able to match his space pants with the team's colors.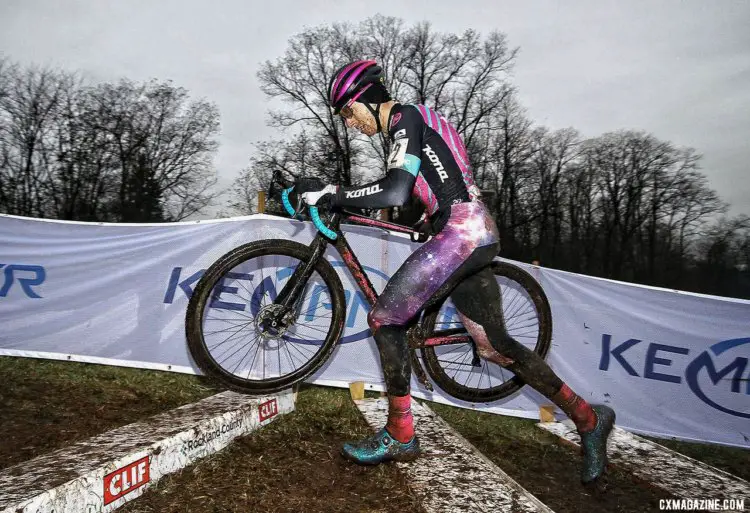 Kerry Werner ran away from Curtis White and Cooper Willsey. 2017 SuperCross Cup Day 1. photo: Marco Quezada
The last two seasons, Werner has come into his own as a cyclocross rider, and is getting known as one of the most fun and laid-back riders in U.S. cyclocross. We learned a bit about him in our feature story on his Carolina college connection, but for more, Kona dives into important issues like skinny jeans and kombucha.
Sofia Gomez Villafane Joins Stan's Pivot Pro Team for Mountain Biking
Sofia Gomez Villafane will be keeping busy this summer racing cross country mountain bikes for the Stan's Pivot Pro Team p/b Maxxis. She will be racing for the team in a slate of events that includes the UCI Mountain Bike World Cups, Sea Otter and the Epic Rides series. She is joined on the team by Chloe Woodruff, Keegan Swenson and Rose Grant.
Sofia Gomez Villafane: Stan's Pivot Pro Team p/b Maxxis. photo: courtesy
Gomez Villafane, who races cyclocross for the Pivot Cycles p/b DNA Cycling team, organized a privateer program with Pivot in 2017 for mountain bike racing. Signing with the Stan's Pivot Pro Team is her first professional mountain bike contract.
Van Aert Acquits Himself Well at Omloop Het Nieuwsblad
One rider who did not get a break after the World Championships was Wout van Aert. Van Aert did one last post-Worlds weekend of racing and then set his sights on the Spring Classics. His first was the Omloop Het Nieuwsblad won by Danish rider Michael Valgren Andersen. Van Aert rode strong in a group that included the eventual winner and was caught by the peloton just before the finish, dropping him to a finish in the 30s.
After the race, Van Aert told nu.nl he was happy with his performance.
"It would have been even better if I could go home with a nice place right away", continued the Belgian, who earlier won a stage in the Tour of Belgium on the road. "But I remember that at the important points in the race, I was with the best, but I did not expect that at all." (translated)
Today Van Aert is racing in the Strade Bianche. We will continue to keep an eye on how his Classics season goes.
Rumors and Rumblings will be a regular column this cyclocross offseason. For more news and musings, see our archive.