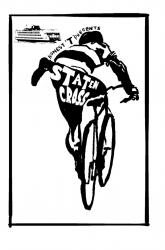 by John Cutler
On November 30th, 2008, New York City will play host to its first 'cross race in almost ten years at scenic Wolfe's Pond Park on Staten Island.
With design help from Portland transplant Patrick Wilder, the Wolf's Pond Park course features a 100 meter beach run, a Circle of Death, barriers, a rooty, rutted, leaf covered run up, and some good old-fashioned tree-slaloms. The park is racer friendly, featuring two large parking lots, electricity, hoses, and bathrooms.
After hearing horror stories from other promoters attempting to secure park permits, the Staten CX crew was taken aback by the Park Service's generosity and support. NYCX's Christophe Jammet recalls:
"The manager was a Staten Island native named "Vincent" who had a pristine Staten Island accent and had worked in the park's department for years. We started to carefully explain that bikes would be ridden on the grass, but that we would make every effort to not damage it and use well-traveled parts of the lawn. Vinny smiled and said "There is nothing you could do on those bikes that would mess up my lawn."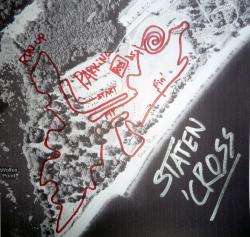 The race has the makings of a post Thanksgiving binge classic. "We couldn't have dreamed up a better situation" explains NYCX's John Cutler, "the park staff welcomed us with open arms, the course is classic, NYC is filled with 'cross addicts, and we're a ferry ride away from Manhattan."
Taking a cue from DCCX, the promoters contacted VisitFlanders.US who graciously sponsored famed NYC Belgian waffle vendor Wafels and Dinges. Owner and cook Thomas DeGeest, a cyclocross fan of true Flemish proportions, jumped at the chance to serve free waffles to racers and spectators. DeGeest will be joined by celebrity BBQ chef Matt Sigel from Fox's cooking reality show Hells Kitchen.
Other sponsors include Honest Tea, Cadence Cycling and Multisport Centers, Sportique, NYC Velo, Robert Dvorin at Prudential Douglas Elliman, Orthochick, Velo Classic Tours, Tandems East, and Wellshire Farms. All profits will go to I Challenge Myself, a non-profit encouraging children from NYC's underserved communities to become physically active and develop leadership skills.
For more information visit the official event blog at http://statencx.wordpress.com/
Course Preview:
[youtube BRkrVdmYYWs 500]