by Shaun Radley, Photos by John Sieber
For this year's Montana State Championship , racers and spectators were treated to a short, twisty circuit and beautiful weather for the day's racing.
The women's championship race was highlighted by a much-anticipated showdown between Jenni Gaertner (Vertical Earth) and Lisa Curry (GAS). Gaetner grabbed the early lead and never looked back. Curry pushed hard and didn't allow Gaetner to gain much ground, but the Vertical Earth rider was just too strong. Gaetner was tough from start to finish on the way to her championship win.
The women's 4 race was a show worth watching. A solid group of Montana strong-women with the teams of NRO, GAS, Delphine, and Muleterro all being represented. Amy Frykman (Delphine) took the early race lead, but the heat was coming from behind. Tracy Thomas, Patricia Dowd, and Laurel Douglas were all gunning for the Delphine rider. It was excellent racing from the ladies after a breakout year for women in Montana Cyclocross, and the depth of skill showed through all the day's obstacles.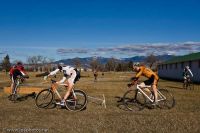 The second race of the day had numerous local battles waiting to be played out. With Redline's Kevin Bradford Parrish registered, it was clear it would be a long day in the saddle for the Montana men in their championship race. Parrish frequents the national circuit in mountain and cyclocross and has raced Star Cross and numerous other large events. As the Vertical Earth van pulled up racers realized it would be an even bigger task to keep to State Crown in Montana. The Montana vs. Idaho showdown was on. Michael Gaertner's (Vertical Earth) experience would suit the twisty, short course well. The race started with a large group at the front. Then the Redline man Parrish hit the gas and was never seen again. The chasing group of Gaertner, Proctor, and Curry settled in for the remainder of the race. Just behind the chase group was Frank Gonzalez and Doug Shryock (sporting a pink helmet cover). Curry was in a cross legend sandwich as the two more experienced riders took the corners with ease. Curry didn't give an inch and managed to claim his first Montana Cyclocross State Championship. Gaertner got way from the Montana boys and took second on the day. Rounding out the top five were Proctor, and Gonzalez. Great racing by Doug Shryock to keep in contention finishing 6th.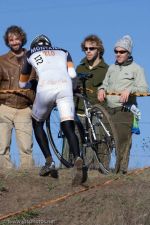 Proctor and Shryock rode an excellent race and put themselves in the hunt for a state championship. Other riders worth mentioning are the two GNC riders Connelly and Schmidt who rode a great race. Also, Vanderwood, Thomas, Dollar Bill, and Lussier continued their Montana hard men legend by riding solo to top ten performances. Overall the championship racing action provided an exciting end to the cyclocross season in Montana and a successfully day for Bradford Parrish and Jenni Gaertner.