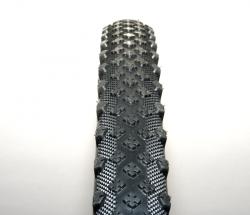 Not many folks are running tubeless for 'cross yet. Our recent poll indicated only 4% of our readers are racing with tubeless setups, with the majority (55%) of folks running clinchers. Stan over at NoTubes.com is hoping to convert more 'cross racers to tubeless, and offers a 29er rim, conversion rim strips, rim tape, and valve stems to provide 'cross racers multiple options to try tubeless, either through converting existing clincher wheelsets or using his rims or wheels. While our upcoming Issue 3 will look at these options in-depth, we've just received a new product that Stan will be adding to his product list: The Raven cyclocross tire.
We got our hands on a nearly-final prototype pictured above/left. The tire offers a downsized, modified version of their Crow 29er tire tread, with the same low-profile center knobs, but taller, squared off shoulder knobs sandwiching a file tread. When inflated on the Stan's rim, which is a about 4mm wider than a typical road rim, the tire has a pretty square profile as pictured. The theory is with the lower pressures allowed by riding the tire tubeless and with sealant, more of the tire should make contact with the ground, allowing better traction without the need for tall, aggressive knobs.
We're currently testing out the prototype along with a slew of other new 'cross product. Stay tuned for our initial feedback. Should we publish our findings online or save it for the mag? Let us know through a comment below.
More info on Stans wheels and tubeless accessories: http://notubes.com (The Raven cyclocross tire is not yet available for purchase)
Note: This article was initially published labeling the tire as "The Crow." The final production tire will be called "The Raven."