The wildfire known as the Singlespeed World Championships (SSCXWC) roared into Portland this weekend for its tenth edition, fueled by the most pre-event hype in its history. Those flames were further fanned when the community got wind that Trek was bringing its best-known evangelist, living cyclocross legend Sven Nys. The firestorm of SSCXWC doesn't just make for a raucous cyclocross race. It changes the sport. Remove the ability to shift gears in cyclocross and social and sporting norms follow the missing cogs and chainrings into the spare parts bin.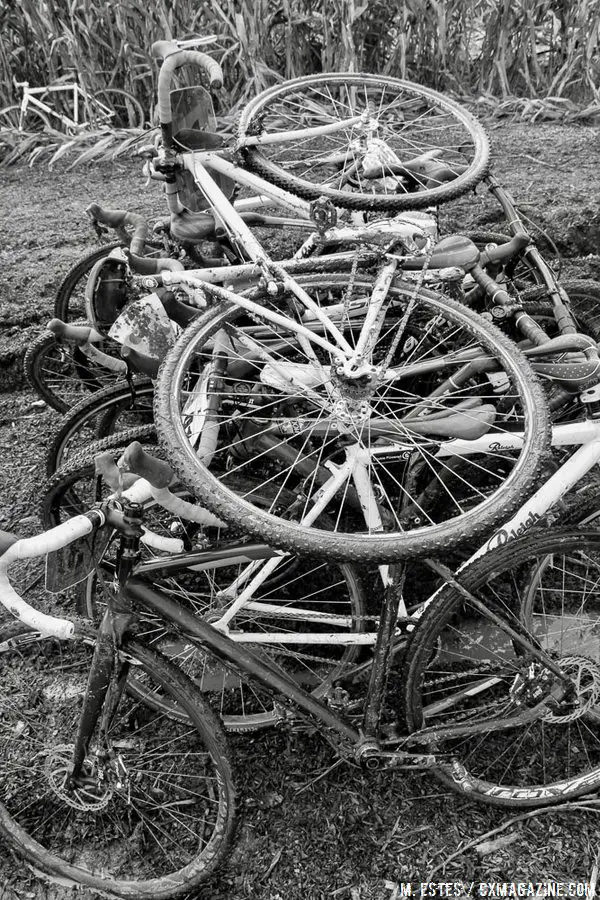 Do so under the six letter authority of a championship, and toss in a gold bathing suit and a permanent tattoo and you're certain to end up defying all conventions. Drop bars and skinny knobbies? Who cares. Pit bike and crew? Stay home. No contact from the spectators? Only if you're really lucky. Pre-scout the fastest lines? Throw them out and put on a show. Race to win? Even that's not always the goal.
The Sequel Returns to the Original Director
As the final stuck-in-the-mud car exited the Kruger's Farm parking lot, after Mother Nature did her part to make sure participants and fans drove home sober, the 10th edition of the SSCXWC finished just as the first one in 2007 did, with a pile of dirty one-gear bikes, and much of the Portland cycling community and a few hundred singlespeeders from throughout the world eager to look through their digital photos to confirm whether everything they just witnessed and experienced was real.
In many ways, SSCXWC founder Dani Dance and her team brought the 10th edition back to its original roots of an event based on racing, with a few unexpected twists. Although the large number of participants made reenacting the qualifying time trial of 2007 impossible, racers had to still pass a test of speed through the one-lap qualifying heats to make the finals, and if such an attempt wasn't successful, push their way in
through several short last-chance qualifying sprints
.   Holeshot races replaced one-lap last-gasp mass start heats, dual slalom heats were subbed in for aerobar coasting races, and the surprise reverse call-ups from nine years ago became selective hiding and burying of top racers' bikes, but the original spirit of 2007 was there. The infamous event has certainly morphed over the years, as it passed between cities and promoters, and as a result, some argue, became decidedly less race-oriented and more of a course-cutting shortcut to the closest beverage hand-up, with Saturdays filled with leisurely city tours, pixie bike races and feats of strength. These evolutions, save for an optional  "I'm Feeling Lucky" qualifying potato sack race, were largely gone. Nys was in town to race his bike after all, and feats of strength would be needed on Sunday just to make forward progress in the thick mud of Kruger's Farm and stay out of his way.
Defending a Streak, and Ending an Unwelcome One
Anyone on Sunday thinking the organizer's motto stating "We're going to Make Singlespeed Racing Racing Again" was just lip service probably didn't see Nys pre-walking the course, or Jessica Cutler dialing in her ride and trying to get a proper warm-up. Both had plenty of motivation to put in good rides. Nys had a full Trek Bicycle media team documenting his every move, and flew from Belgium just for the weekend, not to rub shoulders with weekend warrior racers stopping at course-side watering holes, but to inspire them by riding through the watering holes and representing sponsor Trek in the process. Meanwhile, Cutler was tired of wondering what could have been after one-gear championship cyclocross races. Despite
recent retirement from professional racing
, Cutler made it known that
the 2016 SSCXWC was her top priority "A race of the season"
and she was out for redemption after
three straight podiums in the singlespeed race at the USA Cycling Cyclocross National Championships
, including two back-to-back silver medals. Yet she knew as with any race, it was the unknowns that represented the most danger, whether in the form of inflatable shark-infested waters, head-hunting mud-covered exercise balls, the naked distraction of dollar hand-ups, or perhaps
some recent Stanford grad who had been racing Women's B races just two years ago
but
now was on a Cross Crusade Elite Women's tear
.
While the winner of the last four SSCXWC editions, Adam Craig, played it cool, helping out with the event and
getting philosophical and a bit spacey
, he admitted to
Cyclocross Magazine
, "I mean Sven sorta stressed me out. I was pretty worried about Nys. Sven can ride. Have you seen him ride?"
"I mean Sven sorta stressed me out. I was pretty worried about Nys. Sven can ride. Have you seen him ride." -Adam Craig
Riding with Intent
Every attendee of a Singlespeed Cyclocross World Championships event has his or her own reasons or making the trip, whether it's to watch and further the shenanigans, have a few drinks with friends, compete against some of the top one-gear 'crossers in the land, put on a good show for sponsors, or simply overdose on a reminder of the fun-oriented aspects of the sport that might have escaped the weekly training and racing routine and points hunt. Most attendees' intentions were revealed once the ceremonial hatchet was buried, the torch was lit and the Le Mans start kicked off the championships. Others telegraphed their priorities when presented with opportunities to grab a cotton candy hand-up, jump the shark, or grapple with an unruly fan.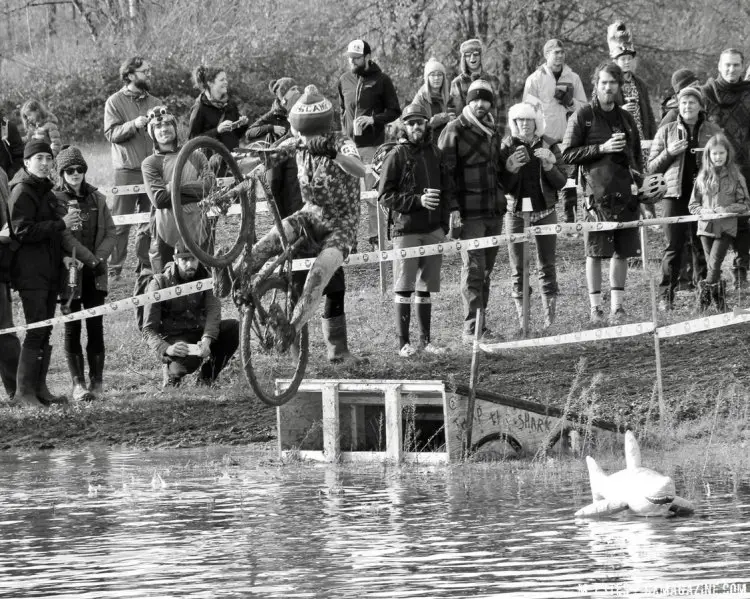 While Nys powered through the knee-deep lake on his bike, Craig took to the ramp and bristled when asked if he could ride through the lake like Nys. "No, No, No. Because I was jumping in, he was skipping the jump to pedal, and I wasn't willing to make that sacrifice," Craig told
Cyclocross Magazine.
https://www.instagram.com/p/BNne1OuB1q7/?tagged=sscxwcpdx Even though his fifth-straight victory was on the line, he also wasn't willing to sacrifice the opportunity to even the score with one of his fans: https://www.instagram.com/p/BNnuKYph4Ay/ Nys was feeling the SSCXWC spirit, grabbing a dollar hand-up and a beer, but he was riding, powering a big 42×17 gear in the thick mud. He poured the beer over his head, and tried to lead or stay locked on Craig's wheel, and for much of the race, appeared to do so with some ease. "Yeah, he was riding," Craig recalled. "That dude can ride, which was cool for me to see, fun for me to see as a fan." He also got beer and mud-covered exercise balls thrown in his face, but
unlike his reaction to an infamous beer-throwing incident in Europe
, Nys embraced the hop-laden face wash. "It's a very good atmosphere and everybody is in a very good mood," Nys told
Cyclocross Magazine
. "It's amazing to be part of this event. They are yelling and throwing beer but that's part of the game."
"It's amazing to be part of this event. They are yelling and throwing beer but that's part of the game." -Sven Nys
Part of the game, at least on an official basis after
Rapha-Focus swept the titles in 2011 in San Francisco but skipped the ink
, is to get a winner's tattoo. Speculation started
the instant it was disclosed that Nys may be attending the event
whether the Belgian would be the first European to proudly wear such branding, but flying under the radar was Englishwoman Angharad Porteous, now working for Nike after earning a Stanford degree. Porteous, an avid golf fan, might have been worried about the appropriateness of a dirty event's winners mark in the clubhouse.
She kept Cutler in sight, but
after a string of impressive Portland cyclocross victories
, wasn't fueled by the same runner-up motivation that the leader had. Cutler pushed her 39×19 gear to finally land on the top step of a singlespeed championship race.
I've won a couple races in my career but this one is the only one that's ever mattered. #sscxwc #sscxwcpdx16

— jessica cutler (@jessica_cutler) December 4, 2016
There's No Debate
The singlespeed community and one-gear curious will debate for years as to whether gifts were given or ink was avoided, and even
Cyclocross Magazine's
team of three on the ground couldn't agree as to how hard certain racers tried to win or not win. Creative captioners couldn't either: What most people do agree on is that it doesn't matter.  "I [enjoyed being] in this race and I [would] love to come back also," Nys said after his race, and stressed on social media that the goal was fun.
Second place @sscxwcpdx16. It's not about winning. It's about having fun.@TrekBikes

— Sven Nys (@sven_nys) December 4, 2016
As well as partaking in Portland cyclocross culture:
No words #sscxwcpdx16 pic.twitter.com/KDWyYAALYC

— Sven Nys (@sven_nys) December 4, 2016
SSCXWC Chaos Says Ciao for Now
It's off to Italy for 2017, as
founder Dance alluded to
, placed
in the hands of a crew that has already demonstrated the ability to balance racing with good times
. After that? Perhaps in Belgium. Nys thought about the suggestion, and liked the idea. "They are not used to an event like this, but I think it's possible," he said. "We have some crazy people in Belgium also. We have the culture of cyclocross so…" Where in Belgium could it land? "My place," said Nys, referring to his
GP Sven Nys in his hometown of Baal held every January 1
. Would you make the trip to ring in the New Year with Sven Nys, fellow singlespeeders and a hundred thousand fans?
"They are not used to an event like this, but I think it's possible. We have some crazy people in Belgium also." -Sven Nys
As overnight rain turned to snow and covered up the tracks of the 2016 event, the torch has been burned to the ground and its ashes, just like Nys, are on a long flight to Europe. It's been a fun, crazy North American ride.
Lee Slone and Andrew Yee contributed to this report.
See our SSCXWC 2016 men's championship photo gallery here and our SSCXWC 2016 women's championship photo gallery here. Full results below and here.
Cyclocross Magazine depends on your support to keep our cyclocross and gravel coverage going. Become a member today.
2016 SSCXWC Men's Results - Singlespeed Cyclocross World Championships, Portland, Oregon (PDX)
| Pl | Num | Name | Laps |
| --- | --- | --- | --- |
| 1 | 1 | Adam Craig | 4 |
| 2 | 578 | Stan Nice | 4 |
| 3 | 450 | Stephen Ettinger | 4 |
| 4 | 617 | Scott Chapin | 4 |
| 5 | 466 | Rotem Ishay | 4 |
| 6 | 366 | Sean Babcock | 4 |
| 7 | 456 | Parker Bloom | 4 |
| 8 | 371 | Cody Cupp | 4 |
| 9 | 387 | Steven Beardsley | 4 |
| 10 | 370 | Ryan RINN | 4 |
| 11 | 358 | Spencer Powlison | 4 |
| 12 | 414 | James Williams | 4 |
| 13 | 509 | Michael Gallagher (G-Force) | 4 |
| 14 | 289 | Paul LaCava | 4 |
| 15 | 600 | Lucas Strain | 4 |
| 16 | 352 | Ben Guernsey | 4 |
| 17 | 511 | Alex Martin | 4 |
| 18 | 538 | T Rex | 4 |
| 19 | 310 | Cliff Eslinger | 4 |
| 20 | 492 | Brian Kesselman | 4 |
| 21 | 535 | Timothy JOSLIN | 4 |
| 22 | 242 | Dylan Stucki | 4 |
| 23 | 245 | Kolben Preble | 4 |
| 24 | 171 | Colin Frazer | 4 |
| 25 | 580 | Scott Daubert | 4 |
| 26 | 267 | Lucas Clarke | 4 |
| 27 | 14 | curbwzrd | 4 |
| 28 | 413 | Spence Gerber | 4 |
| 29 | 403 | Jacob Huizenga | 4 |
| 30 | 314 | Great White (Mitch) Hammer (Trux) | 4 |
| 31 | 383 | Richard Knutson | 4 |
| 32 | 524 | Jimmy Volcano Esquire | 4 |
| 33 | 194 | Rainier Schaefer | 4 |
| 34 | 533 | Joshua Liberles | 3 |
| 35 | 506 | Fred Mills | 3 |
| 36 | 579 | Micah Moran | 3 |
| 37 | 560 | Kristopher Auer | 3 |
| 38 | 507 | Carter Warren | 3 |
| 39 | 480 | Alex Marganski | 3 |
| 40 | 230 | Nick Stroud | 3 |
| 41 | 319 | Rory JACK | 3 |
| 42 | 587 | dace lawler | 3 |
| 43 | 634 | Dax Massey | 3 |
| 44 | 175 | Alistair Hardy | 3 |
| 45 | 499 | Cam Smith | 3 |
| 46 | 11 | Hagai Tavori | 3 |
| 47 | 620 | Mark Scott | 3 |
| 48 | 448 | Brian Lynch | 3 |
| 49 | 364 | Charles Christianson | 3 |
| 50 | 418 | Zack Phillips | 3 |
| 51 | 307 | Sean A Carline | 3 |
| 52 | 277 | Scott Barker | 3 |
| 53 | 303 | Brian Myers | 3 |
| 54 | 359 | Sean Corey | 3 |
| 55 | 324 | Nick Bennette | 3 |
| 56 | 421 | Greg MacDonald | 3 |
| 57 | 216 | Joe Santos | 3 |
| 58 | 446 | Halldor Gunnarsson | 3 |
| 59 | 322 | Pete Groblewski | 3 |
| 60 | 385 | ZZ Über | 3 |
| 61 | 391 | Joey Martinez | 3 |
| 62 | 229 | Danny Weikel | 3 |
| 63 | 692 | Stephen Kincaid | 3 |
| 64 | 510 | Derik Archibald | 3 |
| 65 | 312 | Steve Black | 3 |
| 66 | 477 | Anthony Broadman | 3 |
| 67 | 283 | Christian Reed | 3 |
| 68 | 292 | Sean Gibson | 3 |
| 69 | 378 | Matt Fox | 3 |
| 70 | 179 | Steve WASMUND | 3 |
| 71 | 586 | Ian Brown | 3 |
| 72 | 597 | Sterling Quinn | 3 |
| 73 | 224 | Kyle aka ginger spanky Ireton | 3 |
| 74 | 628 | Kellian Rusk | 3 |
| 75 | 321 | Alex Strandell | 3 |
| 76 | 248 | Cody Phillips | 3 |
| 77 | 222 | Jason Hendrickson | 3 |
| 78 | 449 | Benjamin Farver | 3 |
| 79 | 9 | Kristopher Celtnieks | 3 |
| 80 | 568 | Bryan Smith | 3 |
| 81 | 262 | Clay Anselmo | 3 |
| 82 | 514 | Billy Bergen | 3 |
| 83 | 203 | Hans Van Housen | 3 |
| 84 | 440 | Ryan Barrett | 3 |
| 85 | 503 | Clayton Webb | 3 |
| 86 | 293 | Lucas Seibel | 3 |
| 87 | 411 | Sven MacAller | 3 |
| 88 | 526 | Andreas Hagen | 3 |
| 89 | 517 | Dieter Laskowski | 3 |
| 90 | 111 | Tony Kic | 3 |
| 91 | 589 | Marc Ouellette | 3 |
| 92 | 354 | Martin Fuss | 3 |
| 93 | 521 | Doug Graver | 3 |
| 94 | 591 | Steve Sevilla | 3 |
| 95 | 457 | Mike Udelhofen | 3 |
| 96 | 545 | John Stambaugh | 3 |
| 97 | 447 | Josh Patterson | 3 |
| 98 | 219 | Zack Hewell | 3 |
| 99 | 191 | Craig Harrison | 3 |
| 100 | 338 | tyler boucher | 3 |
| 101 | 602 | Timmy McAfoos | 3 |
| 102 | 441 | Shane Beers | 3 |
| 103 | 251 | Nat Johnson | 3 |
| 104 | 396 | Collin Van Slyke | 3 |
| 105 | 525 | Aaron Barcheck | 3 |
| 106 | 513 | Trevor Lane | 3 |
| 107 | 550 | Damien Salerno | 3 |
| 108 | 341 | Matthew HORNLAND | 3 |
| 109 | 369 | Scott Heather | 3 |
| 110 | 424 | Spencer Maughan | 3 |
| 111 | 275 | Jose French | 3 |
| 112 | 476 | Andrew Morrison | 3 |
| 113 | 237 | Aaron Radspinner | 3 |
| 114 | 465 | John Gulick | 3 |
| 115 | 416 | Forest Wilson | 3 |
| 116 | 467 | Robert Jackson | 3 |
| 117 | 263 | Paul Sasseville | 3 |
| 118 | 5 | John Graham | 3 |
| 119 | 173 | Adam Sklar | 3 |
| 120 | 206 | Daimeon Shanks | 3 |
| 121 | 395 | Hahn Rossman | 3 |
| 122 | 270 | Maxwell Kullwasi | 3 |
| 123 | 444 | Sam Zivin | 3 |
| 124 | 195 | Derek Yarra | 3 |
| 125 | 574 | Florent Carriere | 3 |
| 126 | 247 | CJ Bryan | 3 |
| 127 | 611 | Alex Work | 2 |
| 128 | 372 | Giancarlo DALLE ANGELINI | 2 |
| 129 | 427 | Darrin Seeds | 2 |
| 130 | 376 | Gabriel Linn | 2 |
| 131 | 350 | Jeremy Russell | 2 |
| 132 | 384 | Lee Slone | 2 |
| 133 | 160 | Kip Zwolenski | 2 |
| 134 | 569 | Michael McGovern | 2 |
| 135 | 328 | Patrick Croasdaile | 2 |
| 136 | 618 | Iago Garay | 2 |
| 137 | 558 | Tad Hodgert | 2 |
| 138 | 502 | Andrew Demeter | 2 |
| 139 | 196 | KENT SANCHEZ | 2 |
| 140 | 408 | Aaron Erbeck | 2 |
| 141 | 386 | Dave Roth | 2 |
| 142 | 462 | Carl Anton | 2 |
| 143 | 274 | Aaron Huebner | 2 |
| 144 | 430 | Robbie Douangpanya | 2 |
| 145 | 530 | James Underwod | 2 |
| 146 | 343 | Lt. Hamster Style | 2 |
| 147 | 287 | Gavin LaFave | 2 |
| 148 | 445 | Donavan Miller | 2 |
| DNF | 570 | Frank Hammond | 2 |
| DNF | 6 | Jason Bavuso | 2 |
| DNF | 7 | Gregory Heath | 2 |
| DNF | 228 | Brendan Lehman | 2 |
| DNF | 234 | Andrew Howe | 2 |
| DNF | 308 | Christian Folk | 2 |
| DNF | 349 | Joe Huber | 2 |
| DNF | 365 | Jobe Handy | 2 |
| DNF | 367 | Rhys Haydon | 2 |
| DNF | 392 | Paul Valentine | 2 |
| DNF | 420 | Matthew Slaven | 2 |
| DNF | 422 | Drew MacKenzie | 2 |
| DNF | 559 | Jay Drasher | 2 |
| DNF | 567 | Ted Clausen | 2 |
| DNF | 340 | Jim Bowes | 2 |
| DNF | 469 | Blake Crouch | 2 |
| DNF | 113 | Andrew Erickson | 2 |
| DNF | 519 | Abel Tomkinson | 1 |
| DNF | 226 | Cody Goodman | 1 |
| DNF | 460 | Jason Bogan | 1 |
| DNF | 435 | Christopher Igleheart | 1 |
| DNF | 536 | Mike Keller | 1 |
| DNF | 348 | Erik Borghoff | 1 |
| DNF | 8 | Peter Eby | 1 |
| DNF | 13 | Patrick Monteith | 1 |
| DNF | 165 | Aaron Amin | 1 |
| DNF | 177 | Brad Nelson | 1 |
| DNF | 190 | Brandon Harrison | 1 |
| DNF | 202 | Michael Brazel | 1 |
| DNF | 261 | Nat Pellman | 1 |
| DNF | 271 | Jordan Krema | 1 |
| DNF | 272 | Jeffrey Anderson | 1 |
| DNF | 317 | Tyler Smith | 1 |
| DNF | 379 | Eddy Bach | 1 |
| DNF | 389 | Slate Olson | 1 |
| DNF | 394 | James Rennie | 1 |
| DNF | 429 | sebastian boyington | 1 |
| DNF | 432 | Jason Britton | 1 |
| DNF | 436 | kyle von Hoetzendorff | 1 |
| DNF | 471 | Jim Wood | 1 |
| DNF | 475 | Aidan Sullivan | 1 |
| DNF | 478 | Joey Mullan | 1 |
| DNF | 496 | Bryan Harding | 1 |
| DNF | 498 | Jeff Johnston | 1 |
| DNF | 564 | Cody Riggs | 1 |
| DNF | 577 | Cameron Vander Stoep | 1 |
| DNF | 619 | Josh Lewis | 1 |
| DNF | 623 | Curtis Inglis | 1 |
| DNF | 626 | Landon Masterfield | 1 |
| DNF | 259 | Benjamin Popper | 1 |
| DNF | 546 | Brad Hunter | 1 |
2016 SSCXWC Men's Results - Singlespeed Cyclocross World Championships, Portland, Oregon (PDX)
| Pl | Num | Name | Laps |
| --- | --- | --- | --- |
| 1 | 1 | Adam Craig | 4 |
| 2 | 578 | Stan Nice | 4 |
| 3 | 450 | Stephen Ettinger | 4 |
| 4 | 617 | Scott Chapin | 4 |
| 5 | 466 | Rotem Ishay | 4 |
| 6 | 366 | Sean Babcock | 4 |
| 7 | 456 | Parker Bloom | 4 |
| 8 | 371 | Cody Cupp | 4 |
| 9 | 387 | Steven Beardsley | 4 |
| 10 | 370 | Ryan RINN | 4 |
| 11 | 358 | Spencer Powlison | 4 |
| 12 | 414 | James Williams | 4 |
| 13 | 509 | Michael Gallagher (G-Force) | 4 |
| 14 | 289 | Paul LaCava | 4 |
| 15 | 600 | Lucas Strain | 4 |
| 16 | 352 | Ben Guernsey | 4 |
| 17 | 511 | Alex Martin | 4 |
| 18 | 538 | T Rex | 4 |
| 19 | 310 | Cliff Eslinger | 4 |
| 20 | 492 | Brian Kesselman | 4 |
| 21 | 535 | Timothy JOSLIN | 4 |
| 22 | 242 | Dylan Stucki | 4 |
| 23 | 245 | Kolben Preble | 4 |
| 24 | 171 | Colin Frazer | 4 |
| 25 | 580 | Scott Daubert | 4 |
| 26 | 267 | Lucas Clarke | 4 |
| 27 | 14 | curbwzrd | 4 |
| 28 | 413 | Spence Gerber | 4 |
| 29 | 403 | Jacob Huizenga | 4 |
| 30 | 314 | Great White (Mitch) Hammer (Trux) | 4 |
| 31 | 383 | Richard Knutson | 4 |
| 32 | 524 | Jimmy Volcano Esquire | 4 |
| 33 | 194 | Rainier Schaefer | 4 |
| 34 | 533 | Joshua Liberles | 3 |
| 35 | 506 | Fred Mills | 3 |
| 36 | 579 | Micah Moran | 3 |
| 37 | 560 | Kristopher Auer | 3 |
| 38 | 507 | Carter Warren | 3 |
| 39 | 480 | Alex Marganski | 3 |
| 40 | 230 | Nick Stroud | 3 |
| 41 | 319 | Rory JACK | 3 |
| 42 | 587 | dace lawler | 3 |
| 43 | 634 | Dax Massey | 3 |
| 44 | 175 | Alistair Hardy | 3 |
| 45 | 499 | Cam Smith | 3 |
| 46 | 11 | Hagai Tavori | 3 |
| 47 | 620 | Mark Scott | 3 |
| 48 | 448 | Brian Lynch | 3 |
| 49 | 364 | Charles Christianson | 3 |
| 50 | 418 | Zack Phillips | 3 |
| 51 | 307 | Sean A Carline | 3 |
| 52 | 277 | Scott Barker | 3 |
| 53 | 303 | Brian Myers | 3 |
| 54 | 359 | Sean Corey | 3 |
| 55 | 324 | Nick Bennette | 3 |
| 56 | 421 | Greg MacDonald | 3 |
| 57 | 216 | Joe Santos | 3 |
| 58 | 446 | Halldor Gunnarsson | 3 |
| 59 | 322 | Pete Groblewski | 3 |
| 60 | 385 | ZZ Über | 3 |
| 61 | 391 | Joey Martinez | 3 |
| 62 | 229 | Danny Weikel | 3 |
| 63 | 692 | Stephen Kincaid | 3 |
| 64 | 510 | Derik Archibald | 3 |
| 65 | 312 | Steve Black | 3 |
| 66 | 477 | Anthony Broadman | 3 |
| 67 | 283 | Christian Reed | 3 |
| 68 | 292 | Sean Gibson | 3 |
| 69 | 378 | Matt Fox | 3 |
| 70 | 179 | Steve WASMUND | 3 |
| 71 | 586 | Ian Brown | 3 |
| 72 | 597 | Sterling Quinn | 3 |
| 73 | 224 | Kyle aka ginger spanky Ireton | 3 |
| 74 | 628 | Kellian Rusk | 3 |
| 75 | 321 | Alex Strandell | 3 |
| 76 | 248 | Cody Phillips | 3 |
| 77 | 222 | Jason Hendrickson | 3 |
| 78 | 449 | Benjamin Farver | 3 |
| 79 | 9 | Kristopher Celtnieks | 3 |
| 80 | 568 | Bryan Smith | 3 |
| 81 | 262 | Clay Anselmo | 3 |
| 82 | 514 | Billy Bergen | 3 |
| 83 | 203 | Hans Van Housen | 3 |
| 84 | 440 | Ryan Barrett | 3 |
| 85 | 503 | Clayton Webb | 3 |
| 86 | 293 | Lucas Seibel | 3 |
| 87 | 411 | Sven MacAller | 3 |
| 88 | 526 | Andreas Hagen | 3 |
| 89 | 517 | Dieter Laskowski | 3 |
| 90 | 111 | Tony Kic | 3 |
| 91 | 589 | Marc Ouellette | 3 |
| 92 | 354 | Martin Fuss | 3 |
| 93 | 521 | Doug Graver | 3 |
| 94 | 591 | Steve Sevilla | 3 |
| 95 | 457 | Mike Udelhofen | 3 |
| 96 | 545 | John Stambaugh | 3 |
| 97 | 447 | Josh Patterson | 3 |
| 98 | 219 | Zack Hewell | 3 |
| 99 | 191 | Craig Harrison | 3 |
| 100 | 338 | tyler boucher | 3 |
| 101 | 602 | Timmy McAfoos | 3 |
| 102 | 441 | Shane Beers | 3 |
| 103 | 251 | Nat Johnson | 3 |
| 104 | 396 | Collin Van Slyke | 3 |
| 105 | 525 | Aaron Barcheck | 3 |
| 106 | 513 | Trevor Lane | 3 |
| 107 | 550 | Damien Salerno | 3 |
| 108 | 341 | Matthew HORNLAND | 3 |
| 109 | 369 | Scott Heather | 3 |
| 110 | 424 | Spencer Maughan | 3 |
| 111 | 275 | Jose French | 3 |
| 112 | 476 | Andrew Morrison | 3 |
| 113 | 237 | Aaron Radspinner | 3 |
| 114 | 465 | John Gulick | 3 |
| 115 | 416 | Forest Wilson | 3 |
| 116 | 467 | Robert Jackson | 3 |
| 117 | 263 | Paul Sasseville | 3 |
| 118 | 5 | John Graham | 3 |
| 119 | 173 | Adam Sklar | 3 |
| 120 | 206 | Daimeon Shanks | 3 |
| 121 | 395 | Hahn Rossman | 3 |
| 122 | 270 | Maxwell Kullwasi | 3 |
| 123 | 444 | Sam Zivin | 3 |
| 124 | 195 | Derek Yarra | 3 |
| 125 | 574 | Florent Carriere | 3 |
| 126 | 247 | CJ Bryan | 3 |
| 127 | 611 | Alex Work | 2 |
| 128 | 372 | Giancarlo DALLE ANGELINI | 2 |
| 129 | 427 | Darrin Seeds | 2 |
| 130 | 376 | Gabriel Linn | 2 |
| 131 | 350 | Jeremy Russell | 2 |
| 132 | 384 | Lee Slone | 2 |
| 133 | 160 | Kip Zwolenski | 2 |
| 134 | 569 | Michael McGovern | 2 |
| 135 | 328 | Patrick Croasdaile | 2 |
| 136 | 618 | Iago Garay | 2 |
| 137 | 558 | Tad Hodgert | 2 |
| 138 | 502 | Andrew Demeter | 2 |
| 139 | 196 | KENT SANCHEZ | 2 |
| 140 | 408 | Aaron Erbeck | 2 |
| 141 | 386 | Dave Roth | 2 |
| 142 | 462 | Carl Anton | 2 |
| 143 | 274 | Aaron Huebner | 2 |
| 144 | 430 | Robbie Douangpanya | 2 |
| 145 | 530 | James Underwod | 2 |
| 146 | 343 | Lt. Hamster Style | 2 |
| 147 | 287 | Gavin LaFave | 2 |
| 148 | 445 | Donavan Miller | 2 |
| DNF | 570 | Frank Hammond | 2 |
| DNF | 6 | Jason Bavuso | 2 |
| DNF | 7 | Gregory Heath | 2 |
| DNF | 228 | Brendan Lehman | 2 |
| DNF | 234 | Andrew Howe | 2 |
| DNF | 308 | Christian Folk | 2 |
| DNF | 349 | Joe Huber | 2 |
| DNF | 365 | Jobe Handy | 2 |
| DNF | 367 | Rhys Haydon | 2 |
| DNF | 392 | Paul Valentine | 2 |
| DNF | 420 | Matthew Slaven | 2 |
| DNF | 422 | Drew MacKenzie | 2 |
| DNF | 559 | Jay Drasher | 2 |
| DNF | 567 | Ted Clausen | 2 |
| DNF | 340 | Jim Bowes | 2 |
| DNF | 469 | Blake Crouch | 2 |
| DNF | 113 | Andrew Erickson | 2 |
| DNF | 519 | Abel Tomkinson | 1 |
| DNF | 226 | Cody Goodman | 1 |
| DNF | 460 | Jason Bogan | 1 |
| DNF | 435 | Christopher Igleheart | 1 |
| DNF | 536 | Mike Keller | 1 |
| DNF | 348 | Erik Borghoff | 1 |
| DNF | 8 | Peter Eby | 1 |
| DNF | 13 | Patrick Monteith | 1 |
| DNF | 165 | Aaron Amin | 1 |
| DNF | 177 | Brad Nelson | 1 |
| DNF | 190 | Brandon Harrison | 1 |
| DNF | 202 | Michael Brazel | 1 |
| DNF | 261 | Nat Pellman | 1 |
| DNF | 271 | Jordan Krema | 1 |
| DNF | 272 | Jeffrey Anderson | 1 |
| DNF | 317 | Tyler Smith | 1 |
| DNF | 379 | Eddy Bach | 1 |
| DNF | 389 | Slate Olson | 1 |
| DNF | 394 | James Rennie | 1 |
| DNF | 429 | sebastian boyington | 1 |
| DNF | 432 | Jason Britton | 1 |
| DNF | 436 | kyle von Hoetzendorff | 1 |
| DNF | 471 | Jim Wood | 1 |
| DNF | 475 | Aidan Sullivan | 1 |
| DNF | 478 | Joey Mullan | 1 |
| DNF | 496 | Bryan Harding | 1 |
| DNF | 498 | Jeff Johnston | 1 |
| DNF | 564 | Cody Riggs | 1 |
| DNF | 577 | Cameron Vander Stoep | 1 |
| DNF | 619 | Josh Lewis | 1 |
| DNF | 623 | Curtis Inglis | 1 |
| DNF | 626 | Landon Masterfield | 1 |
| DNF | 259 | Benjamin Popper | 1 |
| DNF | 546 | Brad Hunter | 1 |