SRAM's new 2012 Red Group, as ridden by Jeremy Powers has already captured the CrossVegas 2012 title, but what changes implemented in the new component group are relevant for cyclocrossers? In Issue 18, just off the printer, we did a quick round-up of the new drivetrains in "The Future of 'Cross Gear is Here," including Shimano Ultegra Di2, CX50, and the new SRAM Red (at least we tried).  Here's our initial impressions on the new group. Stay tuned for a longer-term test and review, and be sure to see Issue 18 for our thoughts on Di2 and CX50. 
by Andrew Yee
We're willing to wager that, since its introduction, SRAM Red components have won more UCI cyclocross races than any other group here in the States. Some will argue that those victories are simply because SRAM sponsors so many athletes, but the components have certainly proven themselves at the highest level of our sport.
SRAM Red 2012 hit a few production delays and only now is the much-heralded group readily available for consumers. It's pricey at over $2500 for a road version, but it's also light—100g lighter than the original Red group, a few dozen grams leaner than Campagnolo Super Record's lightest option, and over 300g less than Shimano's Dura-Ace mechanical and electronic groups (although both Shimano and Campagnolo go to 11 speeds).
Is the new SRAM Red worth the upgrade? It's gotten plenty of press from its road launch but is it cyclocross worthy? We've been fortunate to spend a little time on the new SRAM Red group and to bring you one of the first cyclocross-centric reviews.
Yearning for Yaw
The big story with SRAM's 2012 Red Group is undoubtedly the new front derailleur. The redesigned gear changer is a marvelous piece of engineering, angling its cage in or out depending on the chain ring in use, effectively eliminating the need for shifter trim. We've long heard from both Shimano and SRAM that their newer front derailleurs and shifters can be set up so that trim is unnecessary, but so often that seemed only possible on the workstand, not during the bumpy, crud-filled, cross-chained riding situations of cyclocross. That's been our biggest beef with the front DoubleTap shifter (with the exception of the first Rival DoubleTap that offered small ring trim).
Yaw really works and easily brings SRAM's front shifting to be on par with, or even surpassing, that of Shimano. Now it's just a matter of shifter preference. Aided by a stiffer, stronger stainless steel cage (earlier SRAM Red units had titanium cages) and increased number of shift ramps on the PowerGlide rings, the front shifts are smooth and quick, and without the need for a trim, you shift it and you're done—nothing else to think about no matter what gear you're pedaling in the back. SRAM even includes a chain watcher to help keep your chain on in all conditions. The lever throw to push the chain into the big ring still requires a tad more effort than a Shimano system (only because you can't use your whole hand on the lever as with Shimano), but it's a quiet, smart, trim-less system that doesn't require wires, batteries or chargers. It's worth noting that the angle of lever throw has changed a bit as well, and on the front shifter, the motion change is more noticeable as it sweeps more across the bar instead of inwards.
It's the Little Things
Speaking of quiet, SRAM really did prioritize creating a quiet ride. Its redesigned ultralight road cassette now features StealthRing elastomer pads that absorb some of the shock of the chain landing on a cog, creating a smooth, quiet shift. No longer do you have to announce your attack by the resonance of the chain slamming into the one-piece steel dome that makes up the biggest eight cogs. SRAM continued its push for a quiet ride through a redesign of the rear derailleur pulleys to further dampen sound. While you may appreciate these two features on (especially road-based) training rides, you might forget all about them while the cowbell-ringing crowd is cheering your way to victory in a cyclocross race.
The cassette is a lot more cyclocross-friendly now, too, as the cogs have small cutouts that should help prevent it from getting packed with mud like the old Red Dome cassette. (We've heard rumors of a cyclocross-specific cassette design under development with larger cut-outs for muddy days.)
The DoubleTap levers have also been redesigned, and the changes are subtle with more-textured hoods, flatter transitions to the bar and more pronounced knobs on top. The extra texture is certainly something a 'crosser will appreciate, and it's especially nice on sweaty or slimy days.
Tired of little things or rings? Thankfully, SRAM is also expanding gearing options by making a WiFli rear derailleur capable of handling wide-range cassettes like 11-32t. For those of us who like to ride a cyclocross bike like a mountain bike in the off-season, the longer cage WiFli rear derailleur gives more flexibility in gearing.
Arguably the most visually noticeable change from the older components is the new SRAM Red Exogram hollow carbon crank and spider that's said to be SRAM's stiffest yet. Even the chain rings have been redesigned with more ramps, plus one bolt position that threads directly into the crankarm. However, our early cyclocross kit from SRAM didn't come with the new Exogram crankset, instead featuring a Red-badged carbon crankset with an external aluminum spider and PowerGlide 36/46 rings that looks remarkably similar to the company's S900 crankset. It's the same crankset the SRAM-sponsored riders will be racing early this season. SRAM is making a 110 BCD compact Red crankset and is working on compatible cyclocross rings, and companies like WickWerks are already targeting that crankset with new cyclocross rings, so there definitely will be cyclocross options with the newer crank shortly.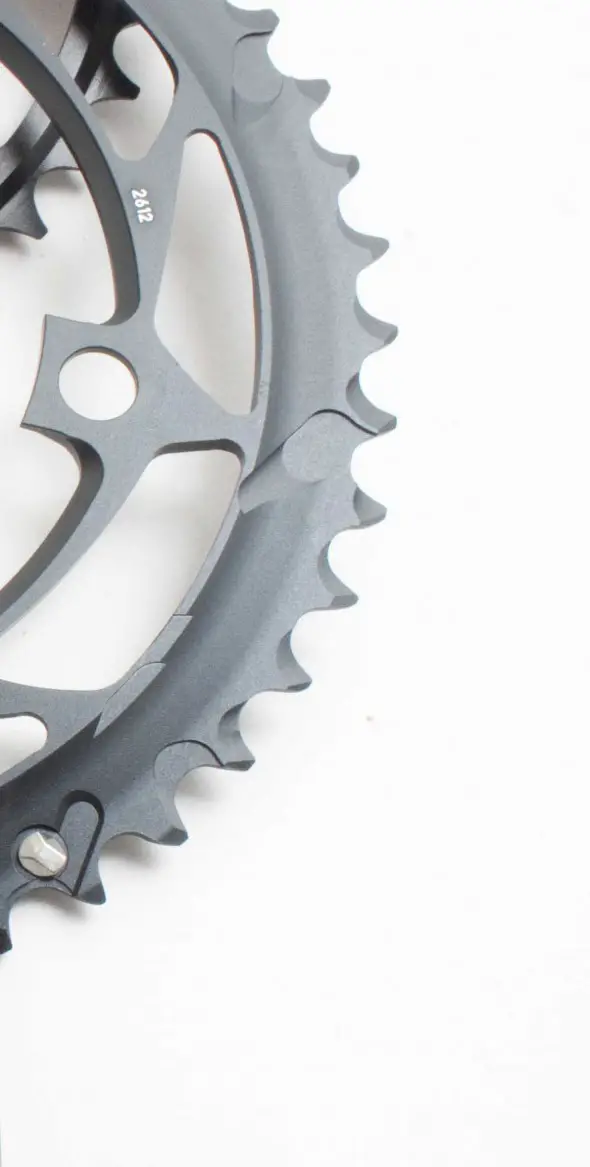 Run-Up Friendly
While Shimano and Campagnolo are embracing electronics and an extra gear, SRAM is still the lightweight champ—at a decent value, too, (compared to the next-lightest Campagnolo Super Record at nearly twice the price). Spend the coin to upgrade to Red from a workhorse group like Shimano 105, and you can save close to two pounds. You'll immediately notice that change whether it's when picking your bike up for a run-up, or just sprinting out of corners.
We expect Red-level hydraulic disc brakes in the near future; thus the SRAM Red system will receive plenty more changes. But if you're looking for lightweight components with top-notch front shifting and a quiet ride, the 2012 SRAM Red components might be the right upgrade for you.
2012 SRAM Red Group
MSRP: $2575 (including road rings & brakes), $2443 estimated with Avid Shorty Ultimate cantilevers  instead of Red road brakes.
More info: www.sram.com
View Issue 18's 2012 SRAM Red Review in print format:
[issuu width=420 height=261 embedBackground=%23000000 backgroundColor=%23222222 documentId=120921003641-30977f03de704c7ba015d3b6ae9414bc name=sram-red-issue18-cxmagazine-cut username=cyclocross-magazine tag=bicycling unit=px v=2]