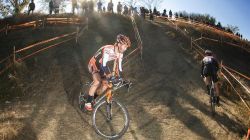 Wendy Simms (Kona) and Geoff Kabush (Maxxis / Litespeed) took convincing wins under sunny skies at the Canadian National Championships in Edmonton, Alberta. Simms repeats as winner and wins her fourth title, while Kabush took his second career title by beating last year's champion, Michael Garrigan. Full report below.2008 Canadian National Championships, Edmonton, Alberta, October 11
The Edmonton based Juventus Cycling Club played host to the 2008 Canadian National Champioships on October 11. For some reason that no-one can quite explain, Canadians hold their Championship months before any other country and this year's Championship arrived almost a month earlier than last year's National Championships in Kamloops, British Columbia. Some speculate it's to avoid nasty weather (this is 'cross-who ever heard of such a thing?) while others say it's so the National Federation can wind up the season early. Whatever the reason, the early schedule meant that few riders competing had more than a couple of 'cross races in their legs before contesting the National Championship.
For Team Maxxis rider Geoff Kabush, the early season race was probably a blessing. Kabush is coming off a peak Olympic year and is on the tail end of his best season ever on the UCI Mountain Bike circuit. Kabush was clearly the man to watch in the elite race and right from the gun he escaped the field with last years' National Champion Mike Garrigan (Jet Power).
The two riders watched each other closely for several laps and neither rider seemed to be in too much distress until about half way through the race when Kabush launched several attacks to rid himself of Garriagan, who has a reputation as a speedy finisher.
Garrigan recalled, "Geoff attacked me on the hill and gapped me but I was able to bridge back up. He took a look back and saw me on his wheel again and launched another attack. I can do the short quick accelerations but he just kept going and over-powered me."
Garrigan finished second and Derrick Cornwall (Stevens Cross) was third.
The overall consensus among racers was that today's course was a power rider's dream. Almost all the racing was on dry grass and there were long demanding straight sections that seemed to wear many the riders out. Additionally, although it was a bright sunny crisp fall day, there was a steady wind that riders had to battle in all corners of the course. While 'cross is growing rapidly in Canada and the talent level is quite high, the fields are extremely small and so most riders spent the day with their faces in wind.
Wendy Simms came to Edmonton determined to repeat as National Champion. Last year's race was a nail biter as Simms very narrowly beat Canadian legends Lynne Bessette and Alison Sydor. Bessette has since retired and Sydor, although rumored to be on the start list, was a no show. This left Simms as the overwhelming favorite on course that made her nervous. Simms is known to excel in nasty weather on super technical courses – in other words the exact opposite of the Edmonton venue. Simms, however, wasted no time in opening an early gap and rode a steady conservative race that saw her lead eventually grow to just over a minute on second place finisher Pepper Harlton (Juventus). Sarah Stewart (Total Restoration Cycling) was third.
In the U-23 race Team Alberta/Juventus teammates Mike Bidniak and David Larson were able to break away from the field after two laps and the pair worked closely together for the duration of the race. Both Bidniak and Larson have spent time racing in Europe and the training partners had everyone guessing as to how they would contest the final sprint. As the pair rounded the final corner it became clear that it would be a somewhat anticlimactic finish as the two held hands and celebrated together down the finishing straight. In the end, first year U-23 Larson (and last year's junior champion) gave the nod to teammate Bidniak. Kyle Fry (Cycle Solutions) was third.
The junior race saw a large contingent of riders from British Columbia competing as part of the new Cycling BC Team and Evan Guthrie (Cycling BC) took top honors. Kris Dahl (Team Alberta/ Bow Cycles) was second and Kevin Thorpe (Team Red Truck) was third.
Tomorrow the same venue plays host to the UCI Jim Horner Cyclo-Cross Grand-Prix.
Some folks were very happy today was an all-Canada affair (photo by Janet Hill):