Despite what some people say saddle bags, new internet sensation Phil Gaimon recently informed us that yes, professional bike racers also use in-ride storage devices like the rest of us Freds. Today we take a look at Silca's Boa-equipped Premio Seat Roll saddle bag to see how it works as an in-ride tote for cyclocross and gravel riders.  
---
We have all been out on rides and gotten a good chuckle over the rider whose saddle bag is hanging loose and swaying back and forth (or been the recipient of these chuckles), or worse, had it open up and send bike tools everywhere like happened to Janel Holcomb on the Col d'Crush this year.
Silca's Premio Seat Roll seeks to provide a solution to these problems by using the Boa™ closure system found on cycling shoes and helmets to provide a way of securing the foldable seat roll securely under the saddle.
[caption id="attachment_102266" align="aligncenter" width="750"]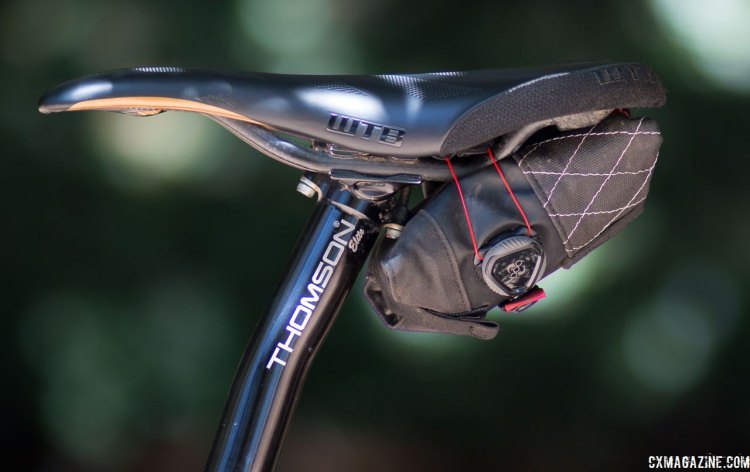 The $48 Silca Premio Seat Roll uses the Boa™ closure system to secure the tool pouch under the saddle. © Cyclocross Magazine[/caption]
The tool pouch on the Premio Seat Roll features three pockets for storing tools. According to Silca, the pouches are sized to store a 700x45mm tube, two CO2 cartridges and a multi-tool. We tested the Premio out with a 700x35mm tube, tire levers and a multi-tool and found adequate room for these ride essentials. However, gravel riders tackling epic events such as the Dirty Kanza 200 or Crusher in the Tushar will likely want another spare tube, and it appeared that fitting a second spare into the pouch would be a tight squeeze.
[caption id="attachment_102259" align="aligncenter" width="750"]
The tool roll has 3 pockets to store a tube and multi-tool and it is made from a waxed cotton canvas fabric. Silca Seat Roll Premio. © Cyclocross Magazine[/caption]
The pouch itself is made from a cotton canvas fabric that is waxed for additional water resistance, which is a plus given epic gravel events have a knack for attracting wild weather. Reflective white stitching on the outside panel provides an additional level of safety for the rider. Once the tools are secure inside, the tool pouch folds up and an elastic strap helps provide an additional mechanism for securing the contents.
Probably the most innovative aspect of the Premio Seat Roll is the inclusion of the Boa closure for securing the roll to the saddle. In our experience, velcro can be a challenge to secure tightly and buckles and toe can come loose and can be tedious to switch from bike to bike, so we are intrigued by the approach used on the Premio. Silca sought to allay concerns about the cables of the Boa system cutting into carbon rail saddles by including a "Rail Guard" strap pad.
[caption id="attachment_102264" align="aligncenter" width="750"]
A strap goes over the Boa™ wires to prevent them from cutting into carbon rail saddles. © Cyclocross Magazine[/caption]
When we got the opportunity to try out the Premio Seat Roll, we found it easy to fold up and get onto the saddle posts, and the Boa closure system allowed us to fit it snugly under the saddle. It provides a functional and stylish option for regular road riding, but we can see riders tackling gravel epics wanting more storage space for the greater number of proverbial tools of the trade required for rough off-road conditions.
Attaching the Premio Seat Roll to your bike is quite easy, but the Boa dial is not quite the time-saving godsend that it is when used on snowboard boots or hockey skates. It's also important to note that every time you want to grab something from the roll, you have to disconnect it from the bike to get to your contents. If you find yourself relying on the contents of your bag quite often (to grab coffee money or your keys), you may find the Premio Seat Roll more cumbersome than your normal zippered saddle bag.
Still, it is elegant, easy to use, and for the fashion-conscious, you could conceivably swap out the Boa dial for a different color should your team kit or frame color change. Also, once it is secured, there is no zipper to accidentally open up and drop your precious cargo.
Given its capacity, we would say the Premio Seat Roll is appropriately-sized for road or cyclocross rides, but may be undersized for your day-long gravel adventure or race.
The MSRP for the Silca Premio Seat Roll is $48 and the list weight is 109 grams. It's not cheap for a saddle bag, but adds style and a unique twist to make sure you make it home from your ride.
For more information: silca.cc
Cliff Lee and Zachary Schuster contributed to this product review. 
Photo Gallery: Silca Premio Bike Roll