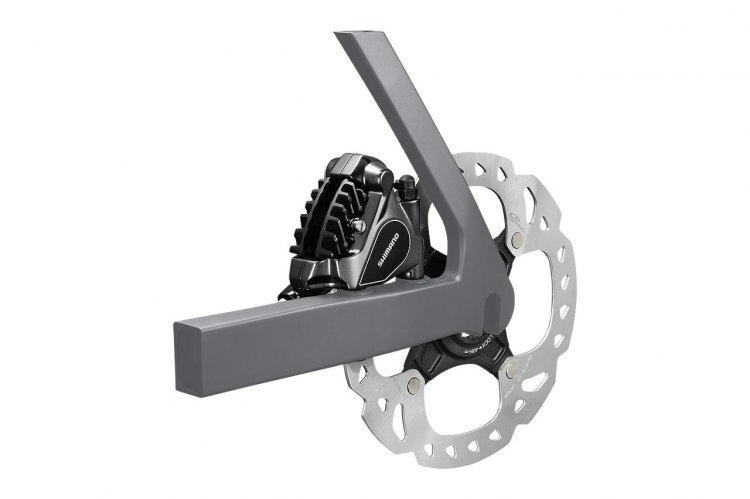 Shimano's new flat mount hydraulic disc brake caliper. © Shimano
Almost a year and a half after stepping into the hydraulic road brake market, Shimano has created a Flat Mount hydraulic road disc brake caliper, designed to be better integrated into a road bike's profile. The company has also released the details on its newest version of Tiagra, and while the group remains 10 speed, it has taken quite a bit of trickle down advancements from the 105 and Ultegra groups. Shimano provides the details in their press release below:
OSAKA, Japan (April 1st, 2015) – Today Shimano expanded its performance hydraulic road disc brake offerings with the first examples of its new Flat Mount hydraulic road disc brake caliper standard: new 105 and Ultegra grade performance road hydraulic disc brake systems. Also announced were an all-new, 10-speed Tiagra road group and the WH-RX010 road disc brake wheel set. These new components and wheels continue Shimano's pioneering role in road component systems and wheels for 21st century road and cyclocross bikes.
Flat Mount road disc brake systems enter Shimano's line
New for 2015, Shimano brings two new Flat Mount performance hydraulic disc brake calipers to the road market. With the BR-RS805 Ultegra grade and BR-RS505 105 grade non-series calipers, road riders can experience Shimano's industry-leading disc brakes with a clean, integrated look specifically developed for road bikes. The low- profile caliper design maintains One-Way bleeding and easy tool access.
The ST-RS505 completes the RS505 system as a set of 11-speed compatible mechanical shift levers that integrate with either of the new Flat Mount calipers as well as previous Shimano road disc calipers. With reach and free stroke adjustment as well as Vivid index shifting, both performance and easy setup are exceptional. The new levers feature excellent ergonomics and bring Shimano performance hydraulic road disc brakes to an even lower price point.
Using tested materials, both the calipers use new pads that are not compatible with mountain calipers.
New Tiagra delivers refined ergonomics and expanded gear ranges
New for 2015 is a completely redesigned and best performing Tiagra 10-speed road group. With continued trickle down features, Tiagra offers progressive all-road perfor-mance. Highlights include expanded gear ranges with 2x10 and 3x10 options, an 11-34T cassette, new cranks, refined derailleurs and increased braking power.
New 34T compatible GS rear derailleur
New, higher leverage design front derailleur with braze-on support bolt for improved stability
New cranks feature an offset, 110 bcd, 4-arm design with 3x10 and 2x10 gear options
Rider tuned cassettes with 11-25T, 12-28T, 11-32T and 11-34T 10-speed op-tions
New brakes offer 30 percent increase in brake power and better adjustability
Drop bar shifter ergonomics cascaded from 11-speed groups
Smooth multi-shift flat bar shifter with Instant Release and 2-Way Release
Shimano expands road disc wheel line with WH-RX010
Adding to the more premium WH-RX830 and WH-RX31 wheel sets, the new WH- RX010 is Shimano's third performance road disc brake wheel set on the market. The WH-RX010 is an affordable all-around wheel for today's modern road bikes featuring Centerlock rotor mounting, 11-speed compatibility and a versa-tile 23mm OD rim width. The WH-RX010 will retail for $299.99 per pair.