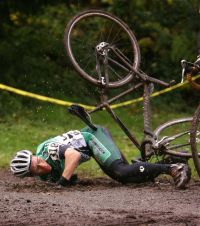 by LeRoi Smith, photos by Janet Hill
Auburn, WA – Rain, mud and broken derailleurs. The Seattle Cyclocross Series finally crossed paths with stormy weather to the delight of many racers at Donida Farms. Pit mechanics earned their post-race party today with regular pit exchanges on gummed up bikes, flats and many sheared derailleurs.
In the Elite Men's race, a select group formed at the front from the gun. Ryan Iddings (Lapierre), Zach McDonald (Classic Cycles), Steve Fischer (Rad Racing), Toby Swanson (Benaroya Research Institute) pushed the pace through the soggy grass, greasy corners and peanut-butter mud on the first lap. Iddings, McDonald and Swanson left Fischer early on and the podium group appeared set. However all day the course had claimed riders through falls, flats and sheared-off derailleurs. No lead was safe today. Iddings and McDonald, who was returning from injuries, traded attacks on the next few laps with Swanson appearing to yo-yo just off the two leaders. Just about mid-race Iddings succumbed to a chain jammed between the chainring and the guard. That was the last he would see of the front group. Swanson and McDonald continued to trade pulls/attacks until the mechanical gremlin caught up to McDonald. A front flat was not completely detrimental to his race; but it was enough for Swanson to pull away to solo in for a hard fought victory against the racers and the course. McDonald recovered for second place and Spencer Pearson (Team S&M) bested the rest to round out the podium.
The top three Elite Women managed to escape serious mechanical problems but no one could avoid the brutality of the conditions. Kristi Berg (Redline Bicycles) led the early going over Ann Knapp (Kona) with Jadine Riley (Team Group Health) staying in touch. Although the course was muddy and had a long section of single-track, the conditions favored power over handling and the few fast sections of the course did not overtax the skills of the top three. After coming to grips with the course, Knapp showed her form is improving week-by-week as she reeled in and went around the former pro downhiller mid-race. Berg maintained a small but stable gap on Riley into the final lap where Riley shut it down a bit to keep from becoming a victim of the course.
Race Notes
Dale Knapp dominated the Master 1/2 field, leading almost wire to wire extending his gap from the 2nd lap on and working well into the Elite Men's field.
Fall finally hit on a race day with temperatures in the 50's, rain off and on heavy at times and wheel sucking mud or soggy grass covering much of the course.
Photo Gallery
For first-hand accounts of the action, visit www.seattlecyclocross.com