Happy Thanksgiving! On the day to give thanks, we serendipitously have a reader-submitted race report that seems a bit appropriate for the holiday.
by Dave Queen, photos by Janet Hill
Heading into last weekend for the sixth, and penultimate, race in the Seattle Cyclocross series, our team was a little down. Our primary sponsor had informed us that with the outcome of the recent elections, and what he believed was the inevitability of the resulting tax increases, they could no longer sponsor our cycling team. This made the recent election results and the current financial crisis even more personal. Without tipping our hat we knew we would be doing some "team shopping," to see where our futures may take us.
This past weekend's race was held at a fairground and the course included portions of an automobile race track. The conditions were ideal. We consider the weather in Seattle to be perfect when it rains during the week and is dry on the weekend. Thankfully, this is what we were able to enjoy this past weekend.
After re-reading Issue Two of Cyclocross Magazine, and seeing that in every age group up to fifty years old, the winners at Nationals (either male or female or both) had eaten oatmeal for breakfast, I decided to forgo the traditional Egg McMuffin and opted instead for steel cut oats. I was encouraged to see that the recently defeated Republican John McCain had his own brand of oatmeal; but upon closer inspection it turned out to be some impostor named John McCann from Ireland. I decided to invest the almost forty minutes to make the porridge, which sounded so old school I figured it had to help my performance. I don't know if they are actually better, or if I was so hungry by the time they were ready to eat that they just seemed to taste better. Either way, it was great.
With the war wagon loaded with bikes, pit wheels, tools, gels and tubs of assorted clothing articles, we headed out. This was a new venue and for a race series that seems to fear change, so I was extra excited. We left under sunny skies and the temperature was below 40. Shortly after leaving the freeway we hit thick fog and, like the lemmings that we are, followed the cars with cross bikes on their roofs and soon we were there.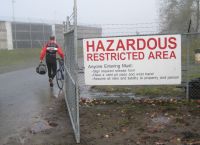 I am a big fan of irony and the sign warning us as we entered that it was a hazardous area and that we would all be required to sign waivers only hinted at what was in store for me today. My wife, world-famous 'cross photographer Janet Hill is recovering from back surgery and is under strict direction not to lift anything weighing close to her usual bazooka sized camera set up. She was armed only with my point and shoot camera which she referred to as a "spectator quality" camera. She was still able to capture images that leave me feeling helpless with a camera.
I've been racing cyclocross for a few years and this season I moved up a division. I've started to use a trainer to warm up. The only reason I do this is that a couple guys I used to beat regularly have started beating me. I know enough that if you are going to copy off someone else on a test, you copy off the smart kid.
Another aspect I thought I would seek to emulate was the use of embrocation. Why go the Belgium knee warmer route? A stocky guy I used to destroy has been beating me and he never wears knickers or leg warmers, but always wears shorts and he has shiny knees in cold weather. I received my jar in the mail this week, and it came in an unmarked box like I had ordered Enzyte or something. Speaking of Enzyte, should we unite and tell Versus those commercials offend us? Alas, I digress.
Arriving at the race I plunked down my green, showed my license, signed the waiver and went to ride the course. The course was the quintessential combination of pavement, grass, trail, mud bogs and run ups that makes this sport so awesome. Despite the dry skies there was mud a plenty.
I had the perfect pre-ride meal. I warmed up perfectly. I had my gel shot and drink handy. I was hydrated, caffeinated, sugared up, topped off and well drained. A few minutes before the race was to go off, I peeled off my leg warmers, donned a latex glove like I was preparing to give a "masters-age" physical exam, and smeared the embrocation on my newly exposed, and proudly unshaven, legs.
I had a flash back to 1978 (If you want to keep in the present tense you may skip this flashback, but it teaches a great lesson). In May of 1978 at a high school track meet, just moments before his one mile race was to start, my teammate Dan Dupont asked me if I had anything to help the chafing he was having on his inner thighs from his shorts. The sadistic behavior of youth took over and I reached for a tube that was covered with duct tape and gave him a squirt. I told him not to rub it on until he was in his lane ready for the starter's pistol. With misguided trust he nodded and ran to the line. The tube of Cramer's Atomic Balm was so potent that some of it had leaked out and it had taken the paint off of the tube. I covered the whole tube with duct tape and cruelly gave a dollop to Dan this day. Your mind can fill in the blanks. And now, thirty years later, Karma came a calling.
With the subtlety of that first bite of five star Thai, when you think to yourself, "this isn't too unbearable." I felt fine. As I went to the line the heat on my legs grew and grew and I began to grow impatient. Like a man who had just drained an entire pot of coffee and skipped his Flowmax, I began to fidget and jump up and down waiting for the starting whistle. I decided that for next week I could dilute this stuff with something milder, perhaps hydrochloric acid?
The whistle blew and I was off. Most of my season had been taken up with injury and a lingering sinus infection, so I was ready for a breakthrough race. Just as I had expected, I was contending and where I wanted to be. I had snap in my legs and was able to accelerate when I wanted. I felt great and everything was going according to plan. Then a good friend of mine took a sharp left turn when the course didn't and plowed hard into me, sending me grazing into the infield grass and mud. I got up and untangled my bike as he apologized. I am a good runner and I tore out of the mud bog and got up some speed and jumped on my bike. I clipped in and realized my chain was off. I got going again quickly, but I had lost a bunch of places. I began working my way up and was getting back where I wanted. I could taste mud on my lips. I must have hit the mud hard when I fell to have collected mud on my face.
Around the race course were the wreckages and skeletons of past auto racing victims. A Limo with "Mr. Dizzy" painted on the side had clearly been out of commission for more than a few years. As I spit out the particles of mud I kept finding in my mouth following my earlier dive, I felt a little like Mr. Dizzy.
On my fourth lap I was slipping more than usual on the infield and when I hit the pavement I stood up to accelerate and my front wheel mushed out. I was flatting. I kept it straight up and pedaled for all I was worth. Keeping my weight on my rear tire and taking the corners slowly, I was hoping I could make it to the pit and make a swap. On the run up I shouldered my bike and squeezed the tire with my left hand. It was hopeless. I reached to top and kept the bike on my shoulder. I had more than two thirds of the course between me and the wheel. I ran on and the passing riders cheered me on. I appreciated their encouragement and I felt the kinship of the sport. As I kept running and running I realized I would only salvage my pride, or perhaps my inflated master's age ego, as I would surely finish last.
After making the swap I emerged and was glad to be riding again. I did collect the Lantern Rouge, but I didn't mind. My deed of running the bulk of the course had made me a bit of a celebrity. My status as a hero or the object of pity hopefully enhanced my chances of landing on a team for next year.
Today I had done everything within my control correctly. A crash that wasn't my fault and a flat conspired to make it a less than stellar day. Considering all that had happened I was actually pretty happy as we left the races. I realized that although changes are coming, and I may not like all of them, the camaraderie I experienced today reminded me that we're all in this sport together. That's the beauty of the 'cross, and I'm very thankful for that.