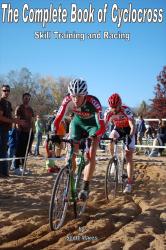 Scott Mares of Sibex Sports has been running the ACA cyclocross camps in Colorado for the last nine years. With attendance reaching as high as 140 racers at a time, the camps have help produce more than a dozen national champions and even a silver medal in the Juniors at the World Championships. Several years ago Mares became dissatisfied with the only book on the market and thought he could do better. So he started to document his drills and skills for cyclocross, and that became the early foundation for his new book. While we have not seen a copy of this book he's self-publishing, we chatted with him about his new project.
CXM: What motivated you to create the book?
SM: Well, I saw a need to take cyclocross to another level in the US. It is becoming very popular and now that we have a bigger talent pool I thought it was time for a new book to come out on the subject.

CXM: Why does a bigger talent pool require a new book? What makes it different than the other book out there? [Simon Burney's Cyclocross Technique and Training]
SM: Currently, there is only one book out there right now and it does not have the skill drills or the cross-specific core and strength exercises that my book has. It's also really vague in its instructions and I am very specific and break the movements down into easy-to-remember steps.
CXM: Who have you coached for 'cross?
SM: Good question! Well, just take a look at my web site and you will see a few of the riders that have been exposed to my program. [Danny Summerhill and Taylor Phinney are two such riders.] In addition to the hundreds of riders that have come though the camps, coaches were taught the drills and the program as well. Initially [the camp] was just to teach the riders but I learned that by teaching the coaches as well it was like a force multiplier in getting the program out there. Because even though the riders go though the camp, the coaches will go back and teach other people what they learned at camp. And eventually some of the riders go on to be coaches and so on. I taught a class at the OTC [Olympic Training Center] at a women's identification camp and one of the riders went on to work for CTS. She came up to me at one of the USGP races and told me that she was coaching and teaching 'cross and was using what I had taught her at OTC.
CXM: Can you give our readers a sample of one of your drills?
SM: Sure. One of my favorites is called a cone race. This is a fun drill to do if you have at least one other person to race against and it is a great fitness equalizer. Your big turbo engine is not that helpful here, so riders of all levels of abilities can do this together. For this drill, you need at least three cones and at least two people; three to four people are ideal, but this depends on the course. The larger the course, the more people you can have. The purpose of this drill is to demonstrate that it is not always the first person to the cone who wins.
Grab three cones and set them up in a triangle. They should be wide enough apart that you can take two pedal strokes between the cones (3-5 bike lengths apart should be good). This drill is a race where everyone begins off their bikes. Have everyone line up 30 meters from the center of the triangle. After the signal to start has been given, riders race to the far cone on the left or right side. Complete an inside-out circle of the first and second cones. The last cone is an outside-in circle followed by a race back to the start. This exercise will make you more aware of placement, lines, braking, gears and speed. You can mix up the order of the cones that you do or the number of cones that you have. Make sure that everyone knows the pattern before the start of the race.
CXM: That sounds like fun, but how the heck to you prevent slower folks from t-boning the ones already exiting the cone? Can it become bike derby?
SM: The cones are not that far apart, so folks should not be that spread out. Speed is not the issue with this. If the cones are like 30 yards apart then its really how fast you are. But for this, after the first 30 meters, it's more about the correct line and the gear that you are in. Plus you should only do it with 3-4 people.
CXM: Thanks for chatting with us, and good luck wrapping up the book.
SM: Thank you, and thanks for supporting cyclocross!
See the official press release on the book below:
SIBEX Sports to Introduce NEW Cyclocross Skills Book
Sibex Sports' Scott Mares is releasing a new book titled, "The Complete Book of Cyclocross, Skill Training and Racing". This book will be available online at www.cx-book.com later this month and will retail for $20.00.
The book addresses different techniques of skill training and racing for cyclocross. The book will also address different cross drills to promote skill and intervals specific to cyclocross.
Detailed descriptions will be given on these drills that have never been published before. The book explains each drill in a way that is easy to understand and implement.
Racing tactics and equipment are a big section in this book. In the racing section, Mares talks about different tactics and explains when and when not to apply them.
In addition, the book contains a few chapters on growing the sport. The ACA has been very successful on growing Junior Cyclocross through their camps and Mud Skipper program. The book gives detailed guidance on how to create and run your own cyclocross camp and junior cyclocross program.