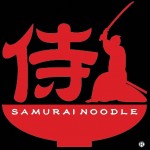 Seattle, WA—The Olympia Orthopedic Cycling Team won the first annual "Race for the Noodles" at the Labor Day Cyclocross Championships held  in SeaTac, WA on September 6, 2010.  Seattle Cancer Care Alliance/Starbucks finished one point behind with third place Team Group Health within striking distance. Rounding out the top five were Team Cucina Fresca and Ragnarok Racing Team.  The competition used the top five finishes of each team in nine different race categories.
The race had a record turnout as racers, families and friends enjoyed a relaxed start to the cyclocross racing season in the Pacific Northwest. Full race results available at Samurainoodle.com.
Samurai Noodle is the first restaurant in Seattle to specialize in serving authentic Japanese ramen.  They have stores in Seattle's International and University  Districts.
Team Double Check is a Northwest cycling club sponsored by Samurai Noodle, Confluence Digital and Center Cycle.