At Press Camp 2015, we caught a first look and gave a first ride to a Ridley bike that was still in the works. Only weeks before the official cyclocross season has started, the company has unveiled the specs and info of their latest X-Trail bike.
Ridley has been developing the bike over the course of two years, and call it an equal mix of a road bike, cyclocross bike and endurance bike, and the company is now releasing all of the info on the models just as even pro road teams are being allowed to test road bikes with disc frames in a select few races across the world. Ridely even had Lotto Soudal take the models out for a test ride recently.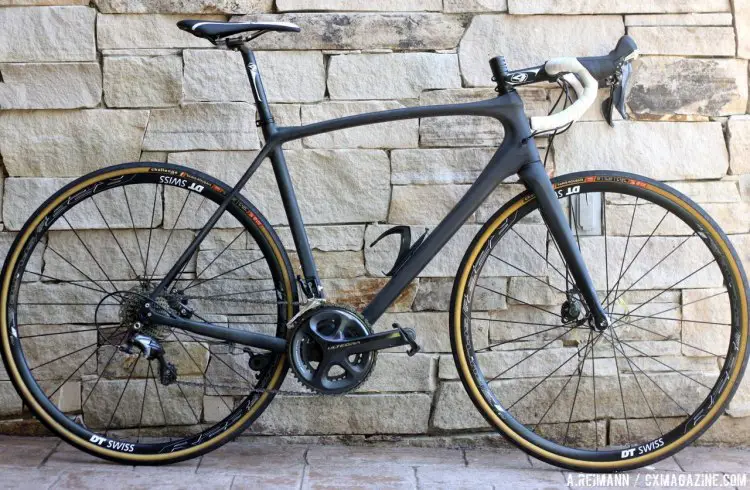 Ridley's newest bike, the X-Trail, as spotted at Press Camp 2015, with details on the newest builds just released. © A. Reimann / Cyclocross Magazine
We were able to discern a few of the features ourselves on the prototype at Press Camp, including the X-Trial's Integrated Scuff Card that prevents the rotor from scratching up the interior of the frame during installation. We also saw their tapered fork that flushed to the design of the frame as as well as the company's use of Shimano's Flatmount disc brake system. and a thru axle front (15×100) and rear (12×142).
The X-Trail also sports asymmetrical fork blades, as Ridley added more material on the left fork leg to minimize twisting loads associated with disc brakes, while the right fork is slimmer to minimize weight.
As for geometry, the X-Trail sports an even lower center of gravity than the recently lowered X-Night cyclocross bikes, striking a balance between technical riding and stability. The current bottom bracket drop on the X-Trail is 70 to 74mm depending on the framesize. Ridley also increased the head tube length by 1cm over its competition road geometry for a slightly more endurance comfort feel.
The current cost of the Ridley X-Trail frameset is $2,000.00. For the frame specs and builds, use the slider below, and stay tuned as we prepare to test the bike in all conditions. More info: ridley-bikes.com