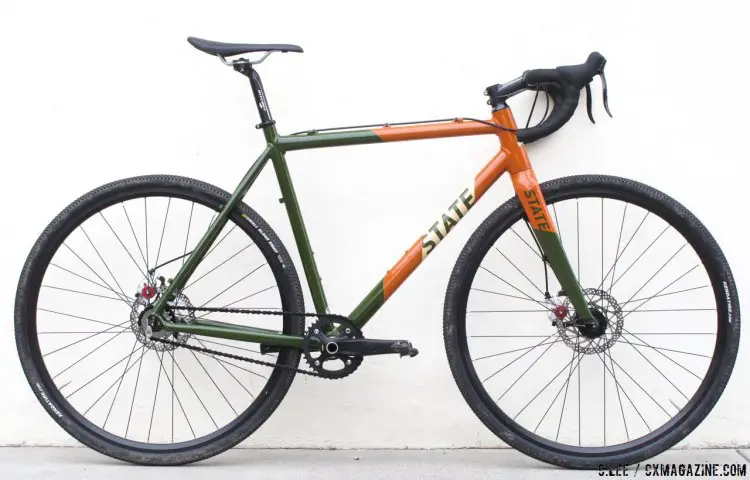 State Bicycle Company Thunderbird. © Clifford Lee / Cyclocross Magazine
State Bicycle Company is a six-year-old company based in the Southwest, which carved their niche in single-speed and fixed gear bikes. They sell their bikes customer direct via their website or through over 400 dealers worldwide. Over the years they have branched out into road, off-road and city bike riding.
Last year, State Bicycle Company added two cyclocross bikes to their off-road division, bringing their offerings to full-scope without forgetting their roots in the single-speed movement. Naturally then, both cyclocross models are single-speed, though the Thunderbird that we received for review is convertible to geared should the rider be interested in venturing to the dark side.
The State Bicycle Company Thunderbird Build:
The frame is equipped with a generic aluminum four arm 104mm BCD crank with a wide Q-factor thanks to the bent arms. As for the drivetrain, a 36t chainring is matched to a 19t cog, making a 51 inch gear, nice for all around riding, especially if the terrain is undulating, but a bit low for most cyclocross racing.
Ritchey Comp provides the components with a 9cm 4-Axis stem and matching 44cm bars and seatpost.
The wheelset has unmarked rims laced 3X to Novatec OR hubs with straight 14 gauge black painted spokes. The rear hub is 135mm over-locknut with a single-speed freehub body accepting splined cogs with a lock ring. The disc mount is IS 6 bolt with 160mm stainless rotors drilled, like the SRAM HS1. The wheels have Kenda Small block 8 34c tires mounted, which offers a good width and versatility for different conditions.
The stock build measures in at 22.3 pounds for the bike, with 13.1 pounds without wheels.