Editor's Rating
While it's not the complete cyclocross bible by its own admission, Skills, Drills and Bellyaches is one of the best ways to improve your season for under $25. The primer is a muddy symphony of practical advice and beautiful photography.
Bill Schieken, creator of CXHairs videos such as SVENNESS and LIKEAVOS, has been deconstructing sports for decades. Even before his introduction to cycling, he was passionate about analyzing (and over-analyzing) basketball's team elements: court positions, set-ups, and techniques. Watching his current videos reveal the methods of cyclocross riders lap after lap, it's clear that he spent years honing his eyes to capture the devil in the details.
Along with Dan Tille of Fulcrum Coaching, Schieken uses this uncanny focus in the primer: Skill, Drills and Bellyaches, a book which seeks to offer a straight-to-the-point guide for cyclocross techniques.
When I first skimmed through Skill, Drills and Bellyaches, I instantly noticed that drills and "JPow Tips" (which are quick pointers by the current U.S. National Champion, Jeremy Powers) had a place on nearly every page spread. Most of these drills can be done either alone or with a group of riders. While I enjoy reading columns and exposition about how certain skills can make or break my race, the impatient reader in me wants to know the practical drills I can do right when I set the book down. Schieken and Tille are able to cater to this demand over several dozen times per section.
Skill, Drills and Bellyaches minimizes the annoying fluff that can sometimes overwhelm training guides. Instead of a full introduction dedicated the history of cycling, the book offers a quick foreword by Jeremy Powers and a one-page guide to the book before moving right to the techniques and drills. (On the other hand, readers who enjoy a little more padding to their books might be unsettled to find that the primer ends abruptly with a brief guide to tire gauges instead of a distinct conclusion. Although I was surprised at the lack of final takeaways, I found that this matched the bare-essential nature of the rest of the guide.)
The primer sets out to leave no stone unturned, and its breadth and organization is both impressive and easy to follow. The first part of the book covers skills such as start line techniques, dismounts, remounts, cornering and carrying.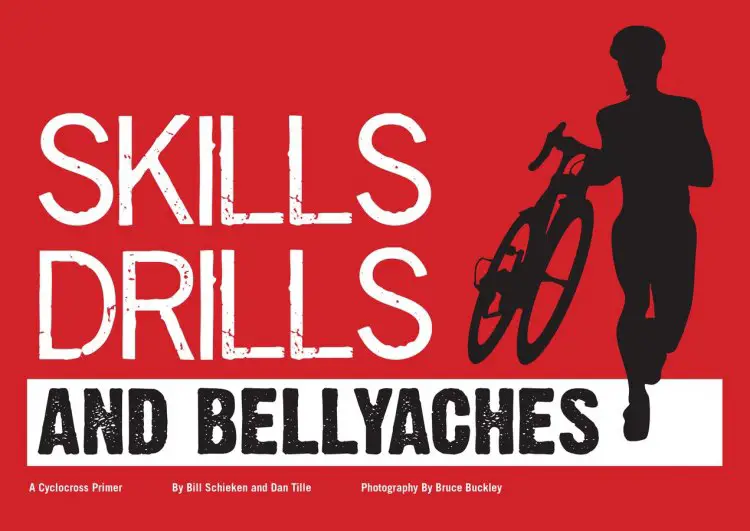 My favorite part of this first section is that Schieken and Tille don't pretend to offer "a single best technique," but rather offer multiple ways of accomplishing a task, and backing each up with drills. One of the many examples of this is how they present their start guide, which delineates the pros and cons of getting into a starting position with hands on the hoods or in the drops. The start drills the book provides a few pages later allows the reader to try both methods and see which one works for themselves.
I was extremely impressed with the book's depth of certain conditions riders will likely see in cyclocross, namely sand and mud. The tips for discovering the limits in these conditions, and knowing when to run or tripod, will impart great advice to everyone from beginner to elite rider. By contrast, the cold weather conditions of snow and ice are only mentioned in passing, and the depth of the mud and sand sections had me craving a few skills and drills for the cold conditions that I would have liked to employ come late-November in New England, especially as cyclocross is considered by many to be a winter sport.
See Page Two for the remainder of the review.