Schwinn and its parents Pacific Cycles and Dorel Industries are not first names you think of these days in cyclocross, gravel or high-end bikes in general. Many cyclists see Schwinn and its sister brand Mongoose as low-end department store bikes, which is not surprising since the company certainly sells a lot of those units.
Schwinn's sister brand Cannondale needs no introduction, as it is often seen winning top-level cyclocross and gravel events. However, not that long ago cyclocross champions including Todd Wells, Marc Gullickson and the late Steve Larsen were seen piloting Mongoose and Schwinn bikes, both Pacific Cycles brands, to wins. Today, spend any time on eBay and you'll notice Schwinns are still some of the most coveted vintage rides out there.
At Sea Otter 2018, we noticed both Mongoose and Schwinn are making a push back into higher-end offerings, and Schwinn's Vantage RX1, first unveiled two years ago, is one example of that effort.
[caption id="attachment_120790" align="aligncenter" width="1140"]
Schwinn Vantage RX1 bike is an effective do-it-all bike or gravel machine available from Dick's Sporting Goods and Amazon for under $1,600. © Cyclocross Magazine[/caption]
Sure, a $1,600 SRAM Rival-equipped bike might not be everyone's definition of high-end, but in a Dick's Sporting Goods store or through Amazon, it certainly is.
Our Cyclocross Magazine team recently received a Schwinn Vantage RX1 gravel/adventure bike for review. We take a first look in this In Review spotlight. Stay tuned for a full review after we put it to the test in the coming months.
The Frame
Schwinn bills the Vantage RX1 as "the adventurist's touring bike." The gray and yellow bike has a 12mm thru-axle, post mount disc brake alloy frame with a 15mm thru-axle post mount disc Schwinn carbon fork. The 15mm front fork and post mount disc brakes date to the bike's 2016 release and are a bit dated as most newer bikes use 12mm thru-axles and flat mount calipers, but such details don't impact performance.
[caption id="attachment_120796" align="aligncenter" width="1239"]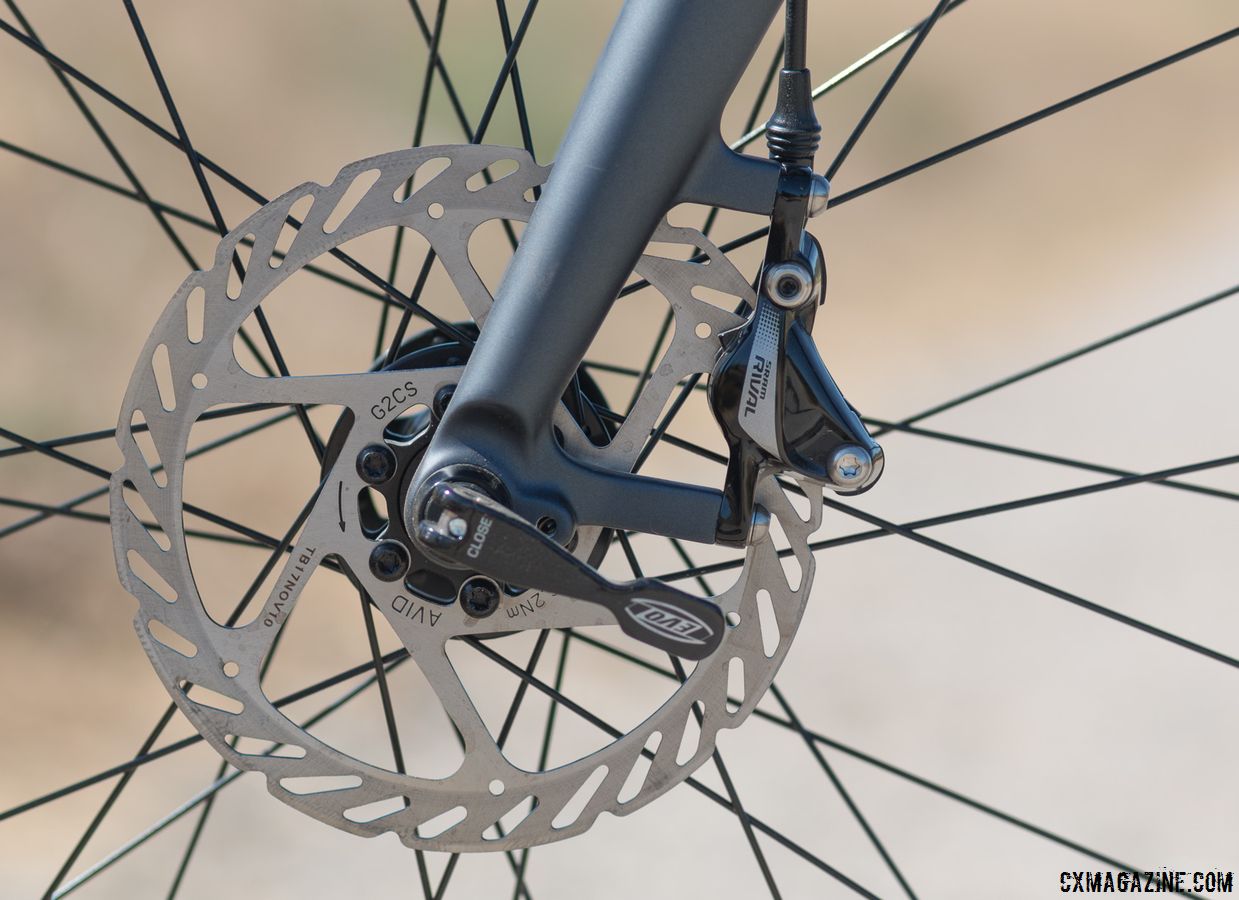 No flat mount, no problem. The post-mount SRAM Rival HydroR brakes still provide stopping power to slow down your adventure. Schwinn Vantage RX1 bike. © Cyclocross Magazine[/caption]
The bike's geometry falls between a slack gravel bike and steep road bike with our medium test bike having a 72-degree head tube angle, 43.5cm chainstay length and 104.0cm wheelbase. The bottom bracket drop is a more road-like 7.5cm on the smaller two sizes, and 7cm for the Large and XL. The frame lives up to its adventure billing with fender and rack mounts on the frame and fork.
One aspect of the Vantage RX1 that is immediately noticeable is that it follows the Specialized Diverge, Trek Checkpoint and others in incorporating shock absorption into the frame. Schwinn's Smooth Ride Technology (SRT) incorporates the Epicenter seat stay into the design to lessen the impact of rough roads. It offers some rearward flex to the seat post and isolates the rider a bit from the bumps.
[caption id="attachment_120788" align="aligncenter" width="1140"]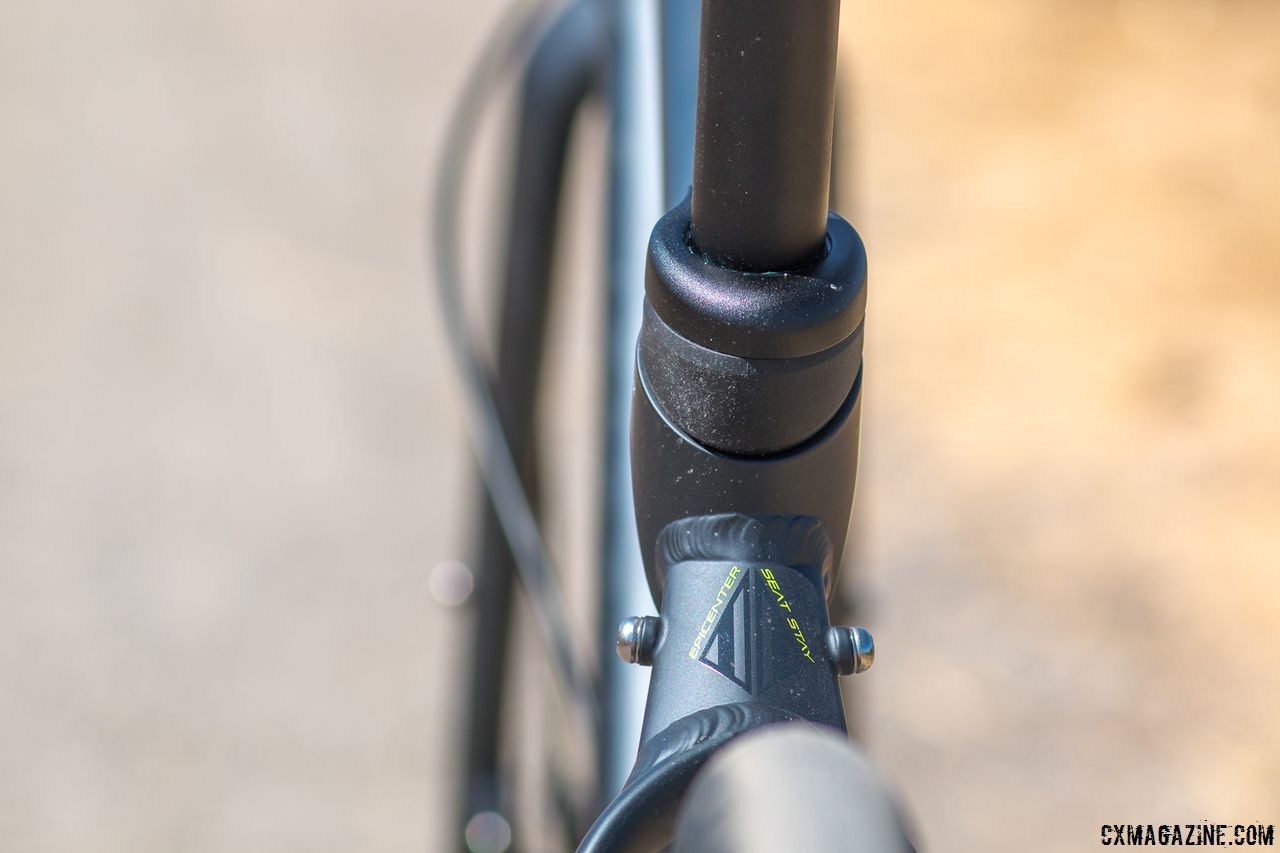 The Schwinn Vantage RX1 bike has a soft tail system that adds flex to the rear of the bike, offering up to 15mm of deflection at the saddle. © Cyclocross Magazine[/caption]
Schwinn pairs its SRT with an aftermarket elastomer-based TranX stem that is intended to offer a bit of give to smooth out the ride up front.
[caption id="attachment_120795" align="aligncenter" width="1140"]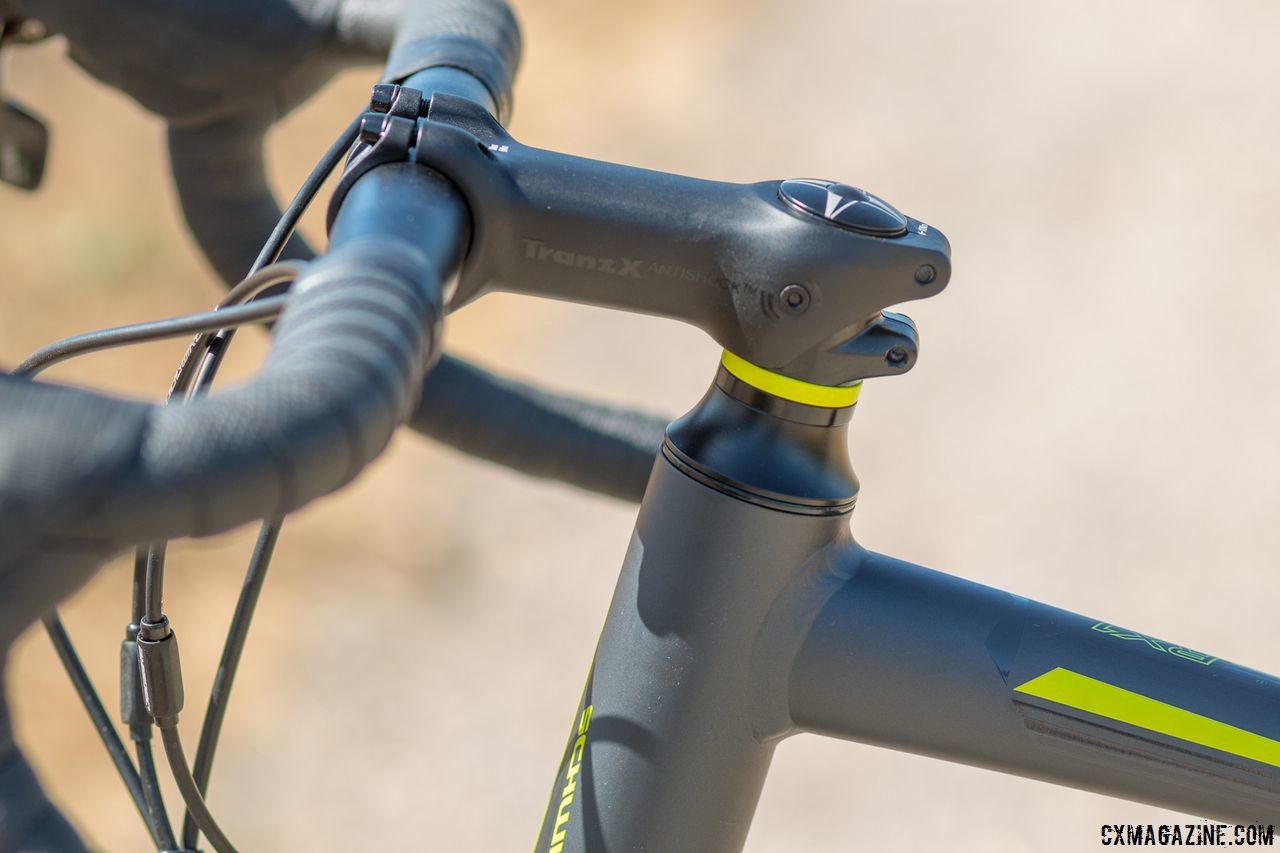 A vibration-absorbing TranX stem attempts to soften the ride up front, but it's barely noticeable compared to the rear SRT system and other stem options we've tested. Schwinn Vantage RX1 bike. © Cyclocross Magazine[/caption]
The M, L and XL models all come with Schwinn's "Firm" elastomers, and S models come with its "Medium" version. The softail seat stay has a claimed deflection of 15mm.
Unlike the ShockStop suspension stem with its adjustable elastomers, the TranzX stem isn't adjustable. Schwinn claims 3 degrees of vertical deflection for the stem, which we estimated provides 5mm of vertical travel at the bar and 11mm at the hoods.
Schwinn says the SRT suspension systems add 100g to the bike's overall weight. Our large test bike weighs 22.4 pounds with wheels and 13.8 pounds without wheels.
The Build
The Vantage RX1 comes with a SRAM Rival build, which, again, that may not turn heads at the local shop, it does stand out for a bike sold at a sporting goods store or purchased through Amazon. The bike has Rival 22 front and rear derailleurs with an FSA Gossamer Compact crankset with 50/34t chain rings. The rear cassette is a SRAM PG-1030 11-32t, providing a spinny gear ratio of 34-32 for the toughest, loosest climbs.
[caption id="attachment_120784" align="aligncenter" width="1140"]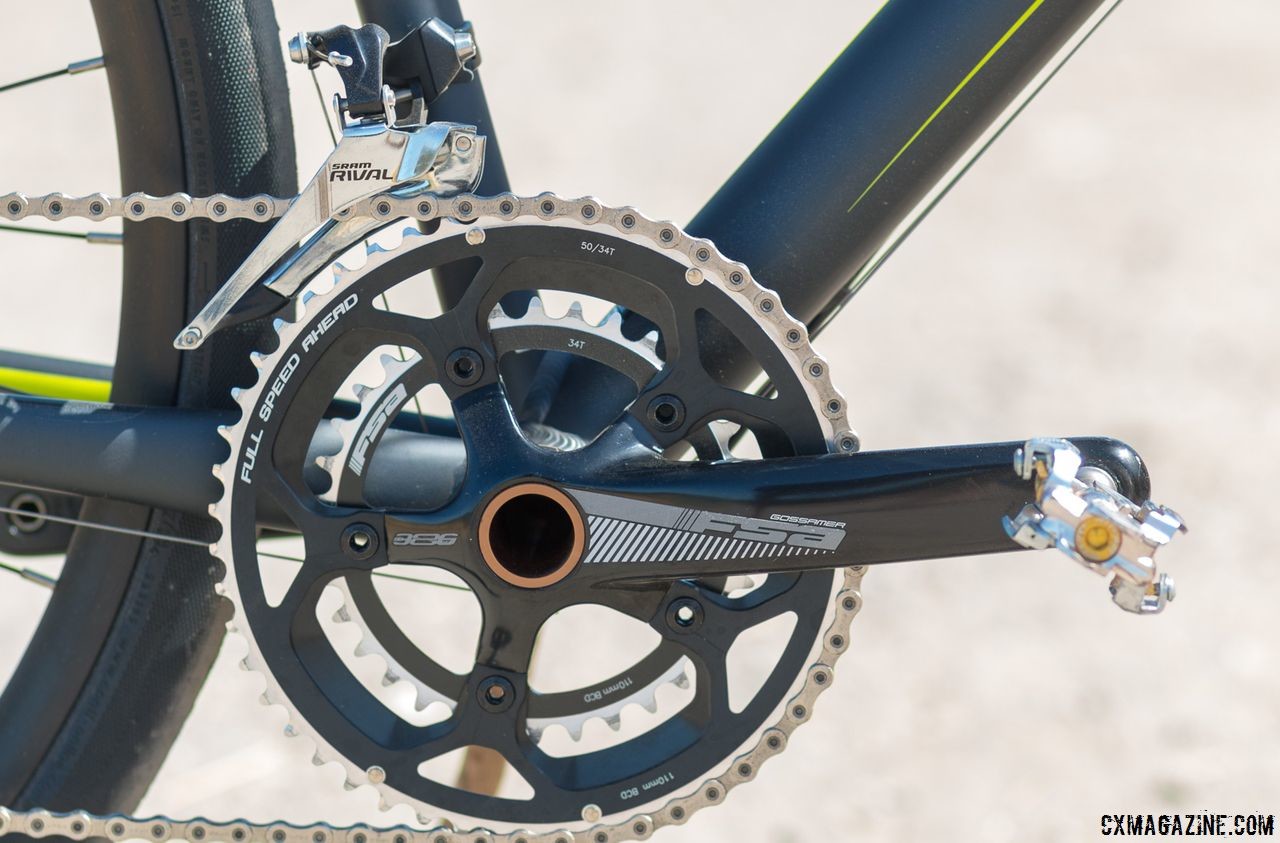 A SRAM Rival 22 drivetrain and FSA Gossamer crankset offer wide-range gearing for any terrain. Schwinn Vantage RX1 bike. © Cyclocross Magazine[/caption]
The Vantage RX1 also uses SRAM Rival hydraulic disc brakes with 160mm rotors. Shift/brake levers are also Rival models. If the $1,600 price tag is too much, there's also an RX2 model with Shimano Sora components that costs $1,000.
The wheels on the Vantage RX1 are 700c Alex Draw 2.1P Asymmetrical tubeless-ready rims with 32 spokes front and rear. The 21mm-wide, 23-mm deep rims weigh a claimed 470g.
[caption id="attachment_120785" align="aligncenter" width="1140"]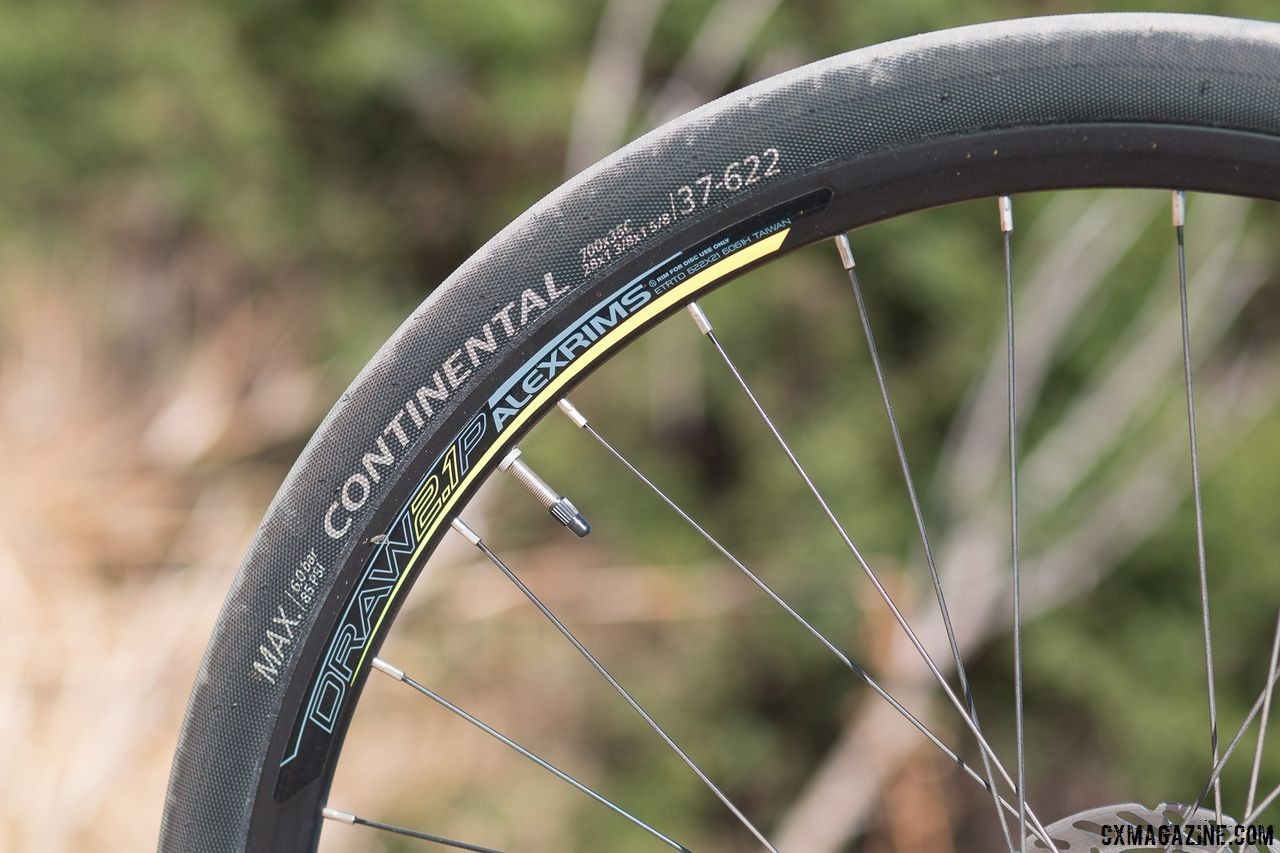 The 37mm Continental tires offer low rolling resistance and puncture protection but don't provide amazing grip when conditions get loose. Schwinn Vantage RX1 bike. © Cyclocross Magazine[/caption]
Tires on our test bike are a micro knob, relatively smooth 700c x 35mm Continental Sport Contact I tires. The tires come with Continental's Safety Breaker flat protection, and roll quietly on pavement but have little grip on loose terrain. The frame does have room for wider tires, giving the option of installing more knobby options like the WTB Resolute 42mm to help with your adventures.
[caption id="attachment_120799" align="aligncenter" width="1140"]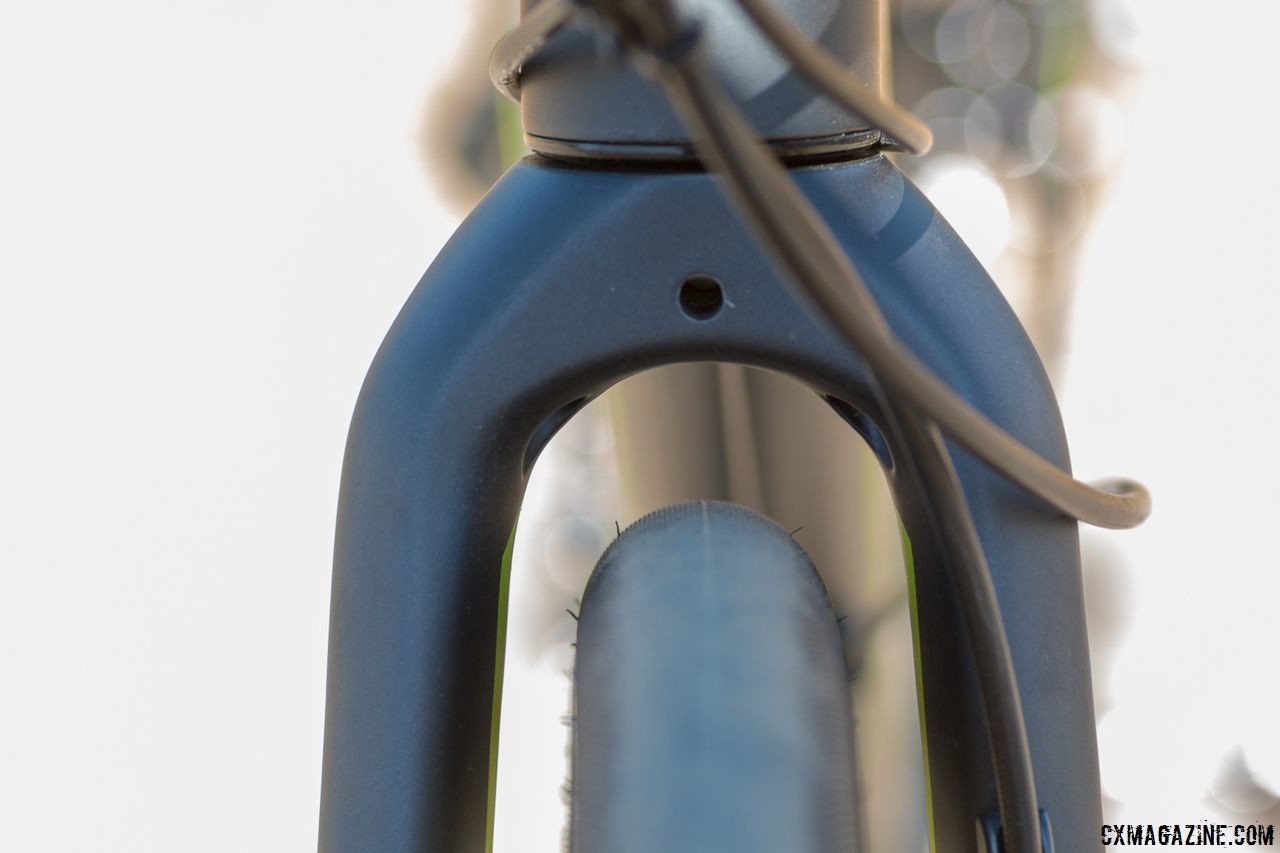 The Schwinn Vantage RX1 bike offers clearance for much fatter rubber up front and out back. © Cyclocross Magazine[/caption]
First Impressions
While bike snobs might scoff at Schwinn's current reputation, distribution model and attempt to innovate and differentiate, if bikes like the Vantage RX1 get more people on bikes and perhaps try gravel or cyclocross, we're fans of such an effort.
After a few gravel, trail and even group road rides, the Vantage RX1 has proven itself to be both capable and versatile. Sure, we have a few complaints, like non-tubeless tires on tubeless wheels, and a rear QR, but thankfully, the ride of the Schwinn Vantage RX1 takes the sting off those hiccups and makes you want to extend your ride.
The Schwinn's SRT system out back is both simple and impressive. The flex in the seat stay is effective in smoothing out big bumps and in fact, more noticeable on small bumps than any carbon leaf spring post and the pivot-based Trek IsoSpeed seen on the Boone. Just as with the Boone IsoSpeed and Ergon post, the more extension and saddle setback, the more leverage the rider has to flex the system, but unlike those other carbon fiber-based designs, the SRT has a bit of elastomer dampening to smooth out compression and rebound.
Up front, it's a different story. The three degrees of flex in the TranzX front stem, however, were difficult to notice. We would likely want to swap in a lighter regular stem, the more effective RedShift Sports suspension stem or maybe just add a second layer of bar tape to help smooth out the ride.
The build has been reliable and well-suited for diverse terrain and use. While we miss the quieter drivetrains based around clutch-based derailleurs, the dual chain rings and medium-range cassette keep the jumps between gears small, while still offering gears that are tall and low enough for fast group rides, running-late commutes and steep climbs.
We're ready to swap the tires for tubeless rubber, grab a seat post with more setback, and swap out the front stem, and will likely see if the SRT offers an advantage in early season hot laps.
Stay tuned for more feedback on the Schwinn Vantage RX1 after these ods. For more on the bike, see the photo gallery and specs below.
Zachary Schuster and Andrew Yee contributed to this spotlight.
Photo Gallery: Schwinn Vantage RX1 Gravel/Adventure Bike