Cyclocross Magazine received a pair of the first production of FMB's new SSC Slalom tubulars green silica compound tread. The tread is a new FMB design released last year as an all-around tread with more intricate knobs than its predecessor, the SSC. The new silica tread compound was developed to maintain better traction in low temperatures, which was developed with feedback from none other than America's 11-time National Champion Katie Compton.
The FMB Super Mud tire was one of the most supple tires in Cyclocross Magazine's "Supplanting Suppleness Myths" article in Issue 28 (for the full results of our test, be sure to order your backcopy today, which is also available on Uberflip, in the App Store on iTunes, and on Google Play for Android.) But this green model is a new rubber compound that we first brought to readers' attention in February.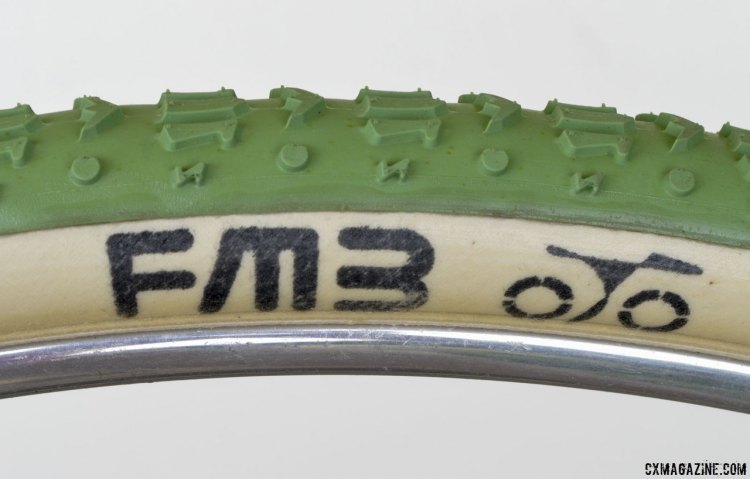 FMB SSC Slalom Silica tubular cyclocross tires. © C. Lee / Cyclocross Magazine
Green treads have had a long history in cyclocross, most recently with the original Michelin Mud that was discontinued over ten years ago but still partially used by Wout van Aert at Worlds, mounted on Dugast casings. Earlier, the old Vittoria Mastercross and Tigre tubular and clincher tires also featured a green tread.
Tires are typically black because treads include the ingredient carbon black, which typically aids in creating a durable rubber. Colored treads often wear faster, making them conditions-specific, special race day tires. But if you take your cyclocross racing seriously, and live in a colder climate, perhaps such a special tread compound could mean the difference between staying upright or sliding out in a corner.
Our samples have the standard FMB cotton casing and came in at 407 and 415 grams.
We will certainly put these tires to the test in ideal, cold, wet cyclocross conditions in the City by the Bay, where it has not verifiably been said by Mark Twain, "The coldest winter I ever saw was the summer I spent in San Francisco." And we'll be sure to save some tread for when temperatures dip below freezing in other parts of the country.
Stay tuned.
More info: www.fm-boyaux.fr or belgianwerkx.com
See more images via the slider below.