We first caught up with Nick Frey, owner of Boo Bicycles, back in 2013, and less than a year later, got a look at their bamboo cyclocross bikes at NAHBS 2014. The company has been growing by leaps and bounds, and their unexpected frame material is gaining traction with cyclocrossers. Brannan Fix brought the Boo Bicycle brand to Europe, competing in the Junior Cyclocross World Championship and finishing 15th at Tabor on a bamboo frame (he wasn't even the first American athlete to bring a Boo to Worlds, with Skyler Trujillo using one during the 2013 U23 race in Louisville).
Boo Bicycles SL-G Gravel Race Bike recently became the next series in the company's lineup. Its famous Iron Bamboo, which is grown and aged in Vietnam, is given a interior S2 Glass layer, creating a material combination that can handle the stresses of a worn road while it's being pummeled with gravel.
We recently received a full build to test out. The company's SL models are fully-custom and offered on a made-to-order basis. When we asked Frey about some of the specifics of our testing model, he offered the following: "This is custom geometry… that has more stability with more BB drop, longer wheelbase, and a little more trail… but in all, still feel quick like a road bike but crush gnarly gravel."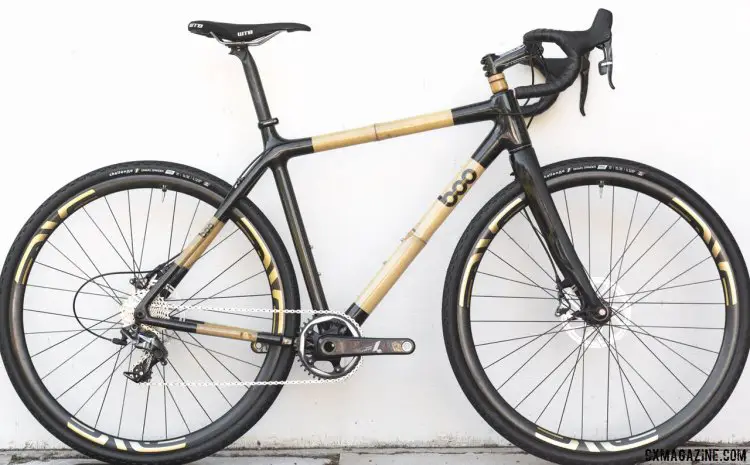 Boo Bicycles SL-G Gravel Race Bike. © Cyclocross Magazine
The fusion of bamboo and carbon fiber is readily apparent on our model, with only a layer of clear coat rather than paint covering the frame. The rear dropouts include a carbon Syntace X12 thru-axle, with the rear tire clearance allowing for a reported 42mm maximum width.
We asked Frey about the exaggerated slopping top tube, to which he replied, "I've always designed frames with about 8 deg of slope…it's a little bit more aesthetically pleasing to me, helps a little with stand-over height, seems to make the front triangle a little more laterally rigid, and also exposes a bit more seat post for more cantilever suspension effect."
The frame can accommodate internal routing for Di2 and hydraulic disc brake hoses, and the SL frames offer the possibility for integrated seatmast, although our test model uses a Ritchey Carbon Trail seatpost.
The rest of our build included an Edco cassette in the rear, to which Frey rationalized: "Durability and shift quality should both be top notch, but really it was used to add a trick dynamic to the build.  It also allowed us to use the Industry Nine hub and get their phenomenal engagement.  All of it is a true placeholder though, as the ultimate plan is to run the XX1 cassette and long cage rear derailleur."
The rest of the drivetrain is SRAM Force 1 with matching shifters and a Ritchey Carbon WCS stem and Ritchey Carbon WCS Streem II handlebars.
The ENVE XC rims were set up with Challenge Gravel Grinder 700×38 tires, which we have had trouble in the past attempting to set the beads tubeless.
Because the frames vary in weight considerably by the requested design, Frey reports that he no longer weighs each one, although he estimates that they fall into the range of 3 to 3.5 pounds, with full builds ranging by components, but coming in at 15 to 19 pounds. Our actual weight came out to 18.52 pounds without pedals, 12.04 pounds with thru axles, but no wheels or pedals.
The prices are as follows: $4495 for the frame, $4995 for the frame and fork, and Frey estimates our full build out at $8995 complete.
More info: boobicycles.com. Use slider below for more images and a full spec list.