Cannondale is hardly a company that needs an introduction in the cyclocross world, and it is not adverse to investing in the future. It was the second major company in the industry to move to an all disc brake lineup in a time when most European racers were still scoffing at the technology, and it was quick to pick up the single chainring for one of its top-end models. The company also released a forward-looking all road suspension bike they call the Slate earlier this year.
I was first able to throw my leg over Cannondale's new SuperX during the KMC Cyclo-Cross Festival, where I was partnered with Tim Johnson in the Madison Race. That was far more a "trial by fire" than an "feel the bike out" kind of first test. A year later, Cannondale gave me a SuperX Ultegra cyclocross bike to extensively test. Once again, there was no easing into it. I was immediately paired up with Cooper Willsey and Kaitie Antonneau during yet another relay race.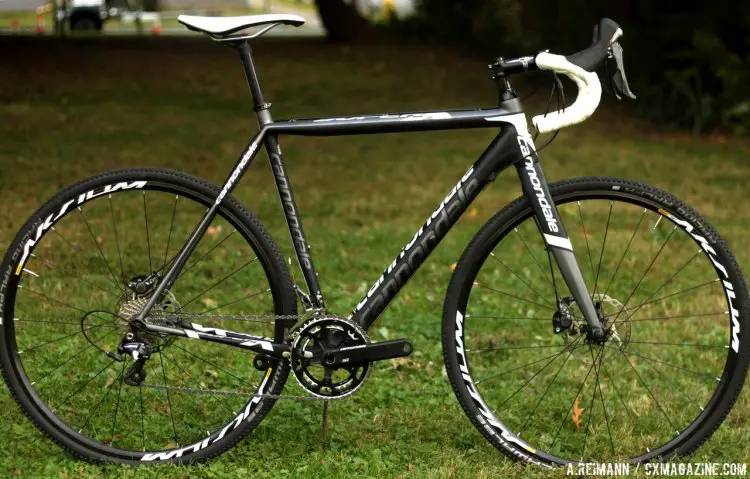 Cannondale SuperX Ultegra Cyclocross Bike. © Andrew Reimann / Cyclocross Magazine
Thankfully, I was able to bring the full rig home to test out in less competitive conditions. The riders I mentioned, alongside Stephen Hyde, Curtis and Emma White, and Ryan Trebon, have all found early success in the 2015-16 season, so I am excited to put the bike fully through the paces.
Cannondale SuperX Ultegra Frame
Cannondale's Hi-MOD carbon belongs exclusively to the SuperX Hi-MOD CX1 model, which comes with a pricetag of $5330, putting it in the super bike category for those who spare no expense. While my test model could hardly be called a workingman's model, the SuperX Ultegra is kinder on the wallet at $3730, but the frame is the second-tier BallisTec carbon. With a claimed frame and fork weigh less than 1500g, most riders won't feel like they are losing too much with the trade-off.
As we mentioned in our last week's "In Review" of the Guerciotti Lembeek Disc, the two frames couldn't be further apart, and provide a good opposition to one another for testing for our Issue 31 print magazine. Unlike the high bottom bracket of the Lembeek, which has a 4.9cm bottom bracket drop, the SuperX Ultegra goes in the exact opposite direction, with a drop of 6.7cm. To put that in perspective, Cannondale's SuperSix EVO road bike has a drop of 6.9cm. For a cyclocrosss bike, it doesn't get much lower in geometry than the SuperX Ultegra.
Obviously with a bike priced at this level, customers should be looking for a good test ride and fitting to the bike, and most will find that they are sized a few centimeters down from their normal frames. Usually, I ride a 56cm labeled frame, but the 54cm frame I received has a 55cm top tube and a 15cm head tube length that suits my fit just fine.
The bike has a 101.7cm wheelbase, with a slightly longer chainstay than many cyclocross bikes at 43cm. The dropouts are designed for quick release wheels with disc brakes.
Cannondale SuperX Ultegra Build
In the SuperX lineup, Cannondale offers two SRAM and two Shimano builds, with the former getting single chainring treatment while the 105 and Ultegra models use a double chainring. Our test bike came with the 46/36 chainrings mated to a Cannondale HollowGram Si crankset. Cannondale also provided in-house parts for the seatpost and cockpit with a Cannondale C1 Ultralight stem and seat post and a Cannondale C2 Classic handlebar.
The saddle is a Fabric Spoon Shallow Elite, one very close in detail to the Fabric Scoop we reviewed in Issue 30's roundup, and the company's saddle was one of our favorites. Although saddles are a matter of personal preference, I already know I won't swap it out for any of the test rides.
The drivetrain outside the crankset was primarily Ultegra 6800, with Shimano R685 hydraulic disc shifters and Shimano BR785 brake calipers. Mavic Aksium Disc supplied the wheels, which were finished off with Schwalbe Racing Ralph tires.
Use the slider below for pictures and the full spec list. Stay tuned for our full review. more info: cannondale.com