Here's another entry to our "Spirit of 'Cross" essay contest. This one, by Chris Chapron, is for all you new parents out there. We'll be posting some of our entries over the next week or so.

(View the growing list of published Spirit of Cyclocross Essay Entries here.)
From Rattle to Cowbell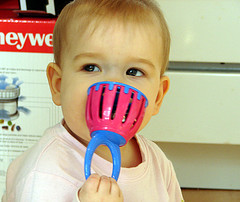 Waking up before sunrise is always difficult but when it's your 16-month old and not your alarm clock, it's never that bad. Saturday's race went really well and it only got me more pumped for Sunday's event: same weather conditions, same course and hope for similar results. However, this Sunday morning came with a new twist from the routine pre-race ritual of getting out the door on time with the car packed. My son woke up ready to play, so my wife suggested that they tag along to the race as neither have been to a cross event before. "No, it's not going to work out", I thought, "we don't have enough time to pack up the family car with cold weather clothes, jackets, diapers, the stroller, the kitchen sink, find his favorite hat, and get out the door on time". Chaos would surely ensue, rattling my pre-race routine with the new guests was a new sensation but it would not be the only one that day. I finally arrived in Gloucester only a few minutes later than the previous day's event, which wasn't too bad. "Maybe this could work", I thought. Still, I felt like I needed to rush so that everything would be ready to go. My son couldn't get out of the car seat quick enough, and was tugging at his gloves to help put the wheels on my bike. All he could say was "wheels…wheels." I didn't give too much thought about leaving my leg warmers behind on the kitchen counter, so I shrugged it off and moved along. He followed me around everywhere, saying "hi" to the familiar racers' faces that I have met over the past few weeks. I then pointed my wife in the direction of the twisty chicane section and run up for the best viewing spot. From there, they could see the majority of the course and stand alongside other fans waiting for their turn to cheer. I could only hope they would appreciate the sport and spot me like a gasping fish in a sea of lycra.
I got a good start position thanks to quick registration. One foot clipped in, bike ready, and then it popped into my mind: "Is the family warm enough? Will they have fun?" Before another thought could cross my mind, the race started and I could only focus on the wheel in front of me, the stacking of bikes to the left, the narrow entrance to the grass, avoid that rock, watch the right hand sweep going onto the gravel, pedal faster, avoid the body down. The first lap ticked by, my heart was jumping out of my chest, "hold that wheel," I thought, "focus on conserving some energy, when did the sand get so sticky?" Racing up the paved section to the second lap, focusing on the rear hub of the guy on the white bike, the only sound I could hear was my own wheezing and raspy breaths. It wasn't until the next lap that I actually detected a new sound, it was a tiny little voice yelling "Go! Go! Go!" and I noticed again on the twisty chicane, "Go! Go! Go!". It was the sweet cheer of my son and his first cross race. Each lap I wanted to get to that section faster and faster to hear those words, catch glimpses of his big smile and clapping hands. The burning in my legs, my poor form, I forgot about it all, because there was my new fan, a little CX racer was in the making. He is the simplest fan, only wanting to cheer and ring a cow bell, someone who didn't know about the doping scandals of the past summer, who doesn't care about what component weighs what.
That race and many others have gone by, but ever since that day we now have a new ritual: every night we go the basement, point to the bike and play with the cow bell.