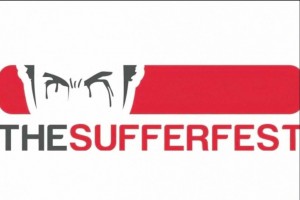 by Kenton Berg
The Sufferfest Studios
"I will beat my ass today to kick yours tomorrow"
Ladies and Gentlement mount your steeds and jump into the pain cave. This take-no prisoners-motto is right on the money and these workouts will beat you down, but they will make you stronger. Whether it's the waning daylight, a time crunch or that the weather keeps you from heading outdoors to ride, know that help has arrived and it's going to hurt. The Sufferfest's five (as of mid November) workout options are a fresh alternative to the Spinervals (or other) videos we all know, or to simply watching the television while flogging yourself indoors. When the weather is bad, or time is limited, firing up one of these workouts will get you rolling.
For the 'cross racer these workouts can become an invaluable part of the training regimen. Designed to give you 45-60 minutes of high intensity intervals, this is the type of weekly workout that will push the threshold higher and deliver results to your races on the weekends in short order. With the four, soon-to-be five, available options from Sufferfest Studios you have choices, and they each bring something different to the table, albeit they will all shove you deep into the hurt locker. Combining stellar soundtracks with real UCI PRO Tour and UCI 'cross race (Hoogerheide & Koksijde) footage, these workouts bring your up close and personal to some hard-driving racers.
The five different workouts are:
The Downward Spiral – two sets of descending intervals has you chasing Boonen on the pavé at Paris Roubaix, following attacks, and slowly grinding yourself to a pulp as you perform these torture sets.
The Fight Club – slug it out with Cancellara on the World's TT course, watch Wiggo toss his bike in disgust, and grind up the long climb of the Mendrisio World's road course en route to a rainbow jersey with Cadel. These longer efforts tug at your threshold capabilities and work to give you sustainable power.
Revolver – aptly named, as you will want to shoot yourself after doing 15 one-minute intervals as hard as you can go with only a minute recovery between each one. The 'cross action comes to you from World Cup races at Hoogerheide and Koksijde.
Angels – a climbing repeats workout designed to give you wings … this is the newest addition to the Sufferfest family and is sure to provide pain and agony, and more great music will keep you entertained whilst you suffer.
Just announced and not yet downloadable is The Hunted. Look for this to come out in early November. This is a workout with longer intervals (20 minutes) designed to be less intense, but provide the threshold-type workout that kills you slowly over time. Look for more info to come on the web site.
Not sure which one to start with? Here is what David of the Sufferfest had to say about how to start: "First of all, congratulations for refusing to accept boring trainer workouts, bad music and lame video. Let's see….where to start if you're not sure which to buy?
You are: Someone who has never done a Sufferfest, aren't super-fit and aren't ready for intervals at nearly maximum effort. Start with: Fight Club. The efforts in Fight Club aren't as intense as in the other videos, which tend to have shorter intervals. There are a lot of attacks in Fight Club that could make you cry, so just ignore them during the first few times you use the video and gradually introduce them.
You are: A super-fit racer who knows a thing or two about suffering and is training to race. Start with: Fight Club. The attacks are great race simulation. Then go for Revolver. Then do them back-to-back.
You are: Looking for high-intensity, structured intervals to make you go faster. Start with: The Downward Spiral or Revolver.
You are: A lunch-time warrior and have only 60 minutes to get on that bike, workout and take a shower. Start with: Revolver. The workout is about 45 minutes.
From a 'cross racing/training perspective they will all work, but if you want the 'cross footage and the high-end fitness building of short, bursty intervals like a 'cross race has, reach for Revolver. Who's not going to enjoy watching Styby, Nys, Albert and the gang tear up Europe's finest mud while you beg for mercy? The Sufferfest also hits a home run for value. For a mere $11 you get the workout, music, and an enjoyable time behind bars!"
You download them onto your PC or Mac and then either watch via the laptop or burn it to a DVD. Either way, they are easy to get and easy to watch.
For more information:  www.thesufferfest.com.
Sufferfest Preview/Video: