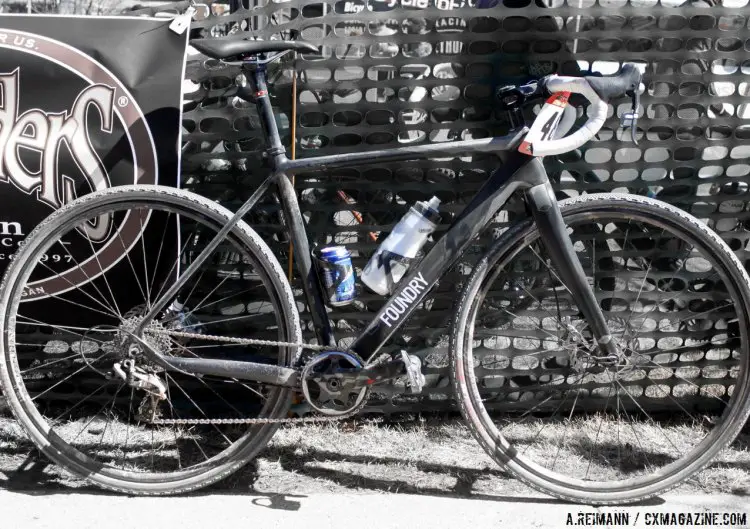 Mackenzie Woodring's Foundry Harrow with a SRAM CX1 drivetrain. © Andrew Reimann/Cyclocross Magazine
This weekend at Barry-Roubaix, we caught up with MacKenzie Woodring, who took us through the Foundry Harrow that helped get her to the top step of the podium of the Women's Open Race. She opted to use her cyclocross bike, which is now two models old, although Foundry is on the brink of releasing their Gravel-specific titanium Overland, which we saw at Barry-Roubaix with details coming soon.
2015 will mark the final year of the Foundry Harrow branding convention, according to Foundry Cycles Brand Manager, Todd Schmidt. Soon after the release of the Overland, the naming of the Foundry Cyclocross series will change over, although the geometry will remain similar. The 2016 models will come with the options for thru axles or quick release, and although we don't have more specific details, the black and brown models of the past will give way to bold color choices.
Woodring calls Barry-Roubaix a "road race" on gravel, although she clearly excels on the 62-mile course with the Foundry cyclocross geometry. The frame included the Whisky Parts Co. No. 9 full carbon fork, which made big waves several years ago as one of the earliest thru axle forks for a cyclocross bike.
While there were a few riders, such as Cody Kaiser, who used 700×32 Specialized Armadillos with a road tread, Woodring took the more popular choice: 700×33 Clement LAS tubulars. She felt confident using the tubulars, riding at a higher pressure to avoid pinch-flatting. For her wheels, she opted for Velocity's Major Tom tubular disc wheels, with their 23mm thickness, which provides a suitable gluing surface for cyclocross tubulars such as Clement's LAS tires.
Her Harrow was equipped with a SRAM CX1 with a 38t chainring, a rare choice compared to the rest of the field, who were using double and triple chainrings. She reported that she had more than enough range though the whole race (all 4,000 feet of climbing and descending), obviously using every gear available to her, but happy with her choice.
The Garmin Vector pedals were a week-by-week decision. She told us that she likes the larger platform and an interface that felt more secure, and she felt confident that she wouldn't be taking much of a risk using them on this course as the race was predicted to be dry and dusty. In the past, however, she has been on courses that got sloppy and was forced to waste precious time cleaning the mud off her cleats.
We rarely get to take a look at road pedals at Cyclocross Magazine. The Garmin Vector is an option for getting power data from races and training, and are priced at $1,499.99, almost twice as expensive as a Stages Power Meter. The total pedal weight for each side is 213g for the system. If you account for the typical weight of comparable road cleats and pedals, a rider is getting a power measurement for both legs for only 50g total. The Vector is LOOK Kéo-compatible and has a composite body with a stainless steel wearplate. The battery life is around 175 hours. With a system dependent on using a road interface, however, cyclocross racers may want to look for other options come race day.
Woodring's fork was not the only Whisky product on her bike. Her handlebars were Whisky No.7 carbon road bars, and even her bottle cages are Whisky branded. She used two for Barry-Roubaix, opting to use one to help her carry a Blue Moon beer during the after-party.
Use the scroller below for more photos of the Foundry Harrow along with a spec guide for her Barry-Roubaix winning bike. Stay tuned for more race details, along with a look at Foundry's new Overland.