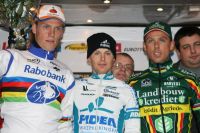 by Bart Hazen of The Daily Peloton

The day after the fourth race of the Gazet van Antwerpen Trofee in Essen the cyclocross scene gathered together for the mother of all cyclocross races, the Vlaamse Druivenveldrit in Overijse. The surprise victory went to Fidea's Belgian Kevin Pauwels. In the sprint he was faster than World Champion Lars Boom and Belgian Champion Sven Nys. Bart Aernouts and Zdenek Stybar completed the top five.
Almost all big stars were present in Overijse despite the race is not belonging to one of the regularity classifications as the Superprestige, Gazet van Antwerpen or the World Cup. World Champion Lars Boom had the best start but a flat tire threw him back in the field. Kevin Pauwels took over and after the first lap he had a ten seconds lead on the first chasers with amongst others Bart Wellens, Christian Heule, Sven Nys, Richard Groenendaal, Klaas Vantornout and Thijs Al.
Sven Nys took control in the chase and bridged up to Kevin Pauwels together with last year's winner Klaas Vantornout. Bart Wellens still felt the aftereffects of his crash a day ago in the GVA of Essen and left the race with a backache.
At the front, Sven Nys attacked. Kevin Pauwels was able to follow as was Klaas Vantornout until he dropped back with a demolished derailleur. World Champion Lars Boom moved up to the chasing group a few seconds behind the two leaders. Bart Aernouts, Zdenek Stybar and Thijs Al also joined the group. Over halfway through the race, Boom got rid of his companions and in no time connected with Nys and Pauwels.
Turning into the final lap the three leaders Pauwels, Nys and Boom were watching each other's moves. In the descent Pauwels took the lead followed by Boom. In the final straight line towards the finish Pauwels was the fastest in the sprint. For Kevin Pauwels it was his first victory with the professionals.
Sven Nys who finished as third became the 2008 Belgian sportsman of the year. His opponents were Tour of Flanders winner Stijn Devolder and 400 meter athlete Kevin Borlee. Last year Sven Nys was beaten by a couple of votes by Tom Boonen.
The youth races were respectively won by Laurens Sweeck (Beginners) and Sean de Bie (Juniors). Sweeck dominated the race from start to finish and had a 19 seconds lead on Jens Vanderkinderen and 36 seconds on his brother Diether Sweeck. In the Juniors category, Sean de Bie won with a 11 seconds lead on David van der Poel and Vinnie Braet. Wietse Bosmans, the winner of Essen, finished as fourth.
Photo Gallery:
Full Results:
Elite Men
1 Kevin Pauwels (Bel) Fidea Cycling Team 59.30
2 Lars Boom (Ned) Rabobank
3 Sven Nys (Bel) Landbouwkrediet-Tönissteiner 0.05
4 Bart Aernouts (Bel) Rabobank
5 Zdenek Stybar (Cze) Fidea Cycling Team 0.26
6 Thijs Al (Ned) BeOne 0.47
7 Klaas Vantornout (Bel) Sunweb Projob Cycling Team 1.07
8 Erwin Vervecken (Bel) Fidea Cycling Team 1.20
9 Christian Heule (Swi) Rendementhypo Cycling Team 1.26
10 Tom Van den Bosch (Bel) Rendementhypo Cycling Team 1.32
11 Marek Cichosz (Pol) Legia 1.59
12 Jan Verstraeten (Bel) Sunweb Projob Cycling Team 2.04
13 Eddy van IJzendoorn (Ned) 2.08
14 Rob Peeters (Bel) Landbouwkrediet – Tönissteiner 2.10
15 Thijs Van Amerongen (Ned) Vacansoleil 2.26
16 Richard Groenendaal (Ned) AA Drink 2.40
17 Quentin Bertholet (Bel) Fidea Cycling Team 2.42
18 Jan Soetens (Bel) Revor Cycling Team 3.01
19 Davy Coenen (Bel) Mega Saeco – Heist o/d berg 3.15
20 Ben Berden (Bel) Revor Cycling Team 3.30
21 Tim Van Nuffel (Bel) Easypay Cyclocross Team 3.31
22 Tomasz Repinski (Pol) Legia 3.55
23 Stijn Huys (Bel) Palmans Cras 4.48
24 Dries Dewit (Bel) Scott USA Cycling Team 4.58
25 Geert Wellens (Bel) AVB Cycling Team 5.31
26 Sylvester Janiszewski (Pol) Legia 5.42
27 Tom De Kort (Bel) AVB Cycling Team
28 Jimmy Tielens (Bel) Team Mega Saeco 6.08
29 Roger Hammond (GBr) Team Columbia 7.08
30 Roy Van Heeswijk (Ned)
31 Bart Verschueren (Bel) Revor Cycling Team 7.32
32 Bjorn Hoeben (Ned) Van Hemert Groep – De Jonge Renner + 1 lap
33 Andre Sutton (Can) + 2 laps
34 Tomasz Skrzypek (Pol) + 3 laps
35 Freddy De Meester (Bel) + 5 laps
Result Juniors
1 Sean de Bie (Bel)
2 David van der Poel (Ned) 0.11
3 Vinnie Braet (Bel) 0.11
4 Wietse Bosmans (Bel) 1.02
5 Gerry Druyts (Bel) 1.21
Result Beginners
1 Laurens Sweeck (Bel)
2 Jens Vandekinderen (Bel) 0.19
3 Dieter Sweeck (Bel) 0.36
4 Niels Van den Driessche (Bel) 1.25
5 James Ysebaert (Bel) 1.40