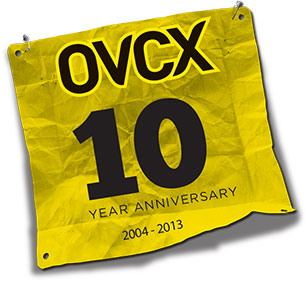 Rolling meadows and tree lined vistas, the sign along the roadside says, "Welcome to Hoosier Country!" The Zipp OVCX 2013 Series kicks off its 10th anniversary season in the idyllic setting of Karst Farm Park in Bloomington, Indiana on Sunday, September 15th. Not far from downtown Bloomington and Indiana University, home of the Little 500, the 2013 edition of the Karst Farm course provides some new challenges to add speed without sacrificing the world class details you expect from a course designed by Fred Rose, Ryan Knapp and Adam Rodkey, Hoosier racers with top-level National and European experience. Register online at BikeReg.com.
Karst Farm Promoter and Team Scholars Inn Bakehouse Cycling Team Director Tom Saccone says, "Of note this year are two technical masterpieces called Stonehenge's Revenge and the Rose Garden. The Spiral of Pain is back and redesigned to create a mesmerizing descent into and out of the pain cave. Select categories will compete for the Hole-Shot from Hell prize. The finishing run-in has been lengthened as well." To keep Bloomington tradition alive, the Karst Farm event even features a Little 500 category following the main Elite races for the locals to race with their Little 500 (single speed, coaster brake) bicycles.
Bring the family. Several shelters have been secured throughout the course as well as rest rooms with running water. Should it get slick, the pits will feature a bike washing station. Food vendors will be on site as well as a masseuse providing Active Release Technique therapy.
Find the complete schedule and registration links online at OVCX.com, like OVCX on Facebook and follow OhioValleyCX on Twitter.