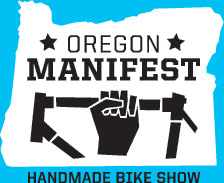 It seems like NAHBS was just a few weeks ago, but the bike-crazy folks in Portland just can't get enough. Perhaps already bumming that NAHBS is moving to Indianapolis next year, the community has created the Oregon Manifest, a new hand-made bike show scheduled for October 10-12th. The boutique-bike show will be run in conjunction with a Cross Crusade race the same weekend, and the two events are teaming up to plan a weekend filled with bike love. Hand-made bikes and cyclocross? Sounds like a great time.
Read more about it below:
Set within the heart of Portland's legendary cyclocross scene, OREGON MANIFEST will feature an unconquerable mix of custom framebuilders, bike-centric vendors, bike culture squads, and a Sunday cross race to bring home the glory. Oregon Manifest is the collective vision of Portland, Oregon's cycling and creative communities coming together to dream up and develop the most original, spirited, and spectacle-laden boutique bike show in the nation.
This is no mere bike show.
It's a celebration of everything Portland loves about handmade bikes, their builders, and the culture surrounding them.
Portland is Platinum, its cycling culture world-renowned, its handmade frame builders are thriving, its race scene the largest in the states, its cyclocross series the most raucous, and its citizens always at the ready for some fun on their bikes.
Stumptown Coffee.
Hometown pride.
Team Beer.
Mt. Tabor.
Midnight Cruising.
The Sprockettes.
Eddy Merckx Shrine.
Serious fender bikes.
Top tube cozies.
Zoobombing.
This is our manifest. Join us.
National builders and vendors are very welcome. Further specifications and details coming soon.
For more info: http://oregonmanifest.com