Coming off of a strong first year that saw series champions Ryan Trebon and Georgia Gould capture the individual titles, as well as the coveted "NACT champions belts," the North American Cyclocross Trophy announced its 2009 schedule with expansion to Canada.
The 2009 season will include 10 events:
• Star Crossed on September 19 (Seattle. WA)
• RAD Racing Gran Prix on September 20 (Seattle, WA)
• The Erdinger Gran Prix of Gloucester on October 3-4 (Gloucester, MA)
• Toronto International Cyclocross on October 17-18 (Toronto, ON)
• Blue Sky Velo Cup on October 31 (Longmont, CO)
• The Boulder Cup on November 1 (Boulder, CO)
• Whitmore's Landscaping Super Cross Cup on November 21-22 (Southampton, NY)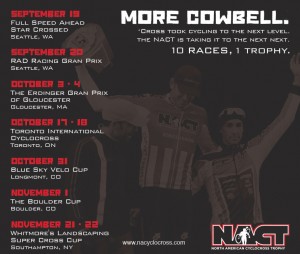 The addition of Canada's most prestigious cyclocross race to the NACT schedule makes it a truly North American series. Toronto International Technical Director Scott Doel commented, "Our race has experienced tremendous growth in the last 5 years, and that's evident by the depth and talent of the competitors involved. We're honored to a part of this exciting North American series."
The short-term vision for NACT expansion was about adding a high quality event while achieving a true continental presence. In the long term as cyclocross continues to grow in the US and Canada and fields become deeper and deeper at the top the NACT can see expansion to comprehensive pro tour. "We would love to see the sport get to a place where additional dates are added in the U.S. with events in the Southeast, Midwest and California and well as Western Canada," remarked Brook Watts of The Boulder Cup.
Myles Romanow, series founder and Whitmore's Landscaping Super Cross race director, fully embraces this vision for the future, "Cross is experiencing explosive growth in America, and it's only a matter of time before it attracts mainstream media attention and is embraced by more than cycling fans. The dynamic racing and fun atmosphere at the races is ideally suited for the average public."
The North American Cyclocross Trophy, created in 2008, is comprised of "the classic cyclocross races" of North America. Each race on the tour has a long history and represents the essence of the sport. Overall series prizes totaled over $7,000 in addition to daily prize totals making it the richest cyclocross series outside of Europe.
Buchanan promises additional announcements during the coming off-season. "We're adding some event elements that should bring additional excitement to both spectators and racers."
Complete information is available at: http://www.nacyclocross.com
For more information on the North American Cyclocross Trophy contact Terry Buchanan at 425-503-2333 or [email protected]