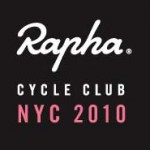 If you, like us at Cyclocross Magazine, are whiling away the hours until 'cross season kicks off, and you happen to live in or near NYC, Rapha has you covered for August with a plethora of activities to keep you distracted. The new Rapha Bowery shop opened in July, and joins the London shop as the clothing company's only dedicated storefronts.

With the Tour now over and the start of the Vuelta a España a month off, it might feel like
there is a lull in the cycling action. However, this summer at the NY Rapha Cycle Club on
Bowery, there are more than enough reasons and ways to celebrate the sport and culture of
cycling.
Group Rides every Wednesday Morning over the GW for 2-2.5 hours.
Meet at the Cycle Club at 8:00 for Stumptown Coffee, depart at 8:30am.
Classic Movies every Wednesday night in August, 7:00pm.
– August 4: Hell on Wheels (T-Mobile TdF saga)
– August 11: Jørgen Leth's classic, Stars and Watercarriers
– August 18: The Greatest Show on Earth (Eddy Merckx)
– August 25: The Triplets of Belleville
Thursday, August 5, 6:00pm: THE RAPHA CONTINENTAL
An exhibition opening event for the photography, film, sketches and custom-built bicycles
from the ongoing, epic tour around North America. See the photography of Dan Sharp and
Chris Milliman and art from Pete Rubijono. Bicycles on display from Richard Sachs,
Circle-A, IF, Igleheart and Bilkeny. Meet Rob Vandermark of Seven Cycles, Chris
Igleheart, Gary Smith of Independent Fabrication and Stephen Bilenky.
[rsvp to [email protected]]
Thursday, August 12, 6:30pm: BIKESNOB NYC, an exploration of "epic"
New York's favorite cycling satirist will be reading from his best-selling exploration of the
history and characters that make cycling unique. In the spirit of the Rapha Continental,
the topic of "epic" will most certainly be addressed. Copies of the book will be available for
sale at the Cycle Club. [rsvp to [email protected]]
Thursday, August 26, 6:30pm: THE "FASTEST MECHANIC IN NYC" COMPETITION
Beginning this Thursday on NYVelocity.com, New York cyclists will vote for their top four
NYC-based shop mechanics to compete to see who can build a complete bike the fastest.
Typically magicians behind the scenes for racers, these top mechanics will be the show, racing
in plain view with four identical Independent Fabrication frames and matching kits
of parts. Beverages and music mixing with the smell of grease will make for an intoxicating
evening, and if you pay attention, you will definitely learn some tricks from the best of NY.
[rsvp to [email protected]]
Saturday, August 28, 8:30am: THE VUELTA A ESPANA – DAY ONE
The 75th anniversary of Spain's grand tour begins with a prologue time trial in Sevilla.
Come to the Cycle Club to watch all 21-stages live on Universal.
[contact [email protected] for more information]
RAPHA Cycle Club 352 BOWERY
212.228.1529
RAPHA.CC/NYC