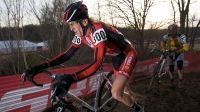 With rising temperatures and a drying course, all the master women and the 45-49 master men had a chance to tackle large fields and a rutted but tacky race track in the battle for the stars and stripes jersey. Speeds were high and traction was far improved from the morning's racing.
Full report by USA Cycling with contributions by Cyclocross Magazine:
Many of the same women who will line up for Sunday's elite race also contested today's 30-34 master women's contest. With the course drying out from the overnight rains, the 30-rider field quickly spread out and Maureen Bruno-Roy (Arlington, Mass./MM Racing-Seven Cycles) rode steadily to her second national title. The race remained relatively quiet with few, if any changes amongst the top five. Emily Van Meter (Portland, Ore./River City Bicycle Team), Anna Milkowski (New Haven, Ct./Velo Bella-Kona), Josie Jacques-Maynes (Capitola, Calif./Specialized-KMC) and Kristin Wentworth (Madison, Wis./Planet Bike), all expected to be factors in Sunday's contest, were able to get a good feel of the course in route to collecting their medals
"The pressure for me to win this race is a little higher, so I was a bit nervous," said Bruno-Roy. "The course is really hilly and you feel it on the first lap. I actually started to feel better as I got warmed up."
Run simultaneously, the 35-39 women's contest played out in much the same fashion with Sarah Kerlin (Capitola, Calif./HRS Rock Lobster) out front the majority of the race. Lisa Strong (Arvada, Colo./Tough Girl-Scott) poured it on in the final minutes to snag the silver by just seconds over bronze medalist Sally Annis (Nashua, N.H./NEBC-CycleLoft/Devonshire Dent).
Nearly 70 master women aged 40 to 60+ took off in a staggered start to compete for six national titles amongst those age groups. Wendy Williams (Portland, Ore./River City Bicycles) posted the best time of the group at 37:05 on her way to a national championship in the 40-44 division. In the 45-59 category Kris Walker (Pocatello, Idaho/kriegcycling.com) upset hometown favorite and defending national champion Catherine Walberg (Topeka, Kan./KCCX-Verge) who, like many riders, battled some mechanical difficulties in the mud.
"I felt a bit of building pressure racing in my hometown," said Walberg. "No one likes to lose their jersey, but she truly won it today. Kris was the most powerful rider on this course and with the hill it is a powerful course."
Kathy Sarvary (Lunenburg, Mass./Mid-State Cycling Club) pulled in the 50-54 national title while Diane Ostenso (Cottage Grove, Wis./Planet Bike) defended her Stars-and-Stripes in the 55-59 race. Martha Iverson (Durango, Colo./Durango Wheel Club) earned the 60-64 championship, while 66-year-old Julie Lockhart (Dunstable, Mass./NEBC-CycleLoft-Devonshire) added to her extensive Stars-and-Stripes collection.
As expected, the final race of the day saw Steve Tilford (Topeka, Kan./HRRC-Trek Stores) win another national championship in the 45-49 men's race, but this time not without challenge. After starting somewhere in the third row, Oxnard, California's Mark Noble (Bailey Bikes) made his way to the front of the field and began gunning for Tilford. With a captivated crowd cheering him on Oxnard closed the gap to within about 20 seconds with two laps to go before Tilford held steady to win another national title. Kevin Hines (East Warhem, Mass./Corner Cycle) grabbed the bronze before an exciting sprint to the finish decided the remainder of the podium.
The USA Cycling Cyclo-cross National Championships will continue Saturday, with the U23 men and women and master men's categories from ages 30 to 54 competing for six national titles.
Photo Gallery:
Full Results:
Place
Bib
Name
Team

Time

1
1300
Stephen Tilford
HRRC/Trek Stores

00:46:00.00

2
1344
Mark Noble
Bailey Bikes

00:46:22.00

3
1301
Kevin Hines
CORNER CYCLE

00:47:18.00

4
1306
Dennis Farrell
Red Rocks Velo

00:47:43.00

5
1304
Samuel Morse
Corner Cycle

00:47:43.00

6
1303
Todd Cassan
Westwood Velo

00:47:43.00

7
1302
Gunnar Shogren
SoBe Cannondale

00:47:43.00

8
1346
Ralf Warmuth
Westwood Velo

00:47:43.00

9
1313
Jonathan Card
SATURN OF TOLEDO

00:48:31.00

10
1349
Paul McKinney
gopher wheelmen

00:48:31.00

11
1305
Chris D'Aluisio
Morgan Stanley/Specailized

00:49:01.00

12
1312
Geoffrey Proctor
Montana Velo

00:49:08.00

13
1340
Thomas Feix
Peninsula Velo Cycling Club

00:49:08.00

14
2240
Mike HOGAN
Chipotle – Titus

00:49:08.00

15
1420
Christando Lombardo
Verdigris Cycling

00:49:18.00

16
1335
Tom Phillips
Ragnarok Racing

00:49:18.00

17
1322
David Schaefer
Peninsula Velo/Kondra Systems

00:50:06.00

18
1307
James Coats
morgan stanley/specialized

00:50:06.00

19
1308
Thomas Price
Lincoln Industries/Highgear

00:50:06.00

20
1333
Jeffrey Welch
Sledgehammer Charlies

00:50:06.00

21
1408
Troy Kimball
Westwood Velo

00:50:35.00

22
1309
Troy KRAUSE
Lincoln Industries/Highgear

00:50:42.00

23
1310
Steve McNamee
Ridley Factory Cross Team

00:50:55.00

24
1372
John Fiore
Montana Cyclocross

00:51:07.00

25
1411
Lance Fagerberg
Calistoga Racing Team

00:51:07.00

26
1390
James Behning
GTC Gwinnett Touring Club

00:51:07.00

27
1392
Dale Knapp
Kona

00:51:07.00

28
1395
Andy Lucas
360 Racing

00:51:48.00

29
1338
Scott Arrigoni
Verdigris Racing

00:51:48.00

30
1341
Tim Godby
Moots

00:51:48.00

31
1399
Stephen Songer
360 Racing

00:51:48.00

32
1365
Thomas Fox
Rock Lobster

00:51:48.00

33
1342
Larry Marti
Skins Racing

00:51:48.00

34
1363
Joseph Jakofcich
OKC Velo Club

00:51:48.00

35
1416
William Cochran
Rad Racing NW

00:51:48.00

36
1355
Frank Hibbitts
SIBEX Cycling Team

00:51:48.00

37
1419
Daryl Rains
MOB Racing

00:51:48.00

38
1319
Wayne Cunningham
NEBC/Cycle Loft/Devonshire Den

00:52:45.00

39
1358
Ethan Froese
Mesa Cycles Racing Team

00:52:45.00

40
1325
Telford Crisco
NA

00:52:45.00

41
1329
Logan Kelsey
Vertical Online

00:52:45.00

42
1378
Jeffrey Appeltans
Primus Mootry

00:52:45.00

43
1350
Joseph Burtoni
Durango wheel Club

00:53:21.00

44
1353
Brian Williams
360 Racing

00:53:21.00

45
1332
John Mandrola
Calistoga Racing Team

00:53:51.00

46
1396
John Meehan
Bissell

00:53:51.00

47
1421
Donald Langley
Specialized/Morgan Stanley

00:54:00.00

48
1369
Geoffrey House
Housatonic Wheel Club

00:54:17.00

49
1379
Bill GORITSKI
Tireless Velo

00:54:17.00

50
1403
William Irving
Sicklers Racing/Table Rock Tou

00:54:17.00

51
1354
Tim James
Team E-Mortgage Strategy

00:54:17.00

52
1387
Waldek Stepniowski
Luna Women's MTB Team

00:54:17.00

53
1376
Michael Seaman
Specialized

00:54:17.00

54
1317
Paul Watkins
Pedalers Racing Team

00:54:17.00

55
1311
Daren Cottle
Porcupine / Specialized Racing

00:54:57.00

56
1324
Jeffrey Unruh
Trek Bicycle Store KC/Localcyc

00:55:14.00

57
1318
Doug Foxworth
Bicycle Heaven

00:55:34.00

58
1320
Paule Bates
Roaring Mouse Cycles

1 Lap Down

59
1377
Joe Collins
Team Louisville

1 Lap Down

60
1336
David Parker
solar eclipse

1 Lap Down

61
1386
Scott Bennett
Geri Atrix

1 Lap Down

62
2286
Brian McInnis
JRA cycles

1 Lap Down

63
1370
John Vondracek
Nebraska Medical Center / Team

1 Lap Down

64
1337
James Clevenger
RunningShoes.com

1 Lap Down

65
1360
John McManus
Durango Wheel Cub

1 Lap Down

66
1316
Scott Wilson
Evolution Racing

1 Lap Down

67
1394
Dan Hansen
Unattached

1 Lap Down

68
1393
Reid Ackerman
Great Divide Cycling Team/Cody

1 Lap Down

69
1424
John Pahlmann
NA

1 Lap Down

70
1388
Michael Otting
Mercyhealthplex/7hills Racing

1 Lap Down

71
1351
Darrell Bratton
team mack racing

1 Lap Down

72
1410
William Macy
Carolina Masters Cycling Club

1 Lap Down

73
2248
Jerry Cutright
Oh Boy Oberto/Redline

1 Lap Down

74
1356
Theodore Fleming
Spike Shooter Professional Cyc

1 Lap Down

75
1371
Kevin Burke
Lincoln Industries/Highgear

1 Lap Down

76
1425
Bill OKeefe
C3-Sollay.com

1 Lap Down

77
1412
Franco Panveno
Alberto's

1 Lap Down

78
1375
Calvin Ridgeway
rio grande racing team

1 Lap Down

79
1400
Keith Walberg
360 Racing

1 Lap Down

80
1383
Kenneth Harkin
Wheatland Cycling Team

1 Lap Down

81
1417
Eric Swenson
Crossniacs

1 Lap Down

82
1367
Daniel Russell
MBRC/Bike Link

1 Lap Down

83
1401
Bill ANDERSON
360 Racing

1 Lap Down

84
1427
Andy WILSON
Veloshop

2 Laps Down

85
1409
Ron Wade
OZ Racing

2 Laps Down

DNS
1314
Frederick Martin
Kaiser Permanente / Team Oakla

DNS
1315
Brendan Sullivan
GTC

DNS
1323
Christopher Dimmick
Team Turin

DNS
1326
Gregory Ferguson
MadCity Velo Club

DNS
1327
Tom Ryan
California Giant Cycling

DNS
1328
Eric Short
Green Mountain Sports Velo

DNS
1330
Scott Wilson
Evolution Racing

DNS
1331
Mike Magnuson
Bike Surgeon

DNS
1334
Jon Suyko
Amgen

DNS
1339
Paul Warloski
Beans and Barley

DNS
1343
Frank Gonzalez
Montana Velo

DNS
1345
Robert Bobrow
Calistoga Racing Team

DNS
1347
John Shearer
Green Mountain Sports Velo

DNS
1352
Ruben Villarreal
Maciel Velo/Z Mobile

DNS
1357
John Riedel
ALAN North America Cycling

DNS
1361
Mark Mastoras
Active Athlete/Squadra Ovest

DNS
1362
Andrew Klumb
Bicilibre

DNS
1364
Mark Lovejoy
Ann Arbor Velo Club

DNS
1366
Christopher Long
Independent Fabrication/Gotham

DNS
1368
Tom Harbert
Bike Surgeon

DNS
1373
Douglas Felkley
Boulder Cycle Sport CX Team

DNS
1374
Bob Clark
Slimen und Grossen

DNS
1380
Jeffrey Guy
Dedicated Athlete / FORT Frame

DNS
1381
George Hebner
Bethel Cycle Sport Club

DNS
1382
Steel Bokhof
Turin Bicycle

DNS
1384
Joel Howes
Great Divide -Cody Racing

DNS
1389
Charles McDaniel
Secret Henry's

DNS
1391
Robert Meighan
CAL GIANT/ SPECIALIZED

DNS
1397
Derrick Nickel
Einsteins/MOB

DNS
1404
Jeff Williams
Team MACK Racing

DNS
1405
David Mazur
ccb/volkswagen

DNS
1406
Paul Lynch
MASS BAY ROAD CLUB

DNS
1415
Mark Gunsalus
Team FUJI Fueled by Clif Bar

DNS
1423
William King
NA

DNF
1321
Ronald Dreasher
BlueSky Velo

DNF
1348
Gregory Goblirsch
Loon State Cyclists

DNF
1359
Kenneth Smith
okc velo

DNF
1398
J Bradley (Brad) Schrock
360 Racing

DNF
1402
Michael Berning
KCOI/Boulevard Racing

DNF
1407
Phillip Todd
bike shack racing

DNF
1413
Emil Gercke
Whole Athlete

DNF
1414
William Pitt
Slimen Und Grossen

DNF
1418
Darrell Davis
Contender Bicycles

DNF
1426
Gary Wolff
Team Maxxis

Women – Master – 30-34

Place
Bib
Name
Team

Time

1
2202
Maureen Bruno Roy
MM Racing p/b Seven Cycles

00:41:49.00

2
1585
Emily Van Meter
River City Bicycle Team

00:43:25.00

3
1594
Anna Milkowski
Velo Bella – Kona

00:43:48.00

4
1575
Josie Jacques-Maynes
Specialized/KMC pb Cal Giant

00:44:13.00

5
1595
Kristin Wentworth
Planet Bike

00:44:20.00

6
1576
Kristi Berg
Redline Bicycles

00:44:20.00

7
2203
Rebecca Wellons
Ridley Factory Team

00:45:28.00

8
2244
UNKNOWN RIDER

00:45:54.00

9
1578
Cara Applegate
Inferno Racing/BMW-Bianchi

00:46:36.00

10
1599
Elizabeth Shogren
Sobe Cannondale

00:47:19.00

11
1592
Nicole Borem
DRT Racing

00:47:28.00

12
1582
Robin Williams
University of Iowa

00:47:28.00

13
1593
Carolyn Popovic
CICLE / Bear Valley Bikes

00:47:28.00

14
1596
Andrea Smith
Minuteman Road Club

00:47:28.00

15
1581
Corey Coogan
Ridley Factory Team

00:48:12.00

16
1580
Melanie Swartz
Velo Bella – Kona

00:49:23.00

17
1598
Evie Boswell-Vilt
BMW-Bianchi

00:49:53.00

18
1590
Melissa Schultz
Cycle Sports/Trumer Pils

00:50:03.00

19
1586
Michelle Jensen
FreeState Cycling Team

00:51:56.00

20
1587
Catherine Johnson
OrganicAthlete p/b VegNews Mag

00:52:18.00

21
1597
Haley Beann
Boulder Cyclesport

1 Lap Down

22
1583
Stephanie Swan
Durango Wheel Club

1 Lap Down

23
1589
Sarah Belanus
KCOI Boulevard

1 Lap Down

DNS
1579
Marissa Axell
Roaring Mouse Cycles

DNS
1588
Elicia Hildebrand
University of Wisconsin-Madiso

DNS
1591
Tiffany Ballew
SORELLA CYCLING/PB/BVM ENG

DNF
1577
AnnaJean Dallaire
SoBe-Cannondale

DNF
1584
Kathryn Mueller
KCOI/Boulevard

DNF
2201
Heidi von Teitenberg
C3-Sollay.com

Women – Master – 35-39

Place
Bib
Name
Team

Time

1
2204
Sarah Kerlin
HRS/ Rock Lobster

00:44:20.00

2
2207
Lisa Strong
Tough Girl/Scott

00:45:47.00

3
453
Sally Annis
NEBC/CycleLoft/Devonshire Dent

00:45:54.00

4
442
Kimberly Flynn
Vantaggio/ Specialized Pro wom

00:46:56.00

5
444
Jadine Riley
Team Group Health

00:47:28.00

6
443
Deb Sweeney Whitmore
BMW Bianchi

00:47:28.00

7
432
Linda Sone
Ridley Factory Team

00:48:36.00

8
430
Lauren Costantini
GBL-GBD

00:48:47.00

9
447
Lora Heckman
Peloton Cycles – Specialized

00:48:47.00

10
434
Kristen Bowers
Atomic Race Team

00:50:03.00

11
440
Jennifer Herrell
SKC

00:50:03.00

12
446
Allison Snooks
Landrys Bicycles

00:51:39.00

13
451
Alison Brooks
Mad City Velo

1 Lap Down

14
448
Allison Baker
Bicycle Shack

1 Lap Down

15
454
Gina Kenny
ABD

1 Lap Down

16
433
Janet Trubey
North Carolina Cyclocross

1 Lap Down

17
452
Jennifer Horn
Sorella Cycling p/b BVM Engine

1 Lap Down

18
2205
Melissa Putzer
Wheel and Sprocket

2 Laps Down

19
2206
Amy Fear-Bishop
Renaissance Cycling

2 Laps Down

DNS
435
Lana ATCHLEY
Bailey Bikes

DNS
436
Dayna DEUTER
Ridley Factory Team

DNS
437
laura KOZLOWSKI
velo bella/kona

DNS
438
Katy JOSSY
Roaring Mouse Cycles

DNS
439
Darcy SANFORD
Team Skin

DNS
441
Theresa THOM
Sorella Cycling

DNS
445
pamela DOBROWOLSKI
NA

DNS
449
Samantha DERY
NEBC/Cycle Loft/ Devonshire

DNS
450
Lisa HUDSON
Feedback Sports

Women – Master – 40-44

Place
Bib
Name
Team

Time

1
1572
Wendy Williams
River City Bicycles

00:37:05.00

2
1551
Karen Hogan
Chipotle-Titus

00:38:29.00

3
1554
Sydney Brown
Team Revolution

00:38:58.00

4
1550
Cris Rothfuss
NEBC/Cycle Loft/Devonshire Den

00:39:05.00

5
1552
Anne Schwartz
Flying Rhino Cycling Club

00:40:08.00

6
1555
Melanie Black

00:41:23.00

7
1562
Leah Sanda
NA

00:43:40.00

8
1560
Linda Wells
MafiaRacing.com/Pabst

00:43:49.00

9
1571
Kris Brazil
Milltown Cycles

00:44:09.00

10
1569
Laura MIZENER
NA

00:44:24.00

11
1568
Rebecca Cato
Velo Force

00:45:49.00

12
1558
Wanda Simchuk
Twin Six / soldergal.com

00:47:29.00

13
1564
Jenny Feix
Velo Girls

00:47:29.00

14
1565
Kayla Thomason
Schwab Cycles

00:47:29.00

15
1563
Sally McInnis
JRA Cycles

00:48:24.00

16
1570
Cynthia Milnick
NA

17
1561
Renee Callaway
Capitol Velo Club

18
1567
Kim Bishop
Tri-Cities Road Club

19
1566
Tina Raehsler
Ridley Factory Team

DNS
1553
Kimberly Bailey

DNS
1556
Beth Mason
C3-Sollay.com

DNS
1557
Christina Briseno
C3-Sollay.com

DNS
1559
Margell Abel
Tough Girl

Women – Master – 45-49

Place
Bib
Name
Team

Time

1
1601
Kris Walker
kriegcycling.com

00:39:11.00

2
1607
Beverly Chaney
Roaring Mouse Cycles

00:40:55.00

3
1600
Catherine Walberg
KCCX/Verge

00:41:23.00

4
1625
Beth Lyndon-Griffith
Hagens Berman Cycling

00:41:42.00

5
1603
Linda Cooper
Great Plains Cycling Club

00:42:10.00

6
1610
Michele Bliss
Rocky Mounts – Izze Racing

00:42:26.00

7
1616
Lauri Webber
Secret Henry's Team

00:43:05.00

8
1614
Karen GORITSKI
Tireless Velo

00:43:20.00

9
1604
Susan Prieto
Blue Sky Velo

00:43:49.00

10
1620
Elizabeth Harlow
C3 Sollay.com

00:45:13.00

11
1611
Deirdre Garvey
Team Louisville Cycle

00:45:38.00

12
1602
Julie Lewis-Sroka
Lake Effect Cycling Team

00:46:27.00

13
1612
Lynn Pitson
carolina masters

00:47:11.00

14
1609
Tammy Ebersole
Evolution Racing

00:48:00.00

15
1627
Kathleen Porter
BIKETECH RACING

00:48:40.00

16
1622
Winona HUBBARD
Team Santa Cruz

00:48:47.00

17
1606
Theresa Carilli
NEBC/Cycle Loft/Devonshire Den

18
1624
Debora Hall
Santa Fe Trail

19
1617
Darcy Tiglas
NA

20
1621
Donna Stevens
Local Cycaling.com

21
1618
Teresa Jarzemkoski
Trek of KC/LocalCycling.com

22
1626
Alane Carder
Velo Force

23
1623
Anne Barnes
Turin Bicycling Society

DNS
1605
Kerry Combs
Hup United/Zanconato Custom Bi

DNS
1608
Amy Dykema
Team Mack

DNS
1613
Anne Lannan
Tough Girl Cycling

DNS
1619
Susan Wilson
Inland BTD

DNF
1615
Joanne WHITERABBIT
Whiterabbit Racing

Women – Master – 50-54

Place
Bib
Name
Team

Time

1
780
Kathy Sarvary
Mid State Cycling Club

00:41:38.00

2
785
Lee Smith
Team Group Health

00:43:20.00

3
783
Debbie Pielet
Alberto's

00:43:40.00

4
787
Diane Castor-Grim
C3/ADG/Joe's Bike Shop

00:44:24.00

5
782
Anne Grofvert
Bicilibre

00:44:24.00

6
2209
Patricia Kaufmann
Planet Bike

00:44:24.00

7
786
Linda Elgart
Webcor/Alto Velo

00:45:49.00

8
2208
Sandra Morrissey
Team Cross

9
789
Linda Bitner
Swift Cycling

DNS
781
Susan MacLean
Gear Works/Spin Arts

DNS
784
Julie Bates
Team Roaring Mouse

DNS
788
Susan Council
Sorella Cycling

Women – Master – 55-59

Place
Bib
Name
Team

Time

1
790
Diane Ostenso
Planet Bike

00:47:20.00

2
792
Carol Ruckle
Team Possibilities

00:47:29.00

3
797
Margaret Thompson
Team Hammer Nutrition/Sonne's

00:48:00.00

4
795
Tracy Lea
TEAM Fuji

5
796
Glenda Taylor
Wheatland Cycling Team

6
793
Barbara Thiele
Unattached

7
791
Tove Shere
KHSnm.com Cycling Team

8
799
Frances Summerhill
La Forza

9
798
Emily Wamsley
unattached

10
794
Andrea Carvey
Team Cross

00:51:56.00

Women – Master – 60-64

Place
Bib
Name
Team

Time

1
2150
Martha Iverson
Durango Wheel Club

00:50:37.00

Women – Master – 65-99

Place
Bib
Name
Team

Time

1
2148
Julie Lockhart
NEBC/CycleLoft/Devonshire Dent

00:58:02.00

2
2149
Nancy BROWN
NA

01:00:37.00