Mild, sunny conditions greeted the racers on Friday morning as the junior men and women competed for eight titles. Compared the Thursday morning's early races on frozen ground, Friday morning offered a warmer race with early morning temperatures in the high 30s. A light snow and rain from the previous night added a bit of moisture to the course, making the morning's junior races were muddy, slippery affairs.
It's a rare opportunity for a junior racer to come back and defend a national championship. Doing so requires early talent and maturity to grab a victory in the first of a two-year window (or second in the 10-12), and then the teenage dedication to see training through to win the next year as well. Yet three junior men and one junior woman returned to Kansas City in their same age group in attempt to defend their titles. With an extra year of growth and training, it'd be easy to expect a repeat, but new competitors arrive and old competitors mature, train, and ponder victory over the past year as well. Friday's junior racing demonstrated this unpredictability, with upsets, repeats, crashes, mechanicals, and during-race handshakes. Full report by USA Cycling with contributions by Cyclocross Magazine: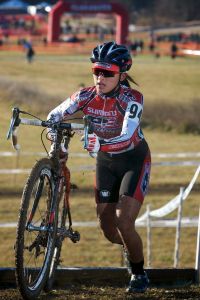 With staggered starts, all four junior women's age divisions began their quest for a national championship on the mud-slick 1.67-mile course at Kansas City's Tiffany Springs Park on Friday morning. The 17-18 group started out hot-and-heavy, but quickly settled down as the seven starters hit the slick technical off-road portion of the course. Moving up an age group didn't however seem to stall multi-time national road champion and defending 15-16 national cyclo-cross champion, Coryn Rivera (Tustin, Calif./Team Redline) who took the early lead and never looked back. Rivera earned her 22nd Stars-and-Stripes by only thirty-three seconds over silver medalist Anna Young (Madison, Wis./Planet Bike).
The majority of the 15-16 junior women's group suffered a major crash in the first turn as Alexis Ryan (Ventura, Calif./Team C.I.C.L.E) slipped and ultimately fell to the back of the field. The former mountain bike national champion however would not be deterred and, after a tire change, surged to take a six second victory over Clarissa Freeman (Albuquerque, N.M./KHSnm.com). Sarah Huang (Kenosha, Wis./Hayes Disc Brakes) grabbed an impressive win in the 13-14 age division, defeating last year's 10-12 national champ, Andrea Casebolt (Olympia, Wash./Rad Racing NW) by nearly one minute. Casebolt outsprinted Laurel Rathbun (Monument, Colo./Team 5280 Magazine) to add a silver medal to her collection. After finishing fifth last year, Mina Anderburg (Louisville, Colo./Mudskippers) was determined to bring home a Stars-and-Stripes jersey in the 10-12 year-old group. The 10-year-old did not disappoint, crossing the line 48 seconds ahead of Eden Webb (Louisville, Ky./Red Zone Cycling) and the other seven competitors in the youngest age category.
"It was so much fun. I didn't want to stop," said Anderburg, who completed another full lap following the finish.
Next up were the 15-16, 13-14 and 10-12 year-old junior men's contests. The 15-16 race ultimately served as a precursor to the 17-18 contest with defending champion Jeff Bahnson (Newark, Del./Secret Henry's Team-Van Dessell) and Yannick Eckmann (Boulder, Colo./Clif Bar) battling it out. After crashing in lap one, Bahnson was able to catch up to Eckmann and eventually built a 40 second gap to defend his national title from a year ago. Logan Owen (Bremerton, Wash.) defended his 13-14 national championship over the nearly 30-rider field. Owen had his Ridley bikes stolen just a few weeks before nationals, and Redline stepped up to offer Owen equipment support and a chance to ride for them. Owen did not disappoint his new white knight sponsor. In the last Ian McShane (Louisville, Ky./Red Zone Cycling) laid down the hammer in the 10-12 year-old race, winning by a nearly eight-minute margin. Many of the younger riders were lapped by Bahnson and other older juniors, creating confusion for racers who thought they still had another lap.
The most anticipated of the day's events, the 17-18 junior men's race, did not disappoint, featuring a pair of young powerhouse riders going head-to-head. Four-time 2008 USGP winner Zach McDonald (Bainbridge Island, Wash./Classic Cycles) and the world's sixth-ranked junior and defending champion Luke Keough (Sandwich, Mass./CL Noonan-KAM-Coast to Coast) started the race one and two and after 40 minutes of battling, that's how they would end up. The pair, traded brief attacks but were generally content to just mark each other at a steady pace for the first four of the five-lap affair. Each waiting for the other to make a mistake on the slick course, they cruised the pavement stretch, confident in their gap over the others. With one to go, the two rolled slowly down the road, stretched, shook hands, and then started a final one lap race. It wasn't until the final descent that McDonald, an expert downhill racer in his summers, was able to open up a gap with his superior descending skills. Keough did his best to stay in contact, but the pace was too much, and the defending champion crashed twice and would finish in second, 16 seconds in arrears. A hard charging Gavin Mannion (Dedham, Mass./Hot Tubes) took third and Cody Kaiser (El Dorado Hills, Calif./Calif. Giant Berry Farms) was fourth. Despite starting near the back of the field, hometown favorite Chris Wallace (Shawnee, Kan./KCCX-Verge) rounded out the podium in fifth. With his win McDonald locked up one of five spots on the U.S. National Team that will be heading to the Netherlands on Jan. 31 to contest the UCI Cyclo-cross Junior World Championships. With a top-five finish in a World Cup race earlier this season Keough has also punched his ticket.
"I was hoping I could take it, but the slick conditions made it a fierce fight between me and McDonald," said Keough who has been racing the European World Cup circuit this season. "The slick corners kept messing me up. The mud is really thin and slick over here and it's really deep and thick over there. I think this race helped me think about what I need to focus on heading into Worlds."
Photo Gallery:
Full Results:
Junior Women 10-12
RESULT
NO NAME
HOMETOWN
TEAM / CLUB
TIME
1
1633 ANDERBERG, Mina
Louisville, CO
Mudskippers
38:05.0
2
1637 WEBB, Eden
Louisville, KY
Red Zone Cycling
38:53.0
3
1639 WHITE, Emma
Delanson, NY
Capital Bicycle Racing Club/CB
39:12.0
4
1640 WELSHON, Ellie
Edgewater, CO
Black Sheep Junior Cycling
39:16.0
5
1644 SWARTZ, Emma
Madison, WI
Brazen Dropouts
39:29.0
6
1643 GATES, Victoria
Fitchburg, MA
NEBC\Cycle Loft\Devonshire Den
42:12.0
7
1641 ZOERNER, Ashley
Highlands Ranch, CO
Mudskippers
45:31.0
8
1638 HALEY, Frances-Jane
Louisville, KY
Red Zone Cycling
48:02.0
DNS
1636 TWINAM, Mia
Littleton, CO
Mudskippers CX Team
Junior Women 13-14
RESULT
NO NAME
HOMETOWN
TEAM / CLUB
TIME
1
1291 HUANG, Sarah
Kenosha, WI
Hayes Disc Brakes
30:42.0
2
1294 CASEBOLT, Andrea
Olympia, WA
Rad Racing NW.
31:30.0
3
1293 RATHBUN, Laurel
Monument, CO
Team 5280 Magazine
31:34.0
4
1290 MOSSMAN, Hannah
Cincinnati, OH
One Call Now
31:58.0
5
1298 FOGG, Taylor
Colorado Springs, CO
Mudskippers
33:02.0
6
1296 SMITH, McCauley
Boulder, CO
Tokyo Joes
36:59.0
7
1295 WILLIAMS, Kirsten
Lone Tree, CO
Mudskippers
39:58.0
8
1297 MC CORMICK, Tara
Long Beach, CA
OUCH Pro Cycling
40:32.0
9
2224 REYNOLDS, Hannah
Kansas City, KS
SKC Racing
+ 43:51:00
DNS
1292 LIMESAND, Elle
snohomish, WA
Oh Boy Oberto/Redline
Junior Women 15-16
RESULT
NO NAME
HOMETOWN
TEAM / CLUB
TIME
1
936 RYAN, Alexis
Ventura, CA
Team C.I.C.L.E
29:53.0
2
930 FREEMAN, Clarissa
Albuquerque, NM
KHSnm.com Junior Cycling Team
29:59.0
3
932 CATTELL, Ashley
Auburn, WA
Bicycle Centres/Collision-1
30:42.0
4
935 WHITE, Elizabeth
Bedford, NH
NEBC/ Cycle Loft/ Devonshire D
31:20.0
5
931 SHIELDS, katherine
salisbury, NC
Carolina Masters
31:50.0
6
937 LIMESAND, Samantha
Snohomish, WA
Oh Boy Oberto/Redline
31:58.0
7
934 MORRIS, Colleen
Cincinnati, OH
One Call Now
32:11.0
8
933 SHIELDS, emily
salisbury, NC
Carolina Masters
33:04.0
9
938 REYNOLDS, Aislin
Kansas City, KS
SKC Racing
38:02.0
Junior Women 17-18
RESULT
NO NAME
HOMETOWN
TEAM / CLUB
TIME
1
941 RIVERA, Coryn
Tustin, CA
Team Redline
25:57.0
2
945 YOUNG, Anna
Madison, WI
Planet Bike
26:30.0
3
942 ANTONNEAU, Kaitlin
Racine, WI
Nova/IsCorp
27:42.0
4
944 RYAN, Kendall
Ventura, CA
Team C.I.C.L.E
29:42.0
5
940 MORRIS, Michelle
Cincinnati, OH
One Call Now
30:28.0
6
943 GODBY, Madalyn
Lousiville, CO
Rocky Mounts
32:11.0
7
946 SCHAPKER, Emily
Merriam, KS
Renaissance Cycyling
36:18.0
Junior Men 10-12
RESULT
NO NAME
HOMETOWN
TEAM / CLUB
TIME
1
376 MCSHANE, Ian
Louisville, KY
Red Zone Cycling
37:22.0
2
385 HECHT, Gage
Parker, CO
ICCC
45:15.0
3
379 HALEY, Gavin
Louisville, KY
Red Zone Cycling
46:27.0
4
386 FRANCISCO, James
Louisville, KY
Red Zone Cycling
46:32.0
5
384 HAAS, Stephen
Lakewood, CO
Black Sheep Cycling
46:41.0
6
395 BICKMORE, Cade
Longmont, CO
Flatiron Flyers
47:02.0
7
380 GEARY, Evan
Seattle, WA
Oh Boy Oberto!/Redline
47:02.0
8
394 GOLDBERG, Nathan
Overland Park, KS
GP Velotek
47:31.0
9
383 HOGAN, Ben
Louisville, CO
Chipotle-Titus
48:03.0
10
390 TODD, Joey
Harrisonville, MO
bike shack racing
48:27.0
11
381 COOPER, Drew
Kellogg, IA
Bikes To You
50:21.0
12
382 MADIS, Ryan
Hudson, OH
One Call Now
54:12.0
13
393 SWARTZ, Caleb
Madison, WI
unattached
57:16.0
14
388 ELLIOTT, Aaron
Highlands Ranch, CO
International Christian Cyclin
00:57:58:00
DNS
389 BROWN, Jonathan
Covington, TN
TriStar Cycling
DNF
392 KEOUGH, Ian
sandwich, MA
CLNoonan/KAM/Coast to Coast
Junior Men 13-14
RESULT
NO NAME
HOMETOWN
TEAM / CLUB
TIME
1
900 OWEN, Logan
Bremerton, WA
NA
30:18.0
2
902 MORSE, Nate
Cohasset, AL
C.L. Noonan/KAM/Coast to Coast
31:04.0
3
915 CULLEN, Jordan
Hudson, WI
Planet Bike
31:04.0
4
901 WHITE, Curtis
Delanson, NY
Capital Bicycle Racing Club
31:38.0
5
906 DESSAU, Michael
Boulder, CO
Team 5280/Slipstream
32:53.0
6
907 VINCENT, Austin
simsbury, CT
CLNoonan/KAM/Coast to Coast po
32:53.0
7
916 SCHILLING, jonathon
grover, MO
Mesa
33:04.0
8
908 CLEVENGER, Austin
Bellingham, WA
Oh Boy Oberto/Redline
33:18.0
9
919 FRANCISCO, John
Louisville, KY
Red Zone Cycling
33:18.0
10
922 KIRSKE, JR., David
Seattle, WA
Rad Racing/Hagens Berman
33:36.0
11
913 GOULD, Zack
Boulder, CO
Clif Bar Cyclocross Developmen
34:50.0
12
923 HAUPT, Ian
Whitefish Bay, WI
Planet Bike
36:01.0
13
926 PARKS, Danny
Dallas, TX
Mirage
36:01.0
14
920 BOBERG, Nils
Shoreview, MN
Ridley Factory Team
36:21.0
15
911 PETERSON, Rudy
Kalamazoo, MI
Little Ceazars Kalamazoo bike
36:21.0
16
903 GOGUEN, peter
hopedale, MA
MRC
38:01.0
17
917 BREW, DANIEL
Fayetteville, NC
C4 Racing
43:15.0
18
924 LOMBARDO, David
Crystal Lake, IL
Verdigris Cycling
45:16.0
19
904 MADIS, Erick
Hudson, OH
One Call Now
+ 1 Lap Down
20
921 RENCK, Spencer
Louisville, KY
Red Zone Cycling
+ 1 Lap Down
21
925 BARTA, Will
Boise, ID
BYRDS
+ 1 Lap Down
22
927 HUANG, Samuel
Kenosha, WI
Hayes Disc Brakes
+ 1 Lap Down
23
914 SIMON, Cooper
Louisville, KY
Red Zone Cycling
+ 1 Lap Down
24
928 PITT, Jacob
Leawood, KS
Slimen Und Grossen
+ 1 Lap Down
25
2239 ROTH, Garrett
Shorewood, WI
endeavour
+ 1 Lap Down
26
929 BURKE, Noah
Lincoln, NE
Midwest Wheelmasters
+ 1 Lap Down
27
905 CAMPBELL, Spencer
Northfield, NJ
Cape Atlantic Racing/Team Beac
+ 1 Lap Down
28
2238 ROMISCH, Andrew
Overland Park, KS
GP Velotek
+ 1 Lap Down
DNS
909 SPINKS, Peter
Layton, NJ
Cycles 54/YSG Racing
DNS
910 VOLLERS, JR., Peter
Woodstock, VT
Start House / Vollers Law Raci
DNS
918 DOWNING, Spencer
boulder, CO
Flatiron Flyers
DNF
912 LOCKE, Christopher
Kansas City, MO
Cow Town Cycling
Junior Men 15-16
RESULT
NO
NAME
HOMETOWN
TEAM / CLUB
1
1650 BAHNSON, Jeff
Newark, DE
Secret Henry's Team / Van Dess
25:46.0
2
1651 ECKMANN, Yannick
Boulder, CO
CLIF BAR Development Cyclo-Cro
26:36.0
3
1652 SPINKS, Matthew
Layton, NJ
Team Metra/Wendy's p/b Victor
28:00.0
4
1671 KESSLER, David
Littleton, CO
CLIF BAR Development Cyclo-Cro
28:18.0
5
1674 GODBY, Zane
Louisville, CO
Clif Bar Development Team
29:18.0
6
1654 KREBSBACH, Colin
Kent, WA
Oh Boy Oberto/Redline
29:42.0
7
1673 DILLMAN, Andrew
Fairdale, KY
Red Zone Cycling
30:18.0
8
1661 FOX, Bjorn
Stinson Beach, CA
Above Category Racing
30:56.0
9
1662 LARK, Brian
New Albany, IN
Red Zone Cycling
30:56.0
10
1657 RENWICK, Evan
Federal Way, WA
Oh Boy Oberto/Redline
31:12.0
11
1668 OKEEFE, Sam
Baltimore, MD
C3-Sollay.com
31:38.0
12
1677 PREBLE, Kolben
Forest Grove, OR
Olsens Bikes
31:38.0
13
2216 PACKARD, Ryan
Arlington, MA
QuadCycles
32:04.0
14
1672 HAAS, Dean
lakewood, CO
5280 Magazine
32:04.0
15
1669 MONROE, Travis
Coeurd'alene, ID
Vertical Earth
32:24.0
16
1665 DYER, Jeremiah
Valdese, NC
Studio7-Cyclocross
32:30.0
17
1663 HOUSE, Aaron
Great Barrington, MA
Housatonic Wheel Club
32:30.0
18
1653 BENDER, Zach
Glen Rock, NJ
GS Park Ridge—Team Cyclespor
32:30.0
19
1667 ANDERSON, Dag
Bridgewater, NJ
Team Somerset
32:30.0
20
1666 STILWELL, Zach
Hudson, WI
vassago
33:47.0
21
1676 RATHBUN, Rhys
Monument, CO
Team 5280 Magazine
34:02.0
22
2219 VOLOTZKY, erik
chatsworth, CA
Major Motion
34:26.0
23
1658 GORRY, Cypress
Payson, AZ
35:19.0
24
1656 GOGUEN, Tom
hopedale, MA
MRC
36:01.0
25
1659 MARTI, Nick
Evergreen, CO
RMCEF
37:33.0
26
1660 HALEY, Luke
Louisville, KY
Red Zone Cycling
38:30.0
27
2215 STULL, Aaron
Parkville, MO
Epic
38:30.0
28
2220 DOBROZSI, Samuel
Loveland, OH
Queen City Wheels
38:30.0
29
1664 BUSH, Daniel
Louisville, KY
Red Zone Cycling
40:37.0
DNS
1655 BERCAW, Drew
North Canton, OH
One Call Now
DNS
1670 FOX, Bjorn
Stinson Beach, CA
CLIF BAR Development Cyclo-Cro
DNS
1675 KRISKA, Matus
Mount Airy, NC
Prohealth
DNS
1678 NOLD, Vincent
Louisville, KY
Red Zone Cycling
DNS
1679 BERGEY, Gunnar
Lederach, PA
Bikesport
DNF
2218 HAULMAN, Joe
Denver, CO
5280 Magazine
Junior Men 17-18
RESULT
NO NAME
HOMETOWN
TEAM / CLUB
TIME
1
456 MCDONALD, Zach
Bainbridge Island, WA
Classic Cycles
44:30.0
2
455 KEOUGH, luke
sandwich, MA
CLNoonan/KAM/Coast to Coast po
44:46.0
3
458 MANNION, gavin
dedham, MA
Hot Tubes Development Team
45:17.0
4
487 KAISER, Cody
El Dorado Hills, CA
California Giant Berry Farms/S
45:29.0
5
478 WALLACE, Chris
Shawnee, KS
KCCX/ Verge
45:51.0
6
461 GOGUEN, manny
hopedale, MA
MRC
46:27.0
7
457 EMSKY, Eric
Fall City, WA
Rad Racing NW / Hagens Berman
46:34.0
8
498 SWEDBERG, Benny
Kent, WA
Rad Racing/Hagens Berman LLC
47:22.0
9
469 COX, Cody
Colorado Springs, CO
CLIF BAR Development Cyclo-Cro
47:22.0
10
474 RYAN, Morgan
Ventura, CA
Team C.I.C.L.E
48:01.0
11
494 DOMBROWSKI, Joseph
Marshall, VA
Haymarket Bicycles p/b Functio
48:13.0
12
475 TERRY, Ian
Seattle, WA
Rad Racing/Hagens Berman
48:25.0
13
472 BARKER, Andrew
Lakewood, CO
CLIF BAR Development Cyclo-Cro
48:46.0
14
462 KEOUGH, jesse
sandwich, MA
CLNoonan/KAM/Coast to Coast po
49:22.0
15
476 WATSON-NORRIS, Gabe
Olympia, WA
RadRacing NW/Hagans Berman LLC
50:05.0
16
480 TRUJILLO, Skyler
Fort Collins, CO
Black Sheep
51:01.0
17
496 HINKENS, Jack
eden prairie, MN
fccc
51:01.0
18
459 COTTLE, Tanner
Sandy, UT
Porcupine / Specialized Racing
52:28.0
19
492 BROWN, Nathan
Covington, TN
Hot Tubes Junior Developement
52:30.0
20
477 EDWARDS, Alex
Parkville, MO
Mesa Cycles Racing Team
52:37.0
21
467 HUSTON, Collin
Kennebunk, ME
Cl Noonan/Coast to Coast/KAM
53:17.0
22
463 PSALTIS, Kosta
Olympia, WA
RadRacing NW/Hagans Berman LLC
55:02.0
23
465 ARNOLD, Jacob
Cary, NC
Cycling Spoken Here
55:32.0
24
466 SHIPMAN, John
Kansas city, MO
Renaissance cycling
56:03.0
25
470 BLOCK, David
PLYMOUTH, MN
Ridley Factory Team
+ 1 Lap Down
26
493 TEMPLETON, Andrew
Albuquerque, NM
KHSnm.com
+ 1 Lap Down
27
482 WILLIAMS, DANIEL
MURPHYSBORO, IL
BIKE SURGEON
+ 1 Lap Down
28
490 PENCE, Matt
St. Charles, MO
Mesa Cycles Racing Team
+ 1 Lap Down
29
491 FEEHERY, Brandon
Homewood, IL
South Chicago Wheelmen
+ 1 Lap Down
30
471 CUTRIGHT, Cole
Kent, WA
Oh Boy Oberto/Redline
+ 1 Lap Down
DNS
460 WIECZOREK, Tony
TRENTON, MI
Mesa Cycles Racing Team
DNS
464 MILLER, Ryan
Corvallis, OR
Fred Meyer/Lakeside
DNS
468 QUINLAN, Jordan
Albuquerque, NM
Nob Hill Velo
DNS
473 HILLER, Danny
Boulder, CO
CLIF BAR Development Cyclo-Cro
DNS
479 BIRMAN, Dan
Beaverton, OR
Beaverton Bicycle Club
DNS
481 BATTLES-WOOD, Alex
Tulsa, OK
Team Power Train
DNS
483 WADE, Joshua
Wichita, KS
Matrix/RBM
DNS
484 MCELMEEL, Sam
Iowa City, IA
Mercy-Specailized
DNS
485 REMO, Thomson
Fond du Lac, WI
Baraboo Sharks
DNS
489 GEROW, Daniel
Grosse Pointe Farms, MI
NA
DNS
2223 KRONENBERG, Rafael
Ann Arbor, MI
Cannondale Midwest
DNF
486 JAMES, Michael
Delafield, WI
Baraboo Sharks
DNF
488 EVANS, Justin
Raeford, NC
C4: Cross Creek Cycling Club
DNF
495 SILLS, Baird
lewisville, NC
Clemmons Bicycle Racing
DNF
497 BALSARA, Adrian
Fort Smith, AR
Tyson Racing