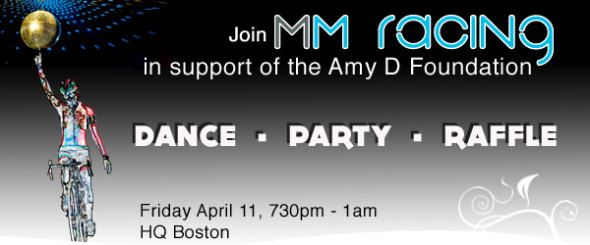 This year, MMRacing will be supporting the Amy D Foundation with proceeds from a raffle on April 11 in Boston.
Pro 'crosser (and singlespeed National Champion) Mo Bruno Roy and husband Matt explain, "Amy was like a little sister to us and she'll forever be an inspiration for her fearless pursuit to achieve her dreams of being a professional cyclocross racer and for always encouraging others."
On Friday April 11th, they will be hosting a "massive party" at HQ Boston (12 Channel Street, Boston) where we will announce the winners of the raffle. You do NOT need to be in attendance to win one of the top prizes listed below. The party is open to the public, no purchase necessary. They add, "With the guest DJs we're about to announce, you'll REALLY want to be there. But if you want to go home with a prize, you have to buy a ticket."
Tickets are $50 apiece or 5 for $200 (limited to 20 packs of 5). Tickets are limited, only 400 will be sold. Tickets are available for purchase online through BikeReg here, or at the party.
Here's a breakdown of the prizes:
SoulRun Roy Roll, custom made just for you. Valued at ~$120
Why support the Amy D Foundation?
The Amy D. Foundation is a nonprofit organization created in honor of Amy Alison Dombroski, whose love for cycling and life touched many people around the world. The Amy D. Foundation encourages and supports young women through cycling, inspiring the celebration of healthy challenge and empowering the confident pursuit of lofty dreams.