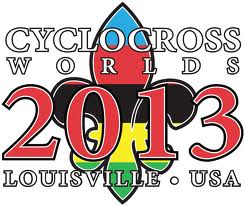 by Lee Waldman
I just arrived in Louisville last night to 20 degrees and snow!  My goal this year was to avoid a late season winter race, which was one of the reasons I chose not to race Nationals.  Looks like a bad choice.  After getting lost three times (yeah, guys do ask for directions), I finally found the Galt House and checked in for the race.
My worst fears were confirmed after talking with a friend from Colorado about course conditions.  Frozen ruts!   All I could think of was the first year that Nationals were held in Kansas City.  I remembered the chaos of the first lap as the entire 55+ Masters field flew off of the pavement and into the impossible puzzle of cement-hard ruts.  No matter where you were in the field, you weren't safe as the course had its way with every rider.
I'm not sure how much I slept last night because every time I was conscious, I found myself replaying that experience.
This morning, the weather report calls for another inch of snow and cold.   The bright spot for me is that I don't race until tomorrow and, if I can believe the weather reports, I can expect sun and 40s for my race.  Maybe some mud?
I haven't seen the course yet but I'm out the door as we speak to check it out.  More later.  Have a great day and – go ride your bikes.