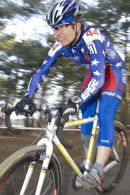 New England's Kathy Sarvary (Mid State Cycling) hates getting rid of old clothing. In December, she wore her rainbow-striped world champion jersey to successfully defend her masters 50-54 national championship in Kansas City and keep her coveted stars and stripes jersey. On Saturday in Mol, Belgium, she wore that stars and stripes jersey to successfully defend her precious world champion jersey in the 1960 group (birth year).  (You can read about her report she sent us of her first win at worlds in 2008 here). Three Americans made up the field of five, with Lillian Peluke taking a silver medal, and Lee Smith in fourth.
Katrina Baumsteiger grabbed a silver in the 1960-69 group in a race stacked with five Americans in the field of eleven. Angela Connaughton, Janel Lodge, and Karen Goritski finished in sixth through eighth, respectively, with Teresa Jarzemkoski in eleventh.
Northern California's Henry Kramer (Cal Giant), who sent in a pre-worlds race report last week, got stuck in the fourth row and battled through traffic to finish a strong seventh in the 1955-59 age group. Edwin Rambuski and 'cross promoter and legend Tom (William) Stevens finished in 24th and 34th in the same race. Bruce Lodge, Tim Shea, and Mark Thomas were one lap down in 41st, 42nd , and 43rd place.
Other American results include Gary Yates in 14th in the 1970-1974 group, Richard Feldman leading six Americans in the 1965-69 group in 13th, Mark Howland leading three Americans in 14th in the 1960-94 group, and Robert Llamas and Lee Willmore in 10th and 13th in the 1945 and older group.
Full photo gallery by Joe Sales and Mitch Clinton is here.
Full Results: