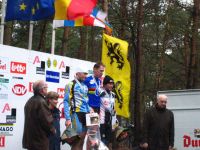 We're counting down the days to the 2008 Cyclocross National Championships in Kansas City, Missouri with a slew of semi-related articles. First up was our training tips to peak for the big race, and yesterday we featured a nats course preview. Today we help you figure out what to do after KC. If you're a masters racer, regardless of your placing in KC, you can head to Mol, Belgium for the trip of a lifetime and chance to compete for the rainbow stripes (and blue) jersey.
Entering the Lion's Den: My Masters Worlds Experience and a How-to Guide

by Greg Keller
Welcome to the lion's den…
It was by far the biggest moment in my cycling career. Oh, and if you'd humor me and call my hobby a career along with me, my ego will be indebted. I'm hearing my name being called out in Flemish. I'm seeing hoards of spectators in Wellingtons and rain jackets waiting to watch the spectacle on a prototypically dismal Belgian day. I see massive signs for Duvel and Primus. I am feeling the tension build as I get a front row call up. And yet with all this going on around me, all I could do was stare at this guy yank up the leg of his skin suit in front of everyone at the start/finish and proceed to pee on top of his White Sex Sidi Dragons.
"Één minuut om te beginnen, renners!" "One minute to go, racers!" Oh, yes, now I know where I am! The shock of the announcer brought my mind right back to front and center: I'm at the 2008 UCI Masters World Cyclocross Championships in Mol Belgium! And that guy peeing on his Sidi's is none other than Ludovic Dubau, World Cup MTB podium finisher, winner of the VTT Tour de France and the eventual winner of our '69-'73 age group. Now re-focused, I pan around and see all the national flags and world champion stripes on collars and arms of the various uniforms surrounding me. I am in the Lion's den.
Why go?
How long have you 'crossed? For me, it's been a little over 10 years, and all that time wondering and day dreaming what it would be like to race against the best. Years of looking at bootlegged DVD's watching grainy images of my heroes deal with mud, sand, grass and snow across timeless farm pastures in Anytown, Belgium have left an indelible mark on me. I'd study their technique, rewinding, replaying and repeating until I memorized it and would practice for hours in school yards. So with my obsessive behavior known (and I know you can empathize!), ultimately, the 'why' question can be answered very easily: You should go for the experience. You should go to race hard and race to win….but that cannot be your only focus. You have to be absolutely present with everything that is going on around you. Focus on the details: the course design; the registration process; the "Materiaal Post" (pit) etiquette; the style and technique of the other nation's riders; the equipment and tires in use on various courses, etc. And when you gain that experience, you should let it bake in your brain on the flight back and mentally prepare for how you want to evangelize it to your local scene. It's your duty to help grow and evolve this sport here in the U.S. With every racer that goes and tastes the sweetness of the Belgian peat, you are now obligated to share your stories of how it's done.
Racing aside, you need to see Belgium and the Netherlands. It's a vacation, right?? Mol in itself is a beautiful place, reminiscent of Cape Cod or Door County Wisconsin in that it is very much a 'water recreation' community. Even while deeply inland, it's a spectacular recreation and camping spot Belgians seem to have a soft spot for when you tell them where the race is. You'll need to see the gorgeous architecture of Brussels, Leuven and Amsterdam and certainly ensure the Maredsous, Duvel and Westfleteren passes your lips as you celebrate the hard racing you'll be doing.
The race
Masters World Championships from an American's standpoint, is not unlike what we'd expect here for a USGP or similar caliber UCI level race. There were roughly 3-4000 spectators and fields which were tiny (e.g. 5 starters in the 1924-1958 Women) to 70+ in other fields. The organization was unbelievably efficient, even with no pre-registration. It's clear that they have their systems (and they had a whole computer network set up there!) dialed. Nearing the end of a prior race, announcements are made for the next category to come and queue and that is when the nervousness sets in. There is no call up system and is done entirely on a lottery. As an example from a past Masters World experience, and the aggressiveness of the competition you'll face, I will paraphrase an incredible story as told to me by my good friend and veteran of nearly a decade's worth of masters worlds participations Mark Howland of Black Market Racing.
Mark Druyts – a former world champion-actually won worlds four years ago – from the back row! It was the most amazing piece of racing I've ever seen, especially on this fast, narrow course. The lottery worked against him that year and got a last row call up. He was visibly disgruntled as he made his way to the back when he proceeded to move yet another 5-10 bike lengths behind the field. We had no idea why. At the whistle, he came like a freight train through the pack (he used those extra bike lengths as a 'start ramp'), nearly causing about 5-6 major crashes on his way to the front as he pin-balled off guys all the way down the down the start straight. Not very cool, but it got the job done. By the end of lap one, he was riding in a four man group off the front and went on to win. This is worlds.
In 2008, I got a miracle front row call up due my number miraculously being chosen first. I buried it from the whistle, won the holeshot and cleaned the beach in the first lap and ended up in the top 10 by lap 1. This awesome display of heroics (and match-burning stupidity) was shortly followed by an awesome display of European firepower eating my lunch. The remainder of the race I literally was pack racing in groups until the last lap where I sprinted out of a group of 5 for…drum roll: 28th place! Trust me, I know no one sprints for 28th place but no one was lying down. No concessions anywhere. A push here, an aggressive pass there…it was aggressive everywhere. Be prepared. The racing was so tight it was hard to know where you were vis-à-vis the front. You will pass many and be passed by many. I finished roughly 1:36 down on the winner that day on the lead lap, 2nd North American behind my bud and teammate Kurt Purham. I was absolutely shattered, yet absolutely satisfied and hungry for another shot.
What was the racing experience like?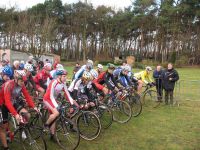 In a word: Rewarding. We are as good as they are, folks. They just want it more than we do and that is exactly what is needed in the critical parts of races. And that's exactly why the Belgians are so dominant. There's something inherently different about their riding. It's angrier. Yet afterwards, this 'angry' racer would be the first to buy you a beer, and wrap his arm around you as he introduces you to all his friends. An old man in green Wellingtons and a rubber hat walked up to me after my race in Shriek Grotloo. He must have been up to my chest and had a small filterless cigarette in his mouth. When he spoke, perfect English rolled out: "You know, you Americans are too nice. I watched you. You made me money today, but you were too nice in the corners. We Belgians come out here every weekend and have a race. But our boys are going across the same fields in the mud they had to work in as young boys. So, they're angrier. You need to try working in a field." My jaw was still hanging as he turned around and walked away. Like I said, you are there as a student to bring back the lessons being taught.
How do you do it?
Plan, and plan well. I broke down my trip into three basic categories: Travel, Lodging and Racing. This year, the Masters World Championships are back in Mol, Belgium, which is located in a very scenic and central part of Belgium.
Travel:
I travel frequently for work, so literally my miles paid for my international flight. We flew into Brussels from Denver but Antwerp is in the vicinity and both are generally located centrally. Try and go direct…especially if you are bringing bikes on the plane.
Bike transport on the plane will be expensive. Plan on roughly $175 each way. Research with your airline in advance. Shipping via UPS in advance is an option…of course if you know where you're staying and the logistics established there to receive your boxes. We were racing almost as soon as we got off the plane so we decided to bring bikes with us. I used a 'double wide' bike box to carry my A and B bikes and equipment as well as an additional wheel case. You could get away with one bike if you really want to go light.
A van is a MUST. If you are traveling with a group, you will defer the costs of the van considerably. It will likely run you about $1000 for 10 days (there are lots of deals out there). Try www.europcar.com. You will be stressed to the gills at the airport trying to cram all your crap into a small Fiat.
Most everyone speaks English but try to understand and communicate in a few words in Dutch or Flemish (a Dutch derivative spoken by a large population of Belgians….e.g. Flandrians). Try not to be the prototypical American.
Lodging
Lodging is critical. You must first consider your location and try and be central to the races you are planning…that is of course if you are going to do more than just the Masters World Race. We stayed in a 'racer house' which came by word of mouth from friend to friend. It was packed to the gills with bike racers but suited our needs. Other options are to search for rental properties that will allow for 1-2 week rentals. Think of your logistics: You do not want to lug muddy bikes into hotel lobbies and need space, so try to opt out of the hotel route. Try to stay out of cities as well as you will need to consider mid-week training.
A well known vacation condo/cabin rental can be found directly on the Masters World's race course. The race is held at the Zilvermeer Leisure Park (a giant lake community and summer fun park). You can get information by emailing the camp grounds directly:

[email protected]
Racing
Information on the Masters World Race can be found here: http://www.uci.ch/ or here: http://www.aawbv.iplsoft.com . It is being held on January 24th, 2009.
If you are planning on staying longer (either before or after the masters worlds), you should research the various racing calendars and hit up as many as you can. The calendars we primarily used are: http://www.wielerbondvlaanderen.be/ and http://www.wielerpunt.com/
Our races included Shriek Grootloo in Belgium, Bakelcross in Bakel, The Netherlands, The masters worlds of course followed by Fort 6 in Belgium. You can find info on these races on my blog at: http://mudandcowbells.blogspot.com/search/label/Za%20Trip
Racing Licenses and Documentation: You will need a UCI International License to participate in the masters worlds. This will cost you about $150. As the race is in January 2009, you need an '09 license. Wait until December to buy as they will give you a 2009 license. It can be purchased on line here: http://www.usacycling.org/. In addition, you will need authorization letters from USA Cycling to participate in ANY race (not just the masters worlds). You can contact USA Cycling for this (do this part by phone) and they will mail you these hard copies quickly. Keep them with you when you register at the races. I was asked for it only once (at a small local race in Holland!).
All race registrations are day-of. There is no pre-registration for masters worlds, or any of the other races we did.
Racing is FREE! Think about THAT folks. You will pay a small fee (~5EUR) when you register which you get back upon return of your race number. If you are in the placings (roughly top 10 to top 20), you will get cash when you return your number! This is possible as all spectators pay to enter and watch the race…roughly 15EUR!
Training: Let's just say you should train. Hard. By January you will have had a full season of US 'cross under your belt and likely some time between Nationals and the January events you're planning. Keep the fires stoked! Don't get lazy and celebratory with the Holidays! You have the US to represent in January!
Categories: At masters worlds you will be simply categorized by your age group range. For other races you are planning on doing, you will either race 'Amateurs' (Don't be fooled by this word. This is mostly neo pros without contracts!) or if you are 40-45 and older, with the 'Masters'. So the 30-something crowd will not be in your usual 'Masters' category as they do not have 35 Open/A as well as 35 Cat 4's/B's, etc. They'll help you figure it out when you are there registering! If you are a UCI Elite license holder. You'll be racing Elite, no exceptions.
Call ups: As told above, masters worlds has a completely random lottery selection. Winners from last year could literally be on the back row. All other events are like we experience here at home…e.g. Local series leaders get called up. Typically the top 20.
So start making preparations NOW! Focus on the experience you will have and the racing that you'll participate in. You owe it to yourself for loving the sport the way you do but more importantly (queue in Star Spangled Banner) you owe it to your racing compatriots back here in the States to bring those experiences home and improve the quality of our events and our knowledge of the sport. Will I be back? Absolutely. I think about the experience almost every day. 2009 will likely be out of my realm of possibilities but the Belgians should watch their backs in 2010!
'Cross on.
Greg Keller lives in Colorado and is the author of the blog www.mudandcowbells.com
Photo Gallery (Courtesy of Greg Keller):